My mom is one of those people who "eyeballs" things when she cooks. She hates to measure ingredients, so she bases everything on how the food tastes and smells. Because of this, it's a bit of a challenge learning how to make her specialty dishes. You either need to watch her and figure out the measurements as you go along, or force her to measure before she adds every ingredient, which actually results in the food not tasting the same. Sounds strange, but I'm sure that if you know someone who cooks the same way my mom does, you would totally understand.
My mom prepares really great, homey dishes that everyone just loves. We always joke that she's great at making people fat because her food is so good, and well, just take a look at our family photo and you'll see what I mean. My sister is the only skinny person in this household, and even the usually-skinny MrC is slowly but surely becoming a little more huggable. It's hard to say no to food that comes out of my mom's kitchen because she's really mastered the art of comfort food.
One of the best things to come home to after a long day is a hot bowl of sinigang soup. That's sour tamarind broth, for those who are unfamiliar with this staple Filipino dish. I recently made a big pot of  sinigang with shrimp heads and lots of veggies for my in-laws, but really, my favorite sinigang variant is the pork kind.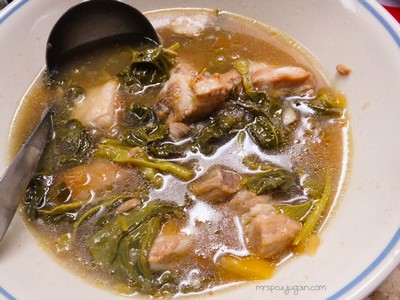 For her soup, my mom uses half a kilo of pork, I think she uses thick cuts of liempo (pork belly) or American Ribs from Monterey. She adds lots of kangkong (water spinach), or pechay Tagalog (bokchoy) when my dad requests for it, labanos (radish) and gabi (taro). She also adds some chopped tomatoes for added color and sourness. If you like your sinigang spicy, you can also add green siling haba (finger chili peppers). I prefer my soup to have a bit of a kick, but my mom likes it mild and child-friendly, so we only put a couple of chili peppers in.
The sourness in the soup comes from adding either tamarind, guava or miso. We like to make thing easy for ourselves at home, though, so we use sinigang mix. Mom and I recently discovered how good Maggi Magic Sinigang is, and so we shifted to that from the brand that we used to use. It's definitely more flavorful than our old mix, and a lot more sour, just the way I like it.
Preparing this hearty dish is easy. Boil the meat in enough water until it's soft. Add the tomatoes, then the radish and taro.Continue to boil the soup until the vegetables are cooked. Season with sinigang mix, and adjust the saltiness to your liking using patis (fish sauce), then add the chili peppers. At the very last minute, add the kangkong or pechay, turn off the heat and you're done.
Sinigang is best enjoyed with steamed rice and a cold glass of Coke.
Feeling adventurous? Try preparing your sinigang with lechon manok (roasted chicken) instead of pork. We had that for dinner last night, and it was really good! The soup gets this fabulously yummy, smoky flavor from the chicken. You can also visit the Maggi website for a Bulalo Sinigang recipe, and other yummy dishes that you can easily make at home. Like Maggi on Facebook too, for more recipes and kitchen tips.
Happy eating!