I still can't believe that my little boy is already 8. We celebrated with the family last Friday, and since it was his special day, Little MrC got to choose where we would have lunch and dinner. For lunch, he chose one of our super favorites, Omakase. For dinner, it was Project Pie.
Before heading out to dinner, MrC gave our birthday gift to the kiddo. He asked for binoculars, and MrC was able to find a nice National Geographic one at Hobbes and Landes.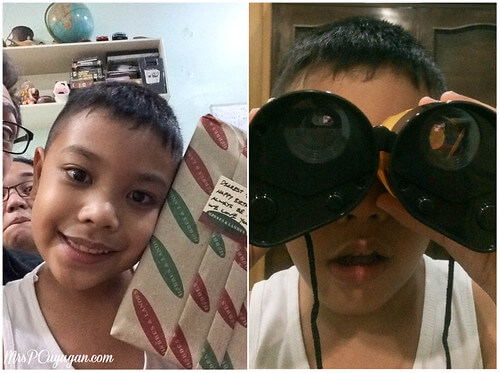 At Project Pie, I was initially overwhelmed because it was our first time there and there were so many options! It takes me a while to order because I can never decide what it is I want, so I was feeling kind of pressured in line when it was time to build my pie. Yes, I take these things seriously. Fortunately, I did good with my pizza, which had red sauce, mozzarella and Gorgonzola cheeses, prosciutto, fresh mushrooms and a sprinkle of Parmesan on top.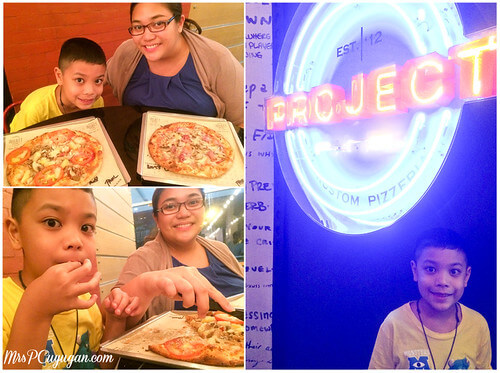 I think the little guy and MrC put red sauce, tomatoes, mushrooms, pineapple, pepperoni, meatballs, bacon, mozzarella and Parmesan on our second pizza. I recently discovered that I'm not a fan of pizza that's loaded with toppings, so I only had a couple of bites of this one.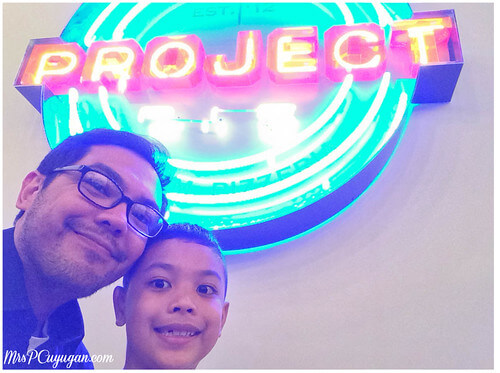 I, of course, tried everyone's creations, and among all the pizzas our family made that night, my favorite was the one built my my sister's boyfriend, Koko. He chose the #6, which has grilled chicken, sliced red onion, cilantro, mozzarella, Gorgonzola and barbecue sauce, with additional bacon. I am definitely ordering this next time, but without the cilantro (I don't like cilantro!), and with prosciutto instead of bacon. Yum.
After dinner, and before bed, we sang Happy Birthday and had some cake at home. I am so, so proud of my friend, Mina, for decorating this amazing Regular Show cake! She works at Daisee's Bakeshop in Las Pinas, and they make really nice custom cakes that taste good and are super affordable. I super duper, highly recommend them!
Time really does go by so quickly! Imagine, MrC and I have been parents for 8 years. What an adventure it has been so far, and for sure, it's gonna keep getting even more exciting as the years go by.