Our family celebrated Easter weekend with an unexpected staycation at St Luke's Medical Center in Bonifacio Global City. We had to rush to the ER at 1:00 AM on Black Saturday due to intense swelling and numbness in the little boy's left hand. If you follow me on Instagram, you would have seen my play-by-play photos from right before we left for the ER until we finally were discharged three days later.
The swelling actually started on Thursday morning, while we were in Fishville. It was his right pinkie finger that started to balloon first, and on the first day he said it was really painful. Thank goodness for my doctor dad who told us what to do and what medicines to make Little MrC take while we were at the beach. That day, MrC and I went home ahead of the rest of the family because it was my girly time of the month and I was already uncomfortable to the point of crankiness. The little guy stayed behind with his grandparents and my siblings.
We originally suspected it to be a bug bite on his finger that was causing the swelling. He is allergic to mosquito bites, and gets really huge, nasty red spots each time he gets bitten. Friday morning, dad posted this photo on Facebook. See how puffy the little guy's fingers were?
While they were preparing to head home that day, dad called to ask me to buy antibiotics for the little boy to take when he got home. Dad was worried because the kiddo wasn't feeling anymore pain in his fingers and that was apparently a bad sign. If that were just me, I would see the absence of pain as a sign that maybe he was getting better. MrC told me that he was amazed at my dad's outlook on pain, and that he too would have seen absence of pain as a good thing. Dad specializes in anesthesia and pain management, so I suppose he really sees pain in a whole different light. Thank goodness for that!
So they got home and we gave the kiddo antibiotics, and while he was sleeping his other hand started to puff up as well. The whole night, my dad was restless and couldn't sleep, and at around midnight he decided it was time for us to go to the ER. Now, in case you were wondering why we didn't rush to the hospital right away, it's because growing up we always had a doctor at home so home care was manageable. We didn't actually go to the hospital unless it was absolutely necessary, and believe it or not, the first time I was hospitalized was when I gave birth at 23.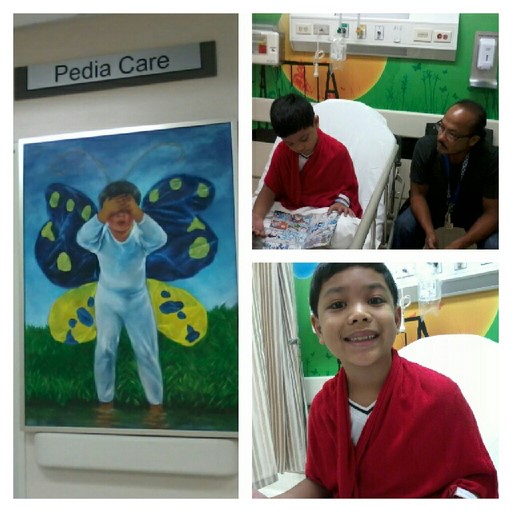 We weren't expecting to be confined at the hospital, but the pediatrician in the ER said that Little MrC needed IV antibiotics and a blood culture test to determine what was causing the swelling. The initial diagnosis (which turned out to be correct) was cellulitis, and it most likely got into his system via the wound on his leg that has been there for a year and has yest to fully heal. Cellulitis is defined by the Mayo Clinic as:
A common, potentially serious bacterial skin infection. Cellulitis appears as a swollen, red area of skin that feels hot and tender, and it may spread rapidly.

Skin on lower legs is most commonly affected, though cellulitis can occur anywhere on your body or face. Cellulitis may affect only your skin's surface, or cellulitis may also affect tissues underlying your skin and can spread to your lymph nodes and bloodstream.

Left untreated, the spreading infection may rapidly turn life-threatening. That's why it's important to seek immediate medical attention if cellulitis symptoms occur.
Activate panic mode! The little boy's swelling did spread quickly, from one finger to two hands ballooning in a matter of hours. He also developed red patches on his arms in the two hours that we were in the emergency room. While we were there, they drew blood for tests and inserted an IV line in his foot because his hands were so swollen that his veins couldn't be seen. My poor baby! But I'm really proud of him because he was so brave. He just sat quietly while the doctors and nurses did their thing, and not once did he complain or cry or ask them to stop.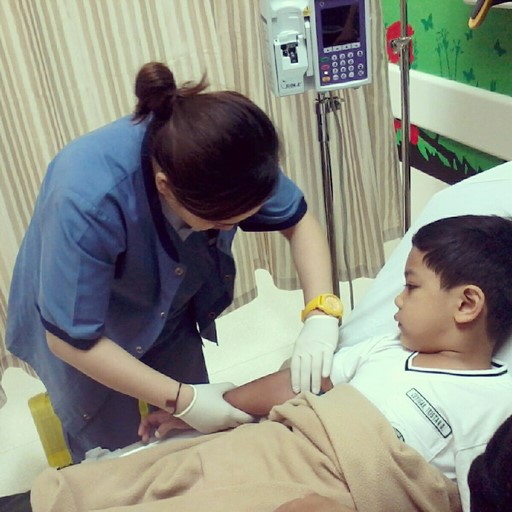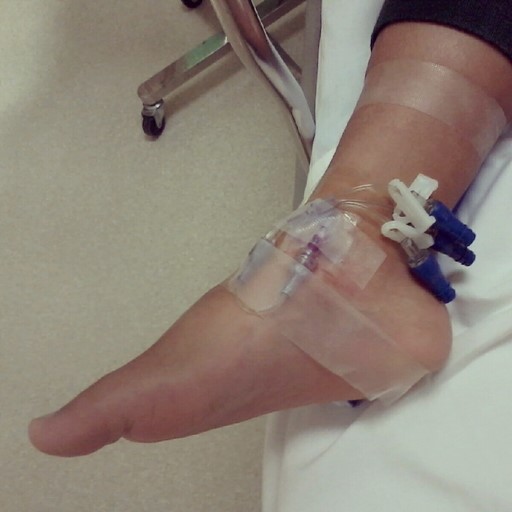 We were brought to the hospital room at a little past 3:00 in the morning, and there he was given his first dose of medicine. Dad went home after a while so that he could rest. My sister-in-law visited for a bit that morning while the little boy was having breakfast, which was a tray of waffles and meat loaf, cereal, milk and juice. I have to say that the food in the pediatric unit of St Luke's is really good, and more importantly, super kid-friendly! Here are some of the other things served to Little MrC while we were there: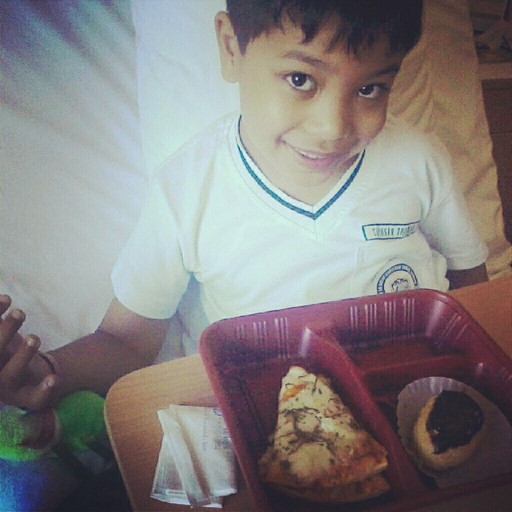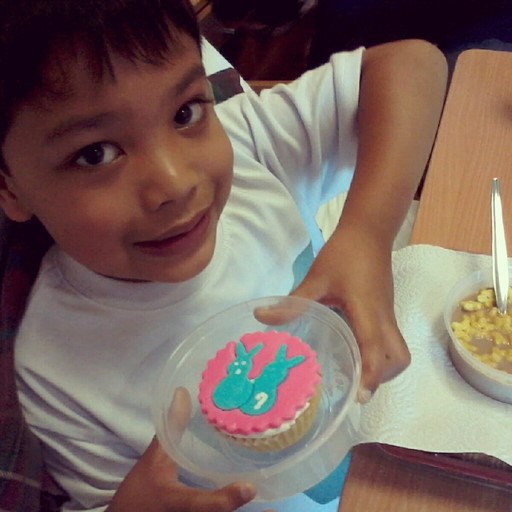 After 3 days in the hospital, and 3 days of IV antibiotics, the little guy's hands were back to their normal size, and his full mobility was restored. Yup, at one point the swelling was so bad that he couldn't even bend his fingers or make a fist. We were finally allowed to go home yesterday after his last dose of IV medication. For the next week, we are to follow a home treatment routine that includes taking a bath with the same stuff that doctors use to clean up before they enter the O.R., plus swabbing Bactroban in our noses. Yup, that goes for everyone living in our house. I posted the schedule on our bedroom wall so I was sure not to forget anything.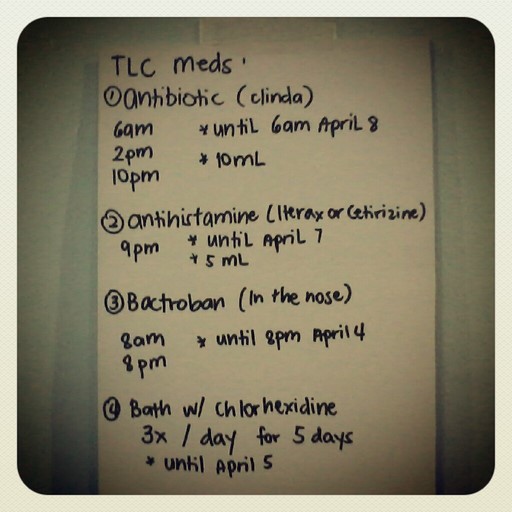 It's a good thing we didn't buy tickets to any of the Easter events in Alabang otherwise they would have gone to waste. Instead, my mom set up a mini egg hunt in the little boy's room while we were there. We were also lucky to be in one of the best hospitals in the country, with great doctors and amazing service. I'm just happy that the little boy is better now, and that we are home.
Lesson learned: Health is wealth, take good care of yourself, and always stay clean!
P.S. All photos in this post (except the one from my dad's Facebook page) were taken from my Instagram. Follow me to see the rest of the pictures from our three days at St Luke's and to see photos of my little boy's healing progress.