Two weeks ago, I excitedly announced my return to my online world with a post about Blogapalooza. Guess what? I ended up missing that event, and going another couple of weeks without being able to post anything here. Yep, I've been a very busy bee. The good news is that since I've been busy living my life, I now have a whole collection of stories to write!
October ended on a super high note for me with two fab workshops, quality time with family, and a much-awaited homecoming. One of the highlights was a Tunisian Crochet for Beginners session that I attended. I love when I get to be a workshop participant instead of an organizer, for a change. The week after, our Manila Workshops team pulled off a successful, first-ever WAHMderful Weekend, which, for me, was the day that I became a certified WAHM.
The last day of the month was extra special for our family. During the day, the boys and I did our usual rounds of the village for Halloween. Here's a photo of our little Ben10 going around for candy, plus a few other interesting costumes we saw that afternoon.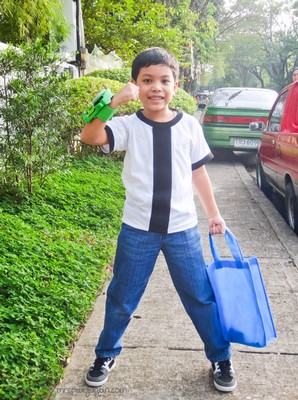 [Read more…] about Halloween, A Homecoming, and A Recipe for Sinigang