Two weeks ago, I excitedly announced my return to my online world with a post about Blogapalooza. Guess what? I ended up missing that event, and going another couple of weeks without being able to post anything here. Yep, I've been a very busy bee. The good news is that since I've been busy living my life, I now have a whole collection of stories to write!
October ended on a super high note for me with two fab workshops, quality time with family, and a much-awaited homecoming. One of the highlights was a Tunisian Crochet for Beginners session that I attended. I love when I get to be a workshop participant instead of an organizer, for a change. The week after, our Manila Workshops team pulled off a successful, first-ever WAHMderful Weekend, which, for me, was the day that I became a certified WAHM.
The last day of the month was extra special for our family. During the day, the boys and I did our usual rounds of the village for Halloween. Here's a photo of our little Ben10 going around for candy, plus a few other interesting costumes we saw that afternoon.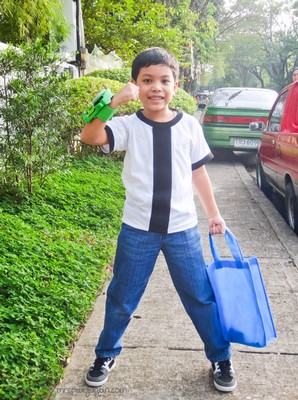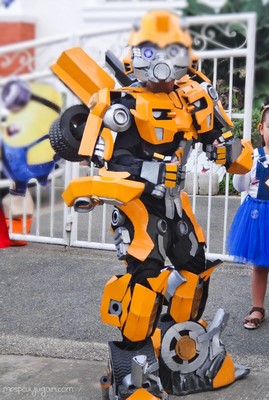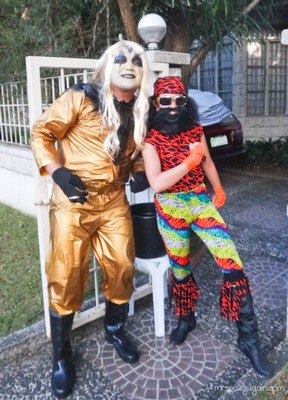 After trick or treating, we headed over to our temporary Makati home to await the arrival of our Cuyugan family from the US. It had been two years since we last saw them, as the last time they were home was for our wedding. As a special treat, I prepared two yummy shrimp dishes for them to eat as soon as they got home, since was able to buy a kilo of live shrimp from Puregold Alabang when MrC and I went shopping for supplies for the Makati house.
I pre-cooked the shrimp in a tablespoon of water + its own juices first. Once they turned pink/orange, I separated the heads from the body. I then turned the heads into a yummy sinigang soup using my newfound fave, Maggi Magic Sinigang. I swear, it makes the most flavorful broth with just the right amount of sourness. I added lots of yummy veggies into the soup – eggplant, kangkong, tomatoes and radishes – and it was a huge success. We ended up eating this for the next two days! My in-laws were so happy, and I'm glad that I got to showcase my new and improved cooking skills, with the help of Maggi. They actually sent me a goody bag with and assortment of things on the week that I had to prepare food to stock the Makati fridge. Serendipitous! I'll be sharing a few more recipes that I made using my Maggi stash over the next few days. In the meantime, check out the super simple, but super yummy recipes posted on the Maggi Facebook Page and the Maggi Website.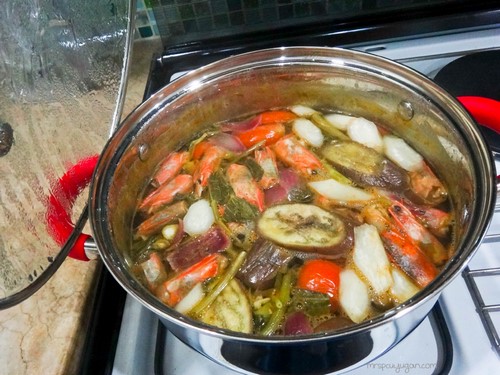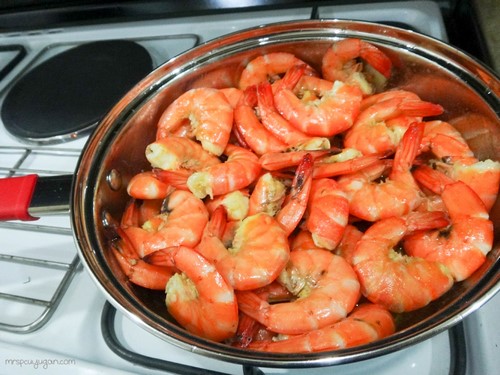 November proceeded to be surprisingly more busy than October was. We have been spending our weekends in Makati, preparing for the wedding of the year and just making the most out of our time with the Cuyugans. During the week, I had a mountain of work to contend with, and I'm so happy that I managed to pull everything off despite the crazy schedule. Blogging had to be put on the back burner for a while though, but this time, I really am back. Now, just to give you guys something to look forward to, here's a list of upcoming posts that you can definitely expect from me real soon.
My Tunisian crochet afternoon at Pipino with the Gantsilyo Guru
WAHM Weekend – the day that I believe I became a certified WAHM
Shopping with my sisters, and our fab finds at the Rockwell Christmas Bazaar
Family lunches and dinners at Grand Momma's, Bellini's and Lorenzo's Way
More kitchen adventures with Maggi – Healthy Chicken Adobo and Pork Sinigang the way my mom does it
My sister-in-law's AMAZING Villa Escudero wedding
My most meaningful crochet project to date
The perfect personalized gifts from Istorya Creations
My first ever visit to Bohol (which is happening this weekend, can't wait!)
Yup, that's my October-November in a nutshell. Plus I have  a whole bunch of other posts that I have yet to write. Lol. Hello, enormous backlog! This is gonna be fun.
What have you guys been up to?