We are now, officially, a four-eyed family. I always hoped that Little MrC wouldn't have to wear glasses, at least until he was old and grey. But alas, given our family history with spectacles, I'm really not surprised that he now needs them.
As you've probably already noticed, both MrC and I wear glasses. We both have astigmatism, and I am also near-sighted. I started needing mine when I was 7. The husbandry started wearing his in the 7th grade. Several other members of both families have worn, and still wear glasses. So yes, it's safe to say that bad eyes is kind of in our genes.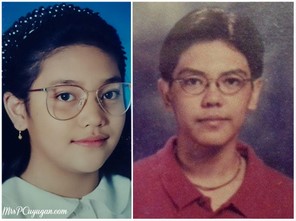 A few weeks ago, I started noticing that the little guy was holding his books very close to his face while reading. He was also blinking a lot, going near the TV while watching, and complaining about headaches. I knew it was time to have his eyes checked.
So, before their sembreak ended, he and I visited our friendly neighborhood ophthalmologist, Dr. Peggy Manese, in Healthway Alabang Town Center. The moment she asked the little boy to read the chart, we knew his eyesight was bad. He only got 4 out of 15 letters right. Uh-oh.
That same day, the boys and I visited each and every optical shop in ATC to look for the perfect frames for the kiddo. Luckily, we have had a lot of experience picking out glasses, so we knew what to look for. If you will take another look at the photo above, you'll see that my mom's eyeglasses buying skills kind of matched her hair cutting skills. Sorry, Ma.
We finally settled on a nice red and black frame from Sarabia Optical, after a lot of walking, and after the little guy had tried on about 20 or so different frames. They were on sale, so we got it at a good price, and Sarabia also offers friendly lens rates, so we didn't need to pay a whole lot. That, of course, is a good thing.
We had to wait until the following day to pick up the finished glasses, but that was okay. They were worth the wait. Thing is, I never imagined that my kiddo would look like such a big boy in glasses. All of a sudden, it really feels like he is a baby no more! Waaahhhh.
The good news is that we were able to have his eyes checked early enough that it can still be corrected. So mommies and daddies, when in doubt, go and have your kids' eyes checked by a doctor. Some signs that might indicate that your kid needs glasses are:
They squint or blink a lot
They move closer to the TV while watching or hold a book close to their faces while reading
They often trip or bump into things
They tilt or turn their head when trying to focus on something, coz maybe one eye sees better than the other
They complain of headaches or eye pain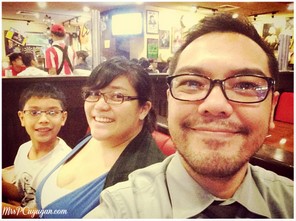 So far the little boy has been good about wearing his glasses at all times, so hopefully when we go back for a checkup next year, his vision will have gotten better. I'm keeping my fingers crossed for that.
Do any of your kids wear glasses, too?