I have two questions for you guys. One, did your parents ever cut your hair when you were little? And two, do you cut your child's hair?
My answers are one, yes and two, no. I have this theory that the two experiences are directly linked to one another. Please, feel free to correct me if you think that I'm wrong.
When We Were Little, Mom Cut Our Hair
I don't think there was ever a child of the 80's whose hair was not cut at home by his or her mother. Uneven bangs, hair that looks like it was molded after a mixing bowl, long hair whose ends were cut with a ruler, a folder or a book as reference to make sure that they are all the exact same length – I know a lot of us had to go through this. You see, my mom is good at a lot of things, but unfortunately for us hair styling is not one of them. Looking at my baby pictures, I can say that up until I was maybe 2 or 3, I looked like a little boy because of my bowl-shaped hair cut. After that, it was straight bangs and long hair until the second grade.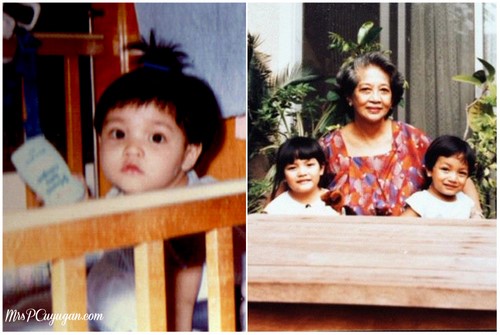 Thing is, I can complain all I want about my childhood hair styles, but no one had it worse than my brother. One day, my mom decided to shave his head. At home. With a twin blade razor. Safe to say he looked like a prisoner for a couple of years before his hair finally grew back completely. We love mom, but after that there was no way she was touching our hair anymore.
I Once Tried to Cut My Son's Hair
I know I said earlier that no, I dodn't cut Little MrC's hair. I remember I actually did, once. He was really small then, like he was only starting to learn how to sit. His bangs were getting really long and starting to fall into his eyes, so I had to trim them. That was it. From then on, up until the time when he could be brought to a kiddie barber shop, my dad was the one cutting his hair. He was pretty good at it too. If only we knew that while we were little, right?
When we discovered that the little boy could actually sit still at the barber shop and didn't mind having a stranger cut his hair, that was it. We started to take him for regular hair cut sessions whenever necessary. I think the fact that we always laugh about out hairstyles as kids is one of the biggest factors as to why I've chosen not to cut my kid's hair on my own. I know that I can save a lot of money if we did the trimming at home, but I would honestly rather have it done outside.
A Conversation on Hair Cut Day
In recent years, our barber shop visits have become a once a month thing for us because his school has strict rules and regulations as far as hair cuts for little boys are concerned. All part of being a parent to a big kid. Yesterday we went for a hair cut in preparation for school inspection on the first Monday of February. We will be out of town this weekend (yay!) and won't have time to do it then, so we had to go after school. I asked my son where he would like to go for his hair cut because I believe that his opinion matters. It was a choice between two places, one in Molito and another in Alabang Town Center.
Mom: So where do we get your hair cut today?
Kid: Tabas!
Mom: In Town? Not Molito?
Kid: Yup. I don't like that other place.
Mom: Why not?
Kid: They're always gigil when they cut hair there. Like they want to finish fast so they can go home already.
I remember that the last time we went to the Molito barber shop he complained that the guy was pulling his hair as he cut and that it hurt. I'm actually happy that I've got an opinionated kid who isn't afraid to tell me what he likes and doesn't like. It helps me know more about him, and in cases like this, allows me to choose the better option for him. I think that this matters in life, and I'm happy to say that he and I are off to a good start.
So, do you cut your kid's hair, and did your parents cut your hair when you were little? 🙂