Last November, the Cuyugan and de Jesus families came together at Villa Escudero for the grand wedding of Ate Baban and Kuya Cy. Both families had been looking forward to this wedding, and of course for the fun togetherness time we would all be spending with each other. I have been to Villa Escudero several times before, but I've never stayed there overnight so I was excited about the experience, but there was something that I was really anxious about. The title of this post is actually a major clue as to what my big hangup was. Lake + plantation/grass/forest = FROGS. Yes, I am admittedly 100% afraid of frogs.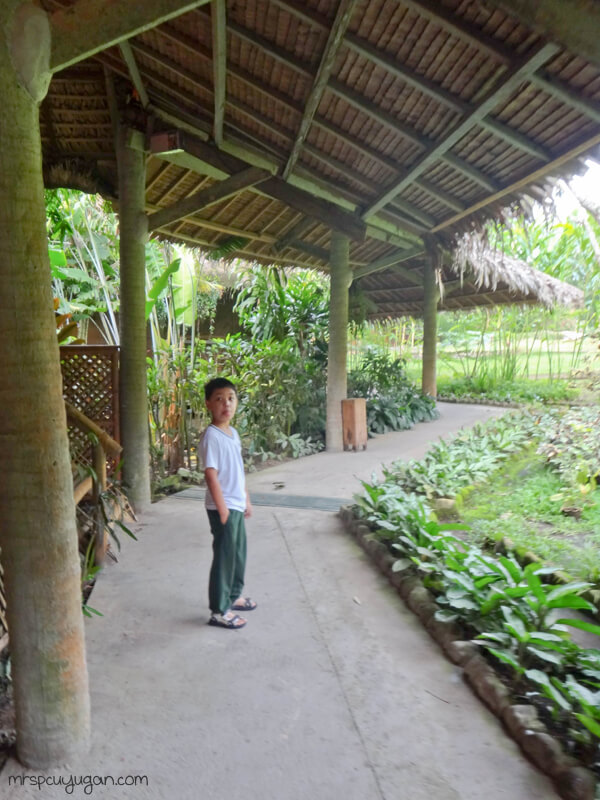 Mine is not your ordinary froggy fear. I would say that mine is rather extreme, and involves a lot of cursing, crying, hyperventilating, and possibly pinching/dragging/slapping/pushing the poor unfortunate soul who is with me whenever a frog makes its presence felt. And this doesn't just happen when I see a frog. Fear triggers within me whenever I hear the croaks, see them on TV or in photos, even when I am simply made aware that, yes, there are frogs in the area. I actually skipped dissection in school because I freaked out and cried. In case you were wondering, there is actually a long childhood story behind this fear that I will maybe write about eventually.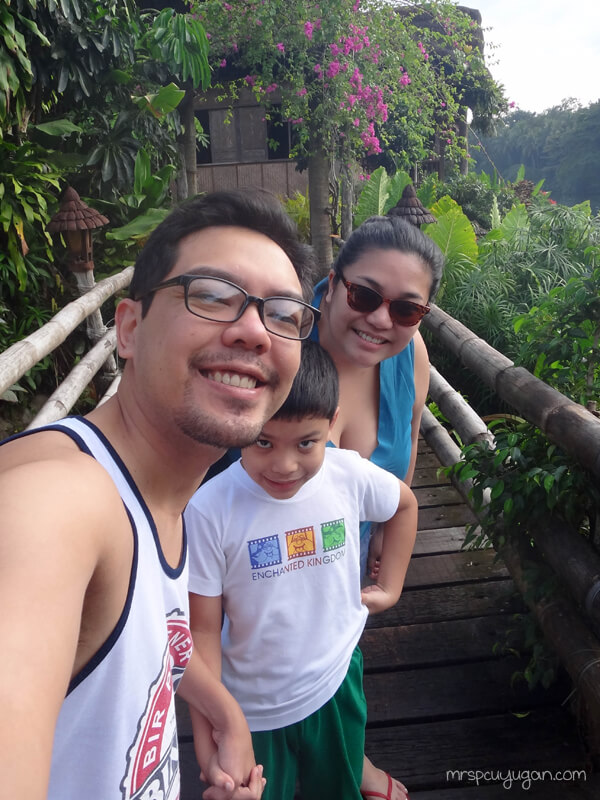 Back to our weekend vacation, which was, thankfully, frog-free despite our second night there being a rainy one. We arrived late in the afternoon of Friday, after a very easy drive with very little traffic. We stayed for two nights, and our Sunday morning drive home was quick and easy too, thanks to the Pacquiao fight that day. We all really enjoyed our stay, and now I'd like to share with you my five favorite things about our weekend at Villa Escudero Plantations and Resort.
1. The Room
The only time I felt the presence of frogs was in the evenings, when their ribbit-ribbits rang out from the mangroves across the lake. I knew that they were far away, though and I was able to ignore them. We also stayed in an airconditioned room, so I was spared from having to endure an entire evening of froggy serenades. Some might say that staying in an aircon room totally defeats the purpose of being out there, so close to nature, in a place that is naturally beautiful. To an extent, I agree. I also have to say that the non-aircon rooms are equally beautiful as the ones we stayed in. It also is cool and breezy at night, so the large ceiling fans in most of the rooms really do the trick. But for my own peace of mind, I am so glad that we were in an airconditioned suite.
The funny thing is, I just realized that I have only one photo of our room. It's not a very good picture, and the room was messy and I think it might have been taken accidentally. I'm also walking through the door at that very moment and, well, it's really an unflattering shot.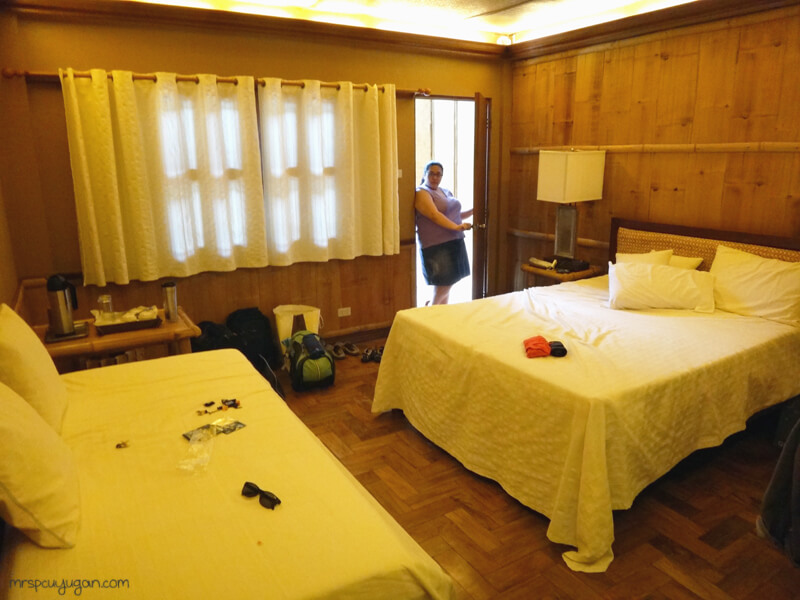 We were on the second floor of the Gumamela Suites, a large cottage with a total of four rooms in it. Each room can be booked separately, or you can opt to rent the entire Gumamela house like we did, if you are a big group. All in all, I think we were 9 adults and 2 kids, and we still had enough space to squeeze more people in. The rooms look exactly the same, except that we had a queen bed upstairs, while the downstairs rooms had twin beds. The rooms downstairs had a bigger alfresco space, with a dining area as well as a balcony with a hammock. All rooms also had a daybed with a pullout, and there were additional daybeds out on the balconies.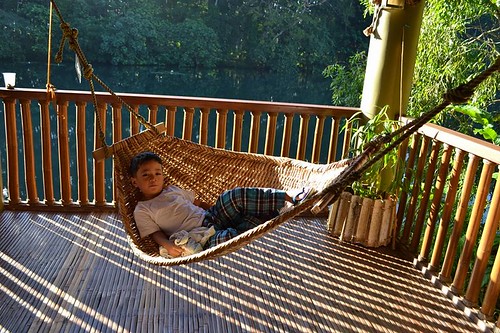 2. The View
The great thing about having a balcony is that it offered us a magnificent view of the lake. It's so relaxing, just lounging on the day beds and hammocks, watching people paddle by on bamboo rafts, and just enjoying the stillness. It's a big, welcome change from the chaos that we face every day in the city.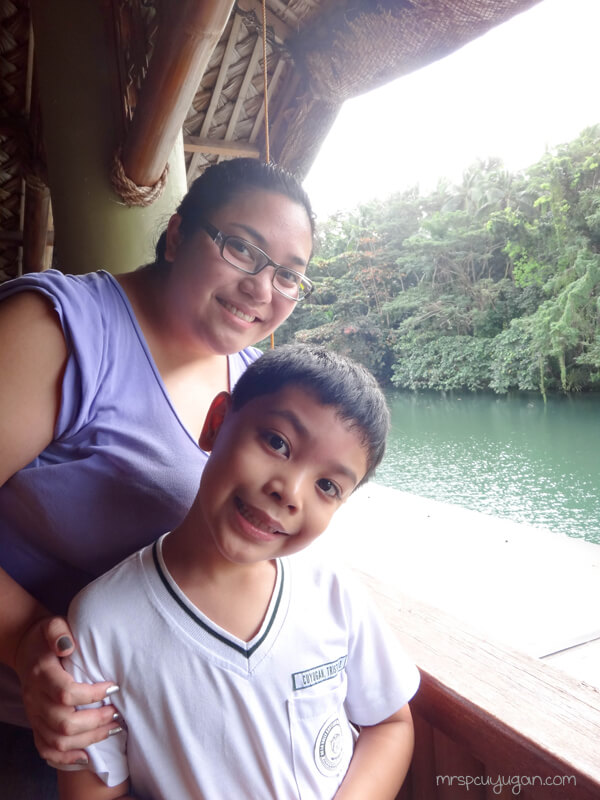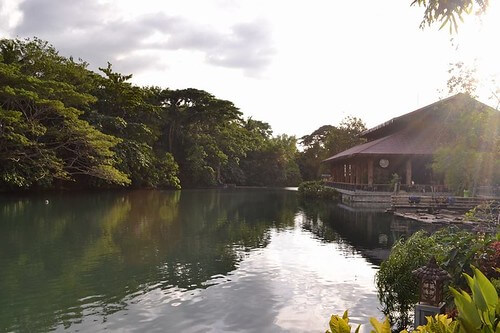 3. No TV!
No, I'm not crazy. I really did say that one of my favorite things about this place is the absence of TV sets in the rooms. I tend to get annoyed when my companions zone out in front of the screen and lock themselves in the room when we're on vacation. After all, we are there to spend time with one another, to talk and take photos, build memories and enjoy each others' company. Without a TV in sight, we had to go and find other things that we could do, and more often than not, those turned out to be things that we did together, like fishing! You can fish from the first floor balcony of the Gumamela Suite, and I think that the adults had more fun doing this than the children did. On the first night, the de Jesus' caught a small fish, which was thrown back into the water after a quick photo op. If you don't feel like fishing, you can go swimming, check out the museum, and just explore the grounds. There's a lot to see at Villa Escudero, and lots of nice places for photo ops, too!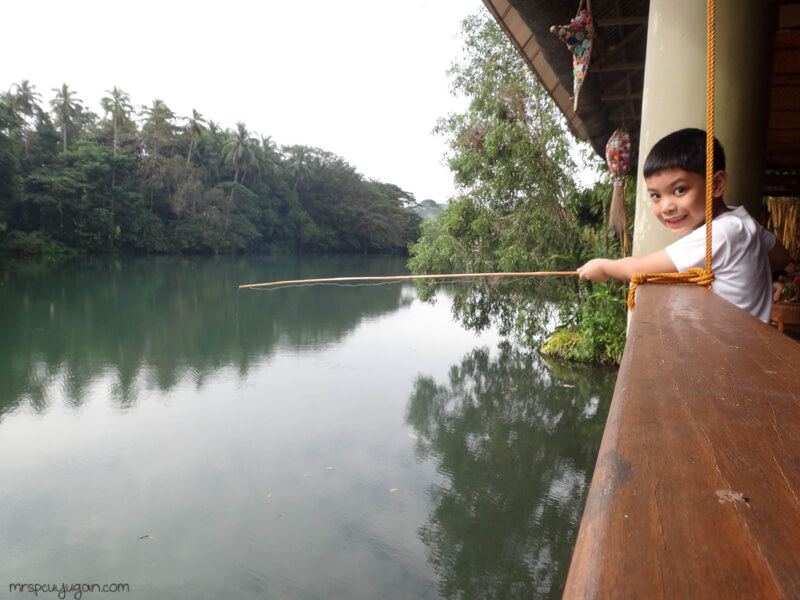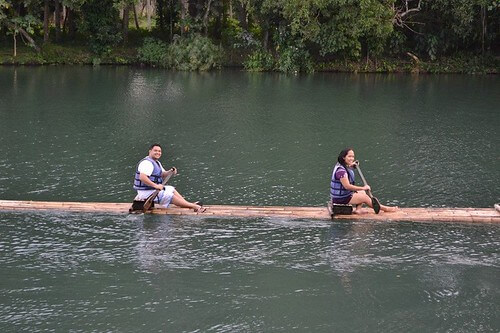 4. Yummy Filipino Food
This is a great place to bring balikbayans, if only for the yummy Pinoy dishes they serve buffet style each day. For an overnight stay, you get one meal at the waterfalls, same as the day visitors. Then dinner and breakfast are served in the pavilion, which is the same place where they hold the cultural presentation. Because we arrived late in the afternoon, we missed lunch on the first day. Then on the second day, we joined the pavilion lunch group instead of using our waterfall stubs because we were in the middle of preparing for the wedding, and it seemed like a really silly idea going down to the falls with full makeup on. You can read about lunch at the waterfalls from one of my previous visits here.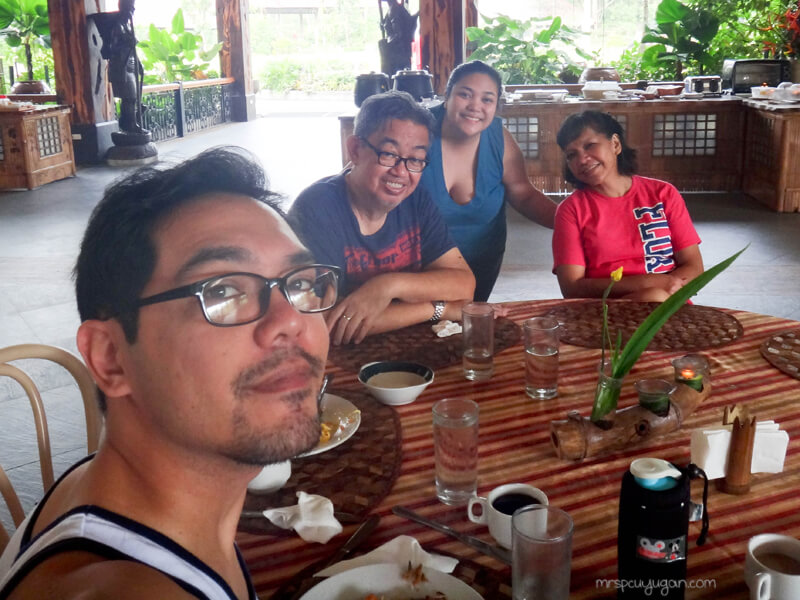 5. Excellent Service and Super Friendly Staff
One thing I look for in any place I visit is hospitality from their staff. This is, after all, part of their jobs, being that they are in the hospitality industry. I hate it when I see restaurant, resort or hotel employees who look so unhappy to be there, and are so unapproachable. The people at Villa Escudero are the complete opposite, always smiling, greeting the guests, and granting our requests. They are eager to answer questions about the food, the resort, and the available activities. The great service that they provided really helped to make our stay there extra pleasant.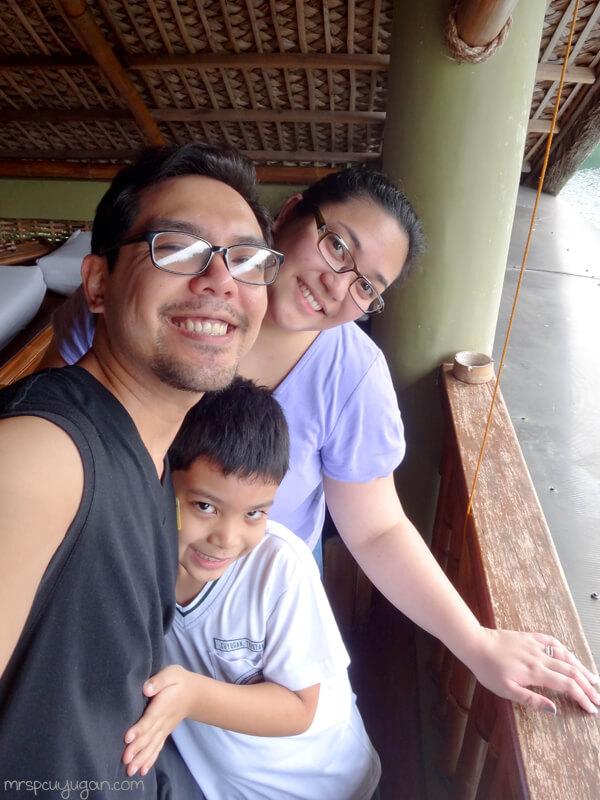 The thing about Villa Escudero is that it's quite pricey. You can check out the published rates on their website here. The package does include full-board buffet meals though, and you have access to the different amenities of the resort, plus you get to experience the carabao cart ride. I think that it's worth saving up for if this is the sort of weekend escape that you are looking for – outdoorsy, but not all that rural. It's a perfect retreat for city dwellers like me, who are too attached to certain luxuries and creature comforts to go camping, but would like to spend an evening or two surrounded by nature.
Villa Escudero Plantations and Resort
San Pablo City, Philippines
Manila Office: 1059 Estrada Street, Malate 1004 Metro Manila
Phone: (632) 521-0830 / (632) 523-0392 / (632) 523-2944
Fax: (632) 521-869
E-mail: info@villaescudero.com
Provincial Mailing Address: P.O. Box 4 San Pablo City 400, Philippines