You know you're Filipino when you are excited beyond comprehension about the coming of Christmas. Agree?
I feel that Christmas really puts everyone in a giving mood, and that's why most people continue to brave the holiday traffic and the crazy crowds just to find the perfect gifts to give their loved ones. I say 'most people' because I really am not one to subject myself to the Christmas rush. I honestly prefer to DIY, shop online or give gift cards. Regardless, though, if you are a Christmas shopaholic or an antisocial holiday shopper, the point is that we all want to give our dearest friends and family nothing but the best.
Enter, Taiwan Excellence, a campaign organized by the Bureau of Foreign Trade of Taiwan together with the Taiwan External Trade Development Council (TAITRA), a non-profit, semi-governmental trade promotion organization in Taiwan.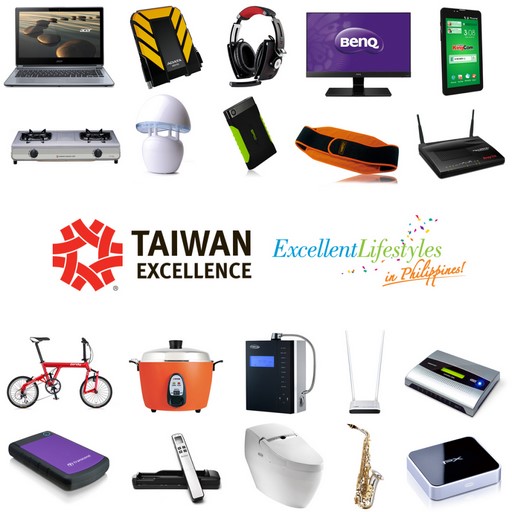 I recently wrote about this campaign, whichaims to recognize high-quality Taiwanese brands, thereby guaranteeing their superior quality and value. This was just introduced in the Philippines, featuring innovative products that help in simplifying everyday tasks at work and at home. In a way, it helps us Filipinos live excellent lifestyles by giving us access to these superior products.
But wait, there's more! (Lol, festive mode nga, diba?)
The Taiwan Excellence campaign has officially invaded Christmas in the Philippines in a really good way. The Taiwan Excellence – Made to Enjoy Christmas Contest is ready to help you grant your special someone's Christmas wish. This special person could be your mom, your spouse or your child, basically anyone whom you would like to share the spirit of Christmas with.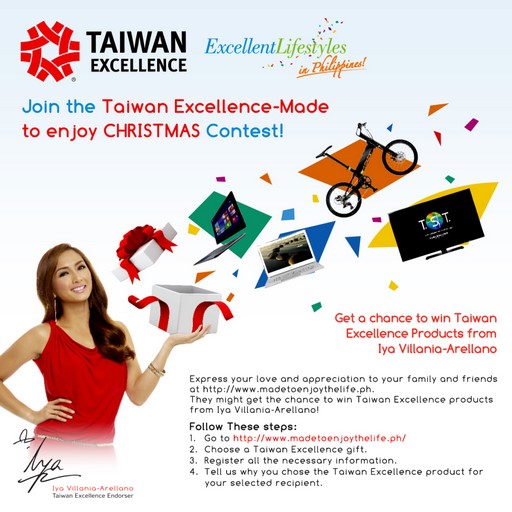 All you have to do is visit www. M ade T o E njoy T he L ife.ph to register, and select a Taiwan Excellence gift for your loved ones. No strings attached, no purchases required. Simply upload your photo, then say why you want to give that Taiwan Excellence gift to your selected recipient.
The Made to Enjoy Christmas Contest runs from September 28 until November 23, 2014. Ten winners will receive the chosen Taiwan Excellence product chosen for them this Christmas. One lucky winner will have the privilege of having the gift delivered by no less than Taiwan Excellence Celebrity Endorser for the Philippines, Iya Villania-Arellano. That's almost like two gifts rolled into one!
So, go and spread Christmas cheer as early as now. You have until tomorrow to join the Taiwan Excellence – Made to Enjoy Christmas Contest, and (hopefully) make someone's Christmas wish come true.