Earlier this week, I paid for my slot for Dainty Mom's upcoming Write On Workshop, the third in the series. I realized this morning that I have yet to post about the first two workshops, which of course I attended. The only evidence on my blog that I was actually at those workshops are my completed "homework" –  this post that tells the story of my hopes, dreams and fears as a mother, and my about page, which I can now proudly say exists.
I love the Write On Workshop Series, and that's why I keep coming back. There are three very compelling things about these workshops that I know all the attendees look forward to. First, and most obvious, is the learning experience. I don't think anyone who's ever joined one of these can honestly say that they did not gain anything from the session. I know for a fact that I am a better blogger because of all that I learned from Martine and my classmates. I'll be sharing these learning points in a few days, I promise! Just need to get my thoughts and my notes together.
Second is the networking opportunity with other moms who blog. Through my involvement in these workshops, as well as the Manila Workshops projects, I have made so many wonderful new friends. What I love most about these ladies is that we are all on the same boat! Regardless of age, background, what city we live in, we all can relate to each other, we help each other out, and we encourage, uplift and inspire each other every day. It's a great circle of friends to have and a great community to belong to. Through these workshops, we get the chance to meet regularly, and it's always fun.
The third reason is the food. I remember Martine saying once that writers need good food and good coffee to function. I couldn't have said it better myself. Obviously our workshops are always held in a place that has both. Happy tummies make for happy writers!
I was extra excited about the restaurant where we had our second Write On class, La Creperie in San Juan. Whenever the boys and I go anywhere outside of Alabang, I try to look for a place we can eat that doesn't exist in the south so that we can try something new. We totally jumped at the chance to try La Creperie because all of their branches are north of Makati, an area I call the far north. Lol.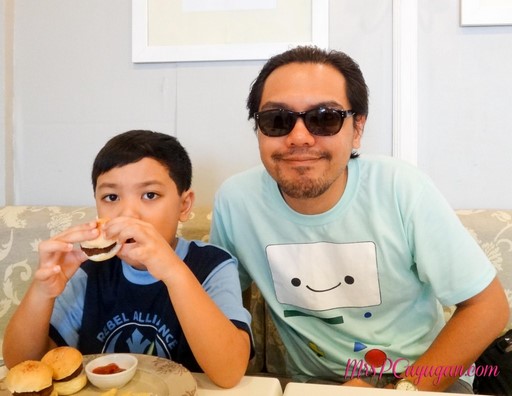 I love crepes, and one of my favorite places in the south is Cafe Breton in Westgate. The weird thing is that my favorite menu item there is the Mozzarella Burger. So when I saw that La Creperie had an Emmental & Mozzarella Cheeseburger I had to try it.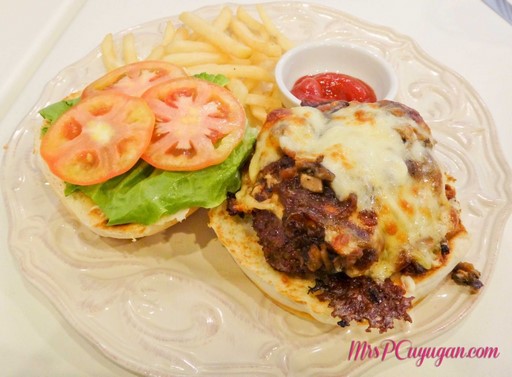 I knew that we had a special menu for the afternoon session, but that wasn't gonna stop me from trying what the boys ordered too. I obviously love to eat. The little boy ordered mini burgers and fries from the kiddie menu and MrC had a chorizo, herbed cheese and tomato open faced sandwich with a fried egg on top that was just so good. I liked his order best. The Eggs Benedict at Manila Hotel has nothing on this sandwich. Absolutely nothing. Sadly, I have no photo of the said sandwich. Yes, I know, epic fail.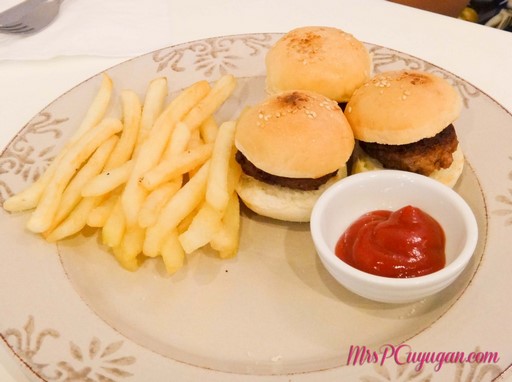 Finally, dessert. We asked our server to recommend a sweet crepe for us, and she said we should try the Mango Hazelnut au Chocolat. Just a quick side note, aren't the plates at La Creperie beautiful? When I have my own house, I want to have mismatched plates too. I think that it adds a charming effect to the table. The entire place is charming, actually. I mean, just look at the super pretty wall decor in the next photo.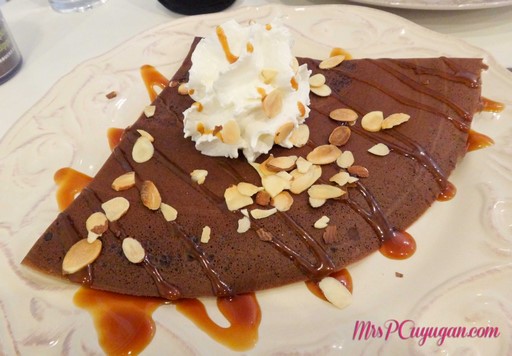 I'm not much of a caramel fan so this was a little too sweet for me. But the boys loved it! They mopped up all the caramel they could with every bite. After dessert, the boys and their happy tummies left to meet up with MrC's sister at Greenhills Shopping Center. Meanwhile, my happy tummy and I headed over to the other side of the room for an afternoon of fun, learning and yes, even more food.
Watch out for my Write On post plus our special workshop menu by La Creperie really, really soon.
La Creperie
F. Calderon St., San Juan
(+632) 570 1788
laCreperiePH@gmail.com
#/LaCreperiePH