I went to the kitchen mid-morning to get water, and I saw ingredients laid out. I asked my mom what she was planning to make and she said Chicken Menudo. I stopped her right there and said that I was gonna take care of preparing lunch.
No one, and I mean no one loves menudo in this house more than I do. I believe that the most important ingredient that goes into any successful dish is love. Because I have lotsa love to give for this dish, I knew that it had to be me in that kitchen. I mean, I don't think that you could look at the finished product and tell me that I'm not right. I know you can't because the love just totally shows.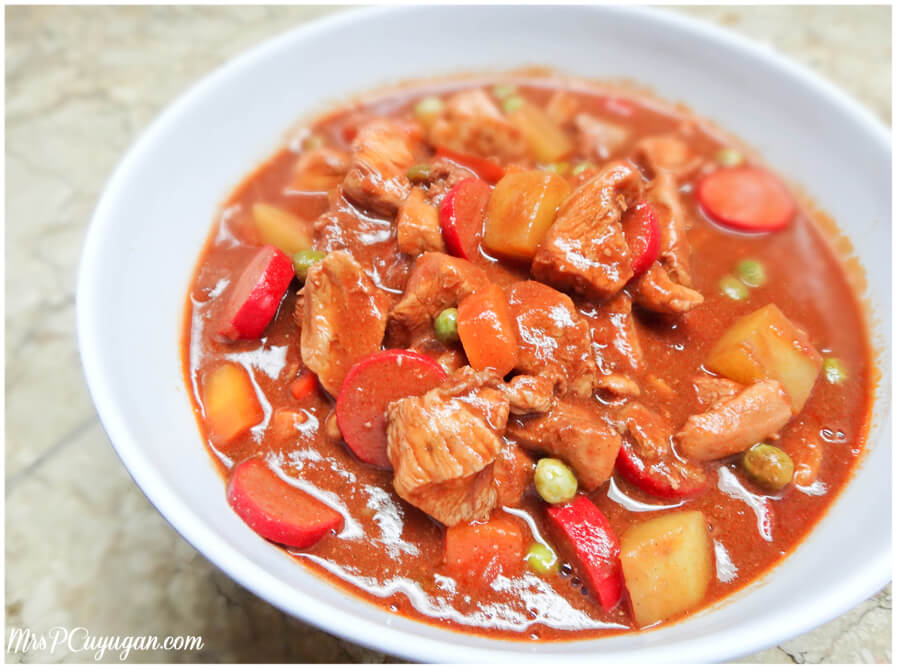 It's actually a really easy recipe to make, and I can say that because to tell you the truth, today was the first time that I ever made menudo. I asked my mom how she used to make it, then I looked for other recipes online. I saw this one, and sort of just combined it with my moms, made a few adjustments on my own, and the rest is tasty history.
I started out with a kilo and a half of cubed chicken breast, plus 1/4 kilo of chicken liver. Even if you don't like liver, add some. It does wonders for the sauce. Marinate the meat for at least half an hour in soy sauce, vinegar, tomato paste and black pepper.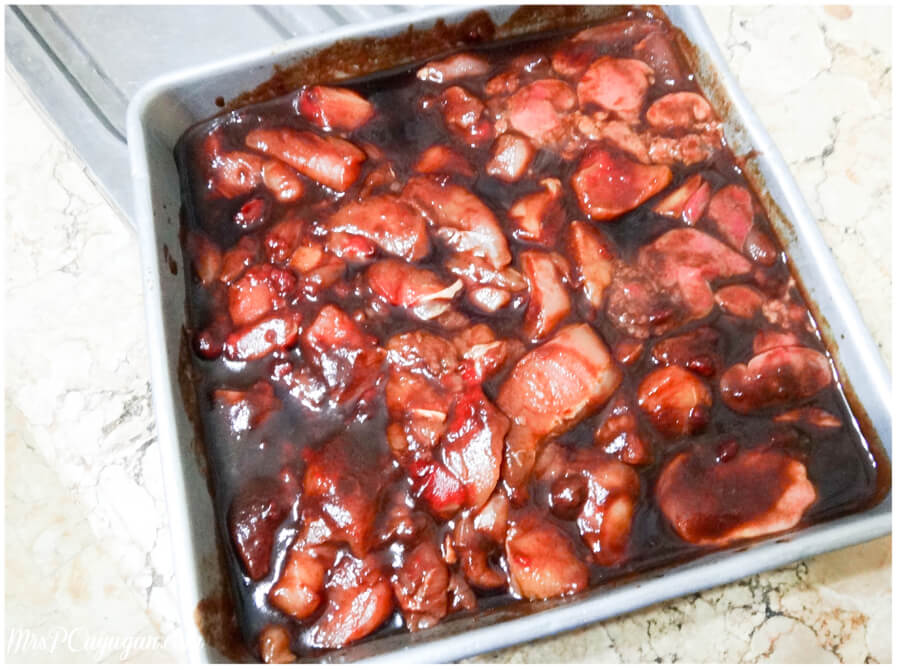 While the chicken is marinading, you might want to start sauteing the cubed potatoes and carrots in a little bit of oil. Cook them just enough so that they begin to become tender, but not too much that they get too soft and fall apart in the sauce later on. This significantly cuts the cooking time of the menudo so that you don't overcook the chicken.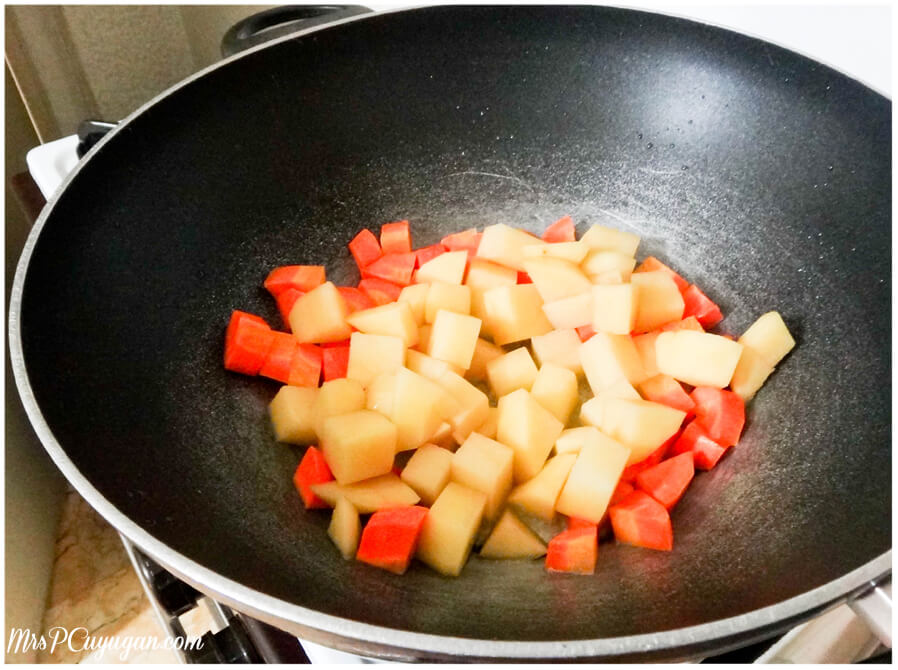 After 30 minutes in the fridge, the chicken is good to go. So you saute garlic and onions in the same pot or wok you used to precook the other veggies. Add in the chicken and the marinade and simmer for about 10 minutes, or until all the pieces are completely cooked. Stir this occasionally.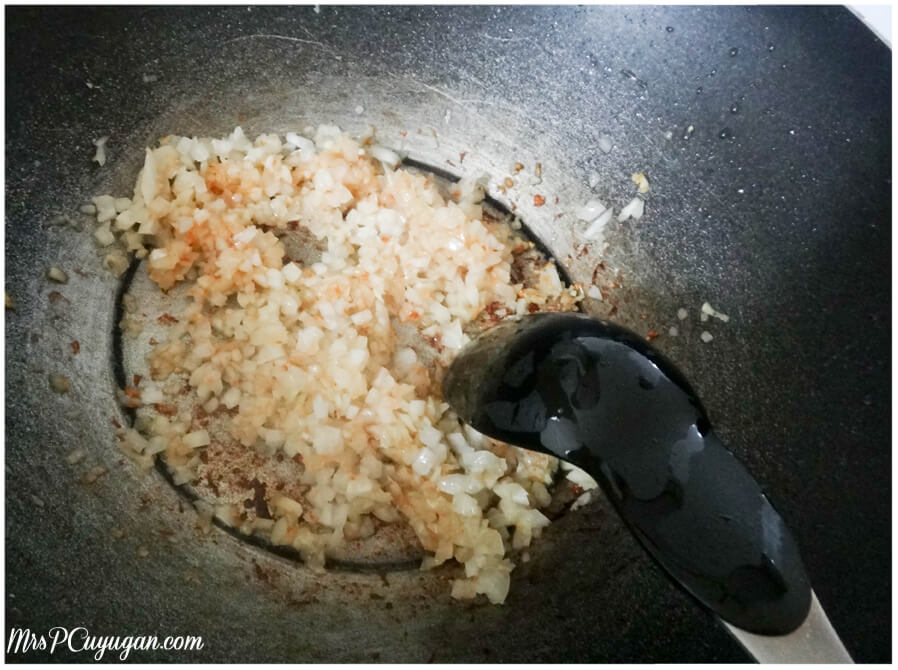 Add carrots, potatoes, bell peppers and peas. Mix, mix. Throw in some red hotdogs, sliced so that they look like coins. This is optional, but in my world menudo makes no sense without hotdogs in it. Then, add the tomato sauce and water. Finally, add 2 tablespoons of sugar, and salt and pepper to taste. Stir up everything in the pot and simmer until the sauce thickens.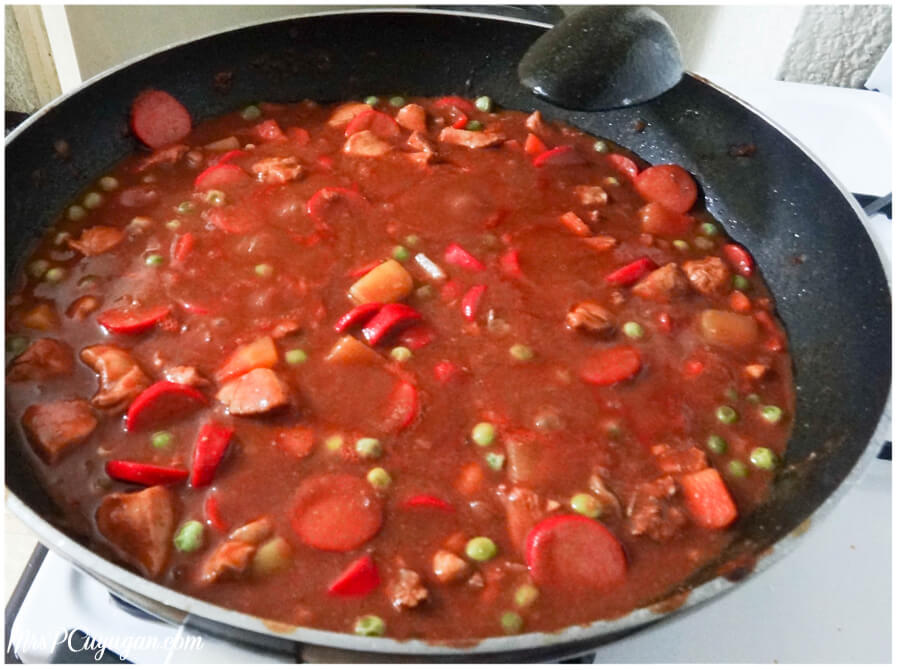 Once the sauce is as thick as you like, which is most likely around the time that the chicken liver starts to melt into it, you are done. All you need now is some fluffy steamed rice.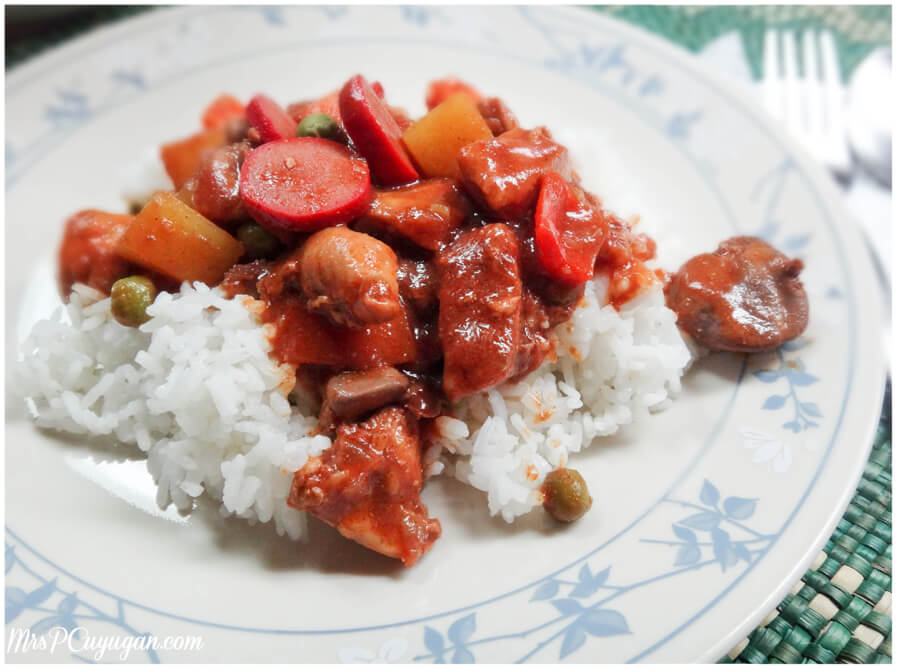 I'm so glad I made a big batch coz that means that we can have this again for lunch tomorrow. Yay!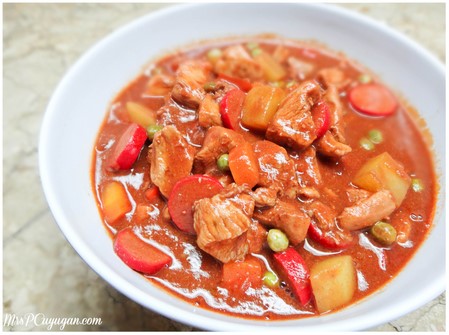 MrsC's Chicken Menudo
2014-05-08 07:22:18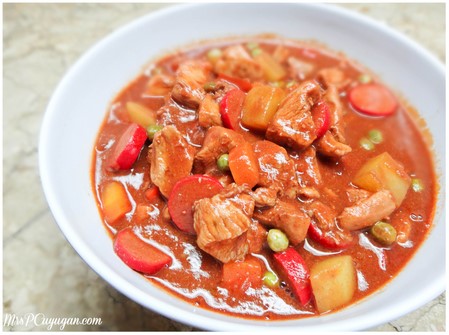 Ingredients
1.5 kilos chicken, cubed
1/5 kilo chicken liver
1/4 cup tomato paste
2 tbsp white vinegar
1/2 cup soy sauce
1/4 tbsp black pepper
1 onion, chopped
5 cloves of garlic, minced
1 large carrot, cubed
1 large potato, cubed
1 red bell pepper, sliced into squares
1/2 cup green peas
3 jumbo sized red hotdogs, cut into circles
2 cups tomato sauce
1/2 cup water
2 tbsp sugar
Salt and pepper to taste
Cooking oil
Instructions
Combine tomato paste, vinegar, soy sauce and pepper. Pour over chicken cubes and liver, and marinate in the refrigerator for at least 30 minutes.
Fry cubed potatoes and carrots in a little bit of oil until tender, but still firm.
In the same pot or wok, saute garlic and onions.
Add the marinaded chicken and liver pieces, as well as the marinade. Simmer for about 10 minutes, or until the chicken pieces are completely cooked. Stir occasionally.
Add potatoes, carrots, peas, and bell peppers. After a few minutes, add the hotdog slices.
Pour in the tomato sauce and 1/2 cup of water. Add sugar.
Season with salt and pepper to taste. Then, allow to simmer until the sauce thickens.
Serve menudo over steamed rice.
Notes
You can also opt to add raisins for a little bit of sweetness, but I would rather not have them in this dish.
Adapted from Lucky Mom's Recipe
At Home With MrsC https://blissbysam.com/
I would love to hear how this recipe turns out for you, in case you decide to try making it at home! Hope your family loves it as much as mine did.