Hey guys, how is everybody? Did you all have fun over the long Halloween weekend? We definitely did.
Our family is big on Halloween, and I'm happy that this year we were able to do a little bit of Halloweening at home. Finally! The main festivities still happened at my parents' place, since Halloween in Alabang is awesome, but I really made sure we had a few fun activities at our house, too.
The kiddo was on mid-year school break, so it was the perfect time for us to get crafty, and work in the kitchen together. Honestly, I really made an effort to think of gadget-free activities that would keep him occupied just to be sure that he would take a break from playing on his iPad.
My rule is, no iPad on school days (including weekends) but during school breaks I will allow him to play video games all he wants. My mom did it this way when I was a kid, and it worked for us. But then it was easier at our house because I had siblings to play with on gadget-free days. So now with Little MrC, his dad and I have to keep him entertained. I think I did okay.
Our first Halloween sembreak activity was to make super cute, really easy, popsicle stick crafts, which we used as decor at home.
For this, we just searched for pegs on Pinterest, and started working from there. I've also started looking for Christmas craft ideas. I feel like I should encourage my kid to do more of these projects with me because they don't do that many hands-on projects anymore at school. Most of their projects are now done on the iPad. It's kinda sad, but looking at it from a different perspective, I find his Garage Band and iMovie skills impressive naman. So I guess it's not all that bad.
Anyway.
One thing they have been doing a lot more of in school is cooking. The Home Economics curriculum has improved so much since I was a student. A lot of the lessons are more practical now. So, now that I know that he can work a little in the kitchen, I figured it was time to get the kiddo to make a meal with me.
I know, I know, I know, some kids his age are already capable of making simple meals on their own. But you have to remember that I also just recently learned how to cook. Being able to share the task, and teach him while I'm at it, is a huge deal for me. Baby steps lang.
From the start, Little MrC was excited about preparing our Halloween-themed meal. My plan was to take care of all the ingredient prep and actual cooking, and I let him do the decorating.
We made baked mozzarella-stuffed "eyeball" meatballs in bloody marinara sauce, mummy potato skin pizzas, and spotty rice pilaf. The mummies were much nicer before I baked them. I think I should have chosen a less-melty type of cheese for this. Still, everything was super yummy, and 100% made with love.
Halloween day, like I said, was spent at my mom's place. We went around the village, got lots of candy, and then had an early dinner with the family. My cousin joined us, along with her new baby, and that was a real treat. The baby was dressed as the cutest scuba diver I ever did see.
For the first time ever, I took charge of the boys' costumes this year, and I have to say I'm super proud of the outcome. Don't my stick men look awesome? Ako naman, walang costume, because I decided to be the designated driver this time. It's always been MrC driving us around, and I thought it would be nice to (finally) give him a break.
Also for the first time, we had a Halloween-themed buffet at my mom's. The lovely people from White Box sent us a dessert bar decor box sampler, and we were super excited to use it. Kaya lang we had no desserts to display lol. So instead of cupcakes and sweet treats, we had pasta trays and baked ribs in our spread. I think it ended up looking awesome anyway.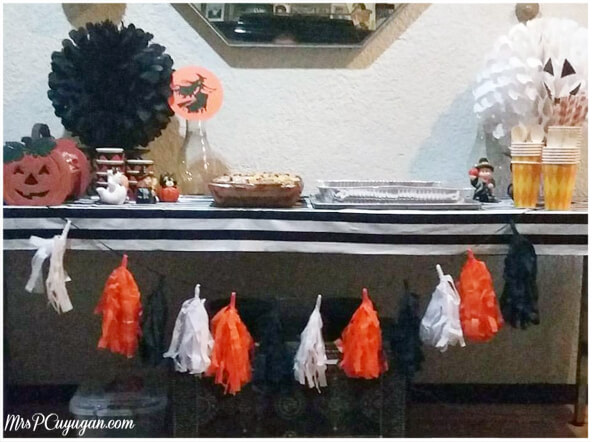 So that was Halloween weekend for us. Can't wait til next year. For now, it's time for us to shift to Christmas mode! So exciting!!!
===
Oh, one last pahabol. Just a bit of info on White Box.
White Box aims is to provide their clients with a simple and convenient way to put together fun, stylish celebrations. They create, curate and customize party decorations and essentials according to their customers' distinct needs and preferences, all packed in a box and sent to their venues or houses.
If you love the DIY look but have no time to work on things from scratch, White Box can definitely help you. They also offer full event styling as an option, along with the use of their custom products. Winner!
If you wanna know more, follow White Box on Instagram. They will also be at The Travelling Trunk this November, where they will be debuting their Christmas boxes.