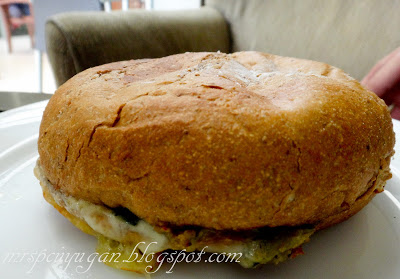 What you see up there is my mom's pièce de résistance this Christmas season. Our Noche Buena centerpiece this year was a giant piece of beef from Santi's roasted to lovely pink perfection by my Iron Chef of a mother.
Sorry, I can't tell you how this was made because I actually don't know. I was working the whole of the 24th and I came home to a lovely spread already prepared. The beef was roasted over a bed of carrots, potatoes and celery, which made for a yummy veggie side dish. We also had macaroni salad and a cheese platter, which was my special request. Dessert was a homemade fruit salad with red and green nata de coco for that extra holiday cheer, and a chocolate cake from my sister's friend Koko.
The holidays may have been busy, but there are few things more important in our family than spending Christmas eve together. Over dinner, my siblings recalled the one Christmas eve where we weren't together for Noche Buena. It was the Cuyugans' last Christmas in the Philippines, and Mr C, the kiddo and I stayed over at their place. I called my family via video call on my then high-tech Nokia phone to see what everyone was having for dinner at home. My sister says the whole family just slept early that year because Christmas eve wasn't the same with someone missing.
For me, Christmas is all about family. We have never celebrated the holidays apart, and we continue each year to celebrate it together with our extended families on my mom and dad's sides. My one wish is for us to be able include my new Cuyugan family in our busy annual holiday schedule. Today we will celebrate the first day of the new year with Ate Baban, and I think that's a good start.
I hope everyone's holiday season was as meaningful and memorable as mine was. And I wish you and your families a blessed year ahead.