I mentioned in my previous Las Casas vacation post that there are a lot of things that you can do when you visit Las Casas Filipinas de Acuzar. Whether you want to do something on your own, as a couple or as a big group, this place does not disappoint. Here are 12 ideas for you, in case you decide go on a trip to this beautiful Bataan resort.
Go for a swim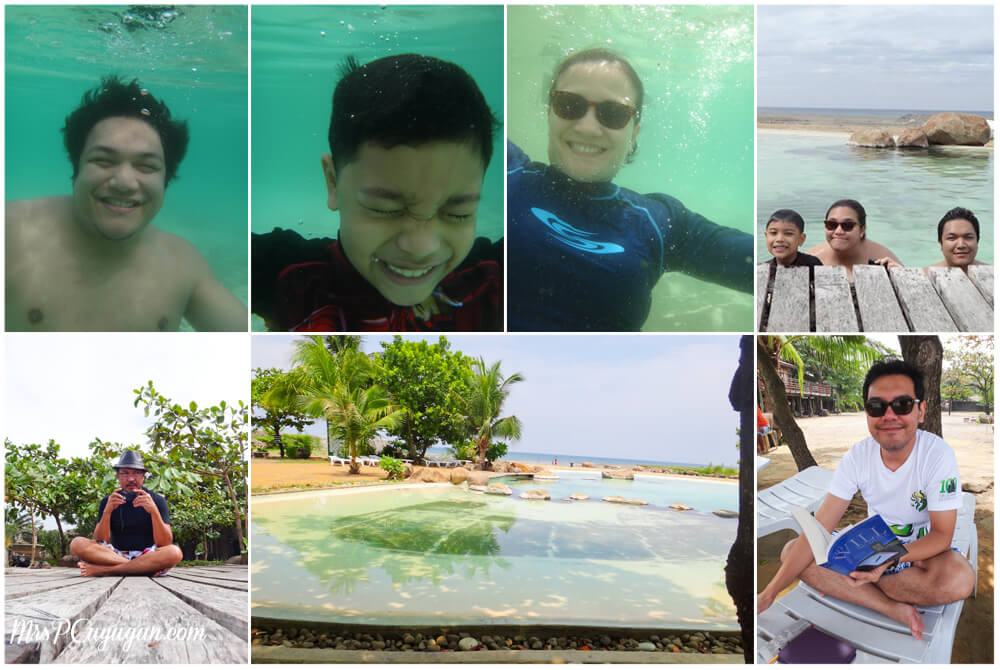 Based on experience, it can get really hot in Bataan. The best way to cool off at Las Casas is to take a quick dip in their lagoon-style swimming pool. What I like about this pool is that it's only 4ft at the deepest portion, so I can let my son swim away without worrying about him floating to areas where he can no longer reach the floor. I'm also not very tall, so I don't mind the shallowness of the water. My brother, though, who is close to 6ft tall was squatting most of the time. Still, we enjoyed our swim, specially since we had our underwater camera with us.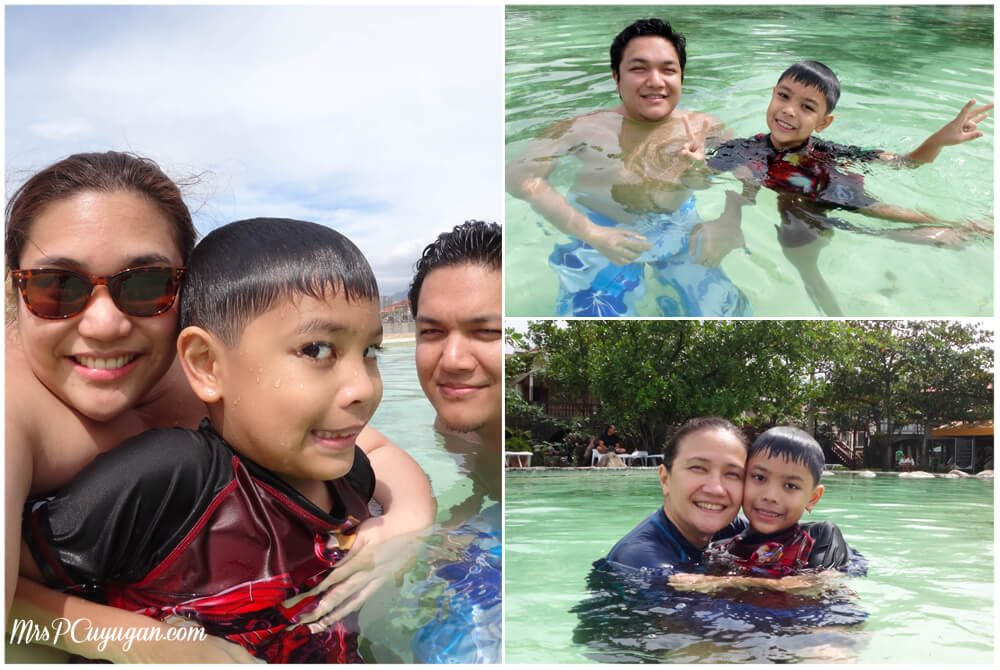 Build (brown) sand castles on the beach
This, we didn't get to do during both visits to Las Casas, and now I'm wondering why not. The beach was really clean, so even if you are Boracay-white-sand-spoiled like I am, you can still appreciate and enjoy this one. Now that I realize we didn't spend time at the beach, I already have a reason to go back. Plus, they are going to have beach-front accommodations soon, so that's something new to try. Haha!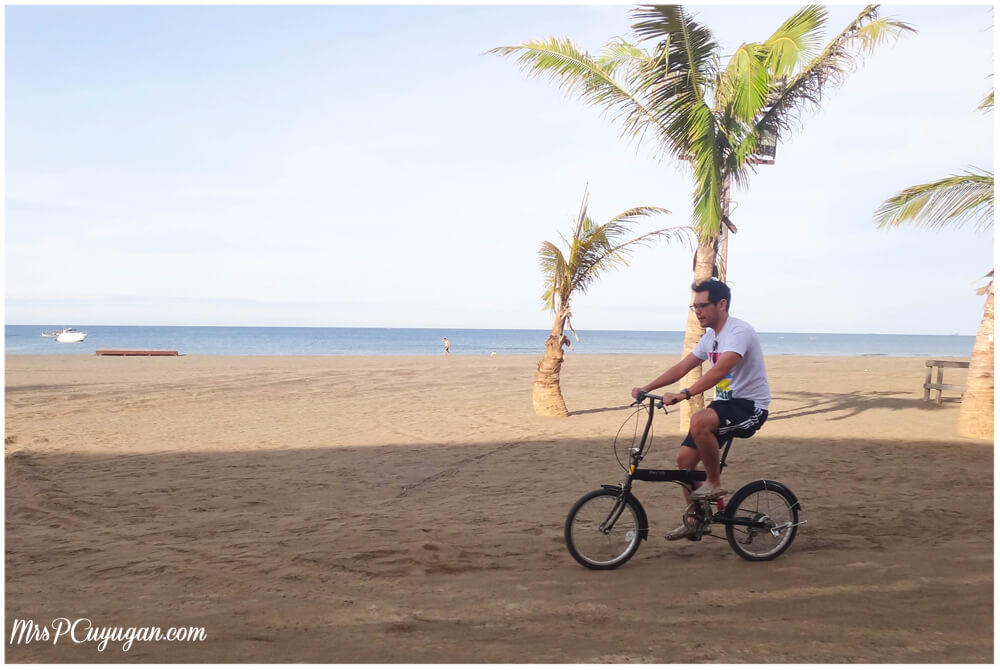 Go for a stroll around the resort
Early mornings is the best time to do this,  I think, coz the wind is a bit chillier and a little bit of morning sun is good for you. You should see the place at night though, it's really gorgeous with all the lights on in the houses. I noticed that a lot of people actually do walk around in the mornings, when it's nice and quiet and peaceful. Some were even walking around in their pajamas! I am assuming that they brushed their teeth before going out. Tip: Don't forget to spend some tweetums time on the bridge!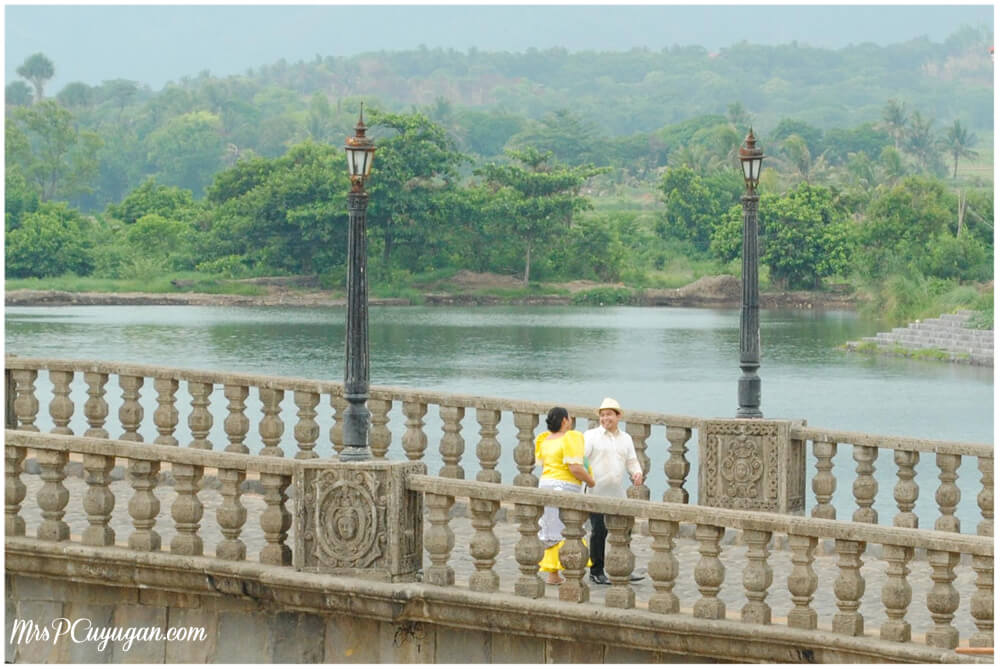 Don't feel like walking? Ride a bike!
As you can see in the photo above, MrC went biking along the beach of Las Casas. He and my brother took turns riding around while we followed them on a golf cart (which is activity #5 on this list). It's a good way to get your morning workout in before breakfast. If I remember correctly, bike rental is Php150/hour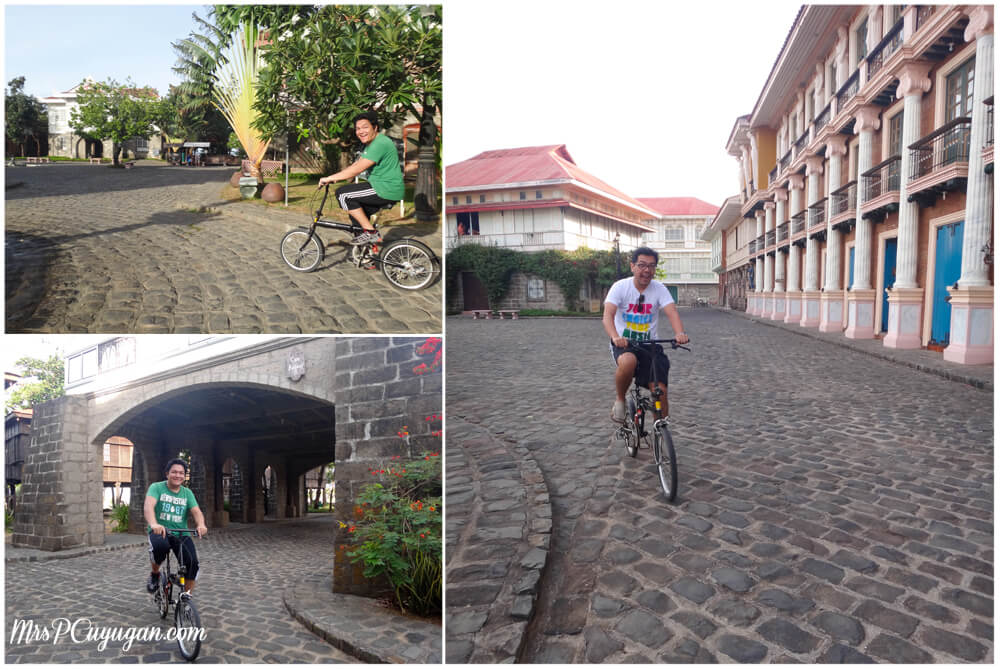 Don't know how to ride a bike? Rent a golf cart!
Yes, sadly, I don't know how to ride a bike. So I opted to hitch a ride with my mom, dad and the little boy in the golf cart that they rented. This will cost you Php650/hour.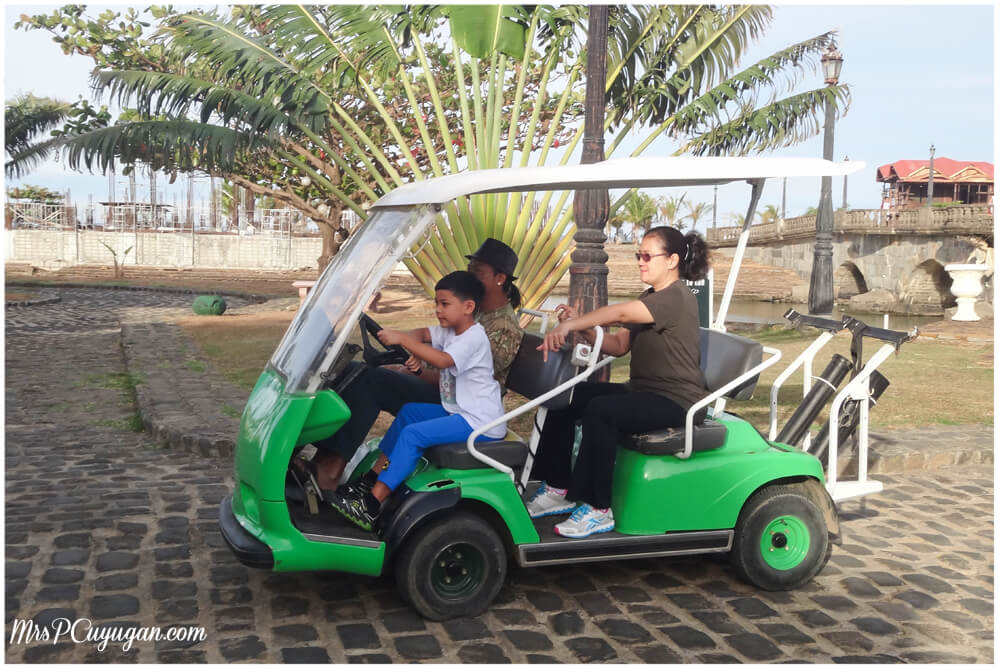 When all else fails, take a calesa.
Calesa rides are only Php50/hour. Again, we forgot to do this, just like during our first visit. Funny that, we got to pose for a photo with a calesa, but we didn't get to ride it. Aha, reason #2 to come back!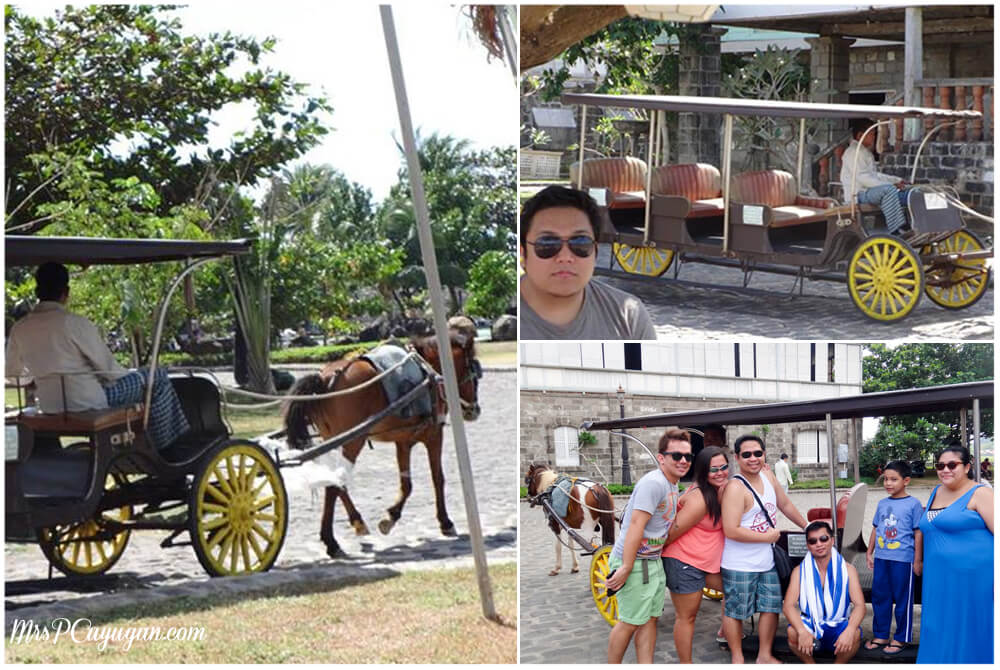 Watch the cultural show and eat street food on weekend afternoons
This is reason #3 for me to come back to Las Casas. I spent three weekend afternoons there and not once did I catch the cultural show. I also never got to try their street food! The most I got was a glass of sago't gulaman that MrC and I shared on our first day there.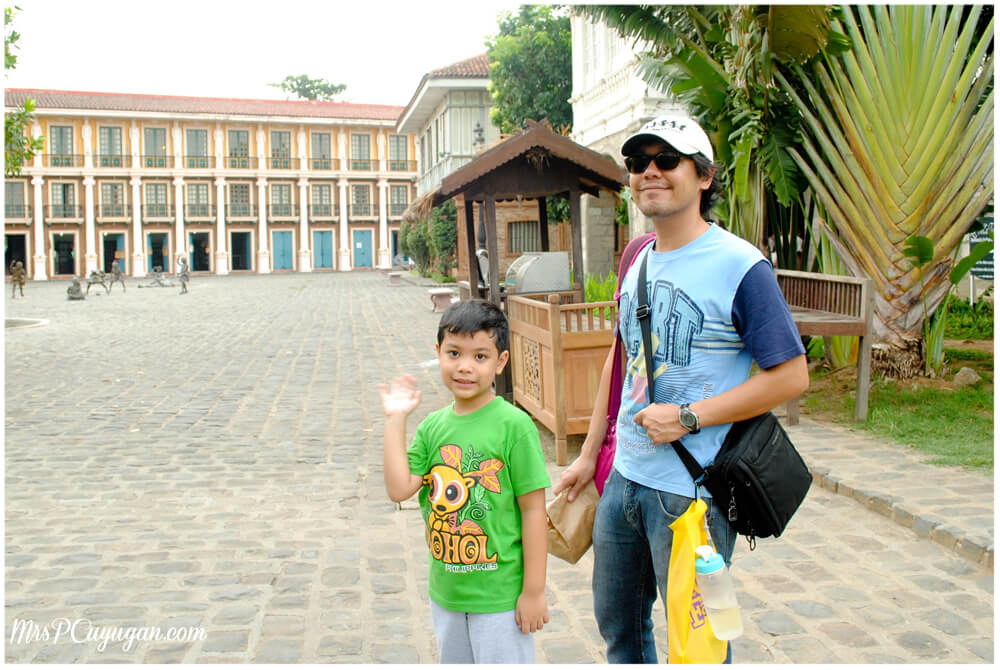 Join the Heritage Tour or the Workshop Tour
The Heritage Tour is something you shouldn't miss. I'm not sure about the Workshop Tour, coz I've never been on that one, but I heard that you get to watch workers carve stone sculptures and do other handicraft work for the house restorations. Here's a tip: Take your Heritage Tour with Dexter. Trust me on this, I've gone twice. The first time around, we had another guide, and the experience was not as exciting and informative as our more recent tour with Dexter.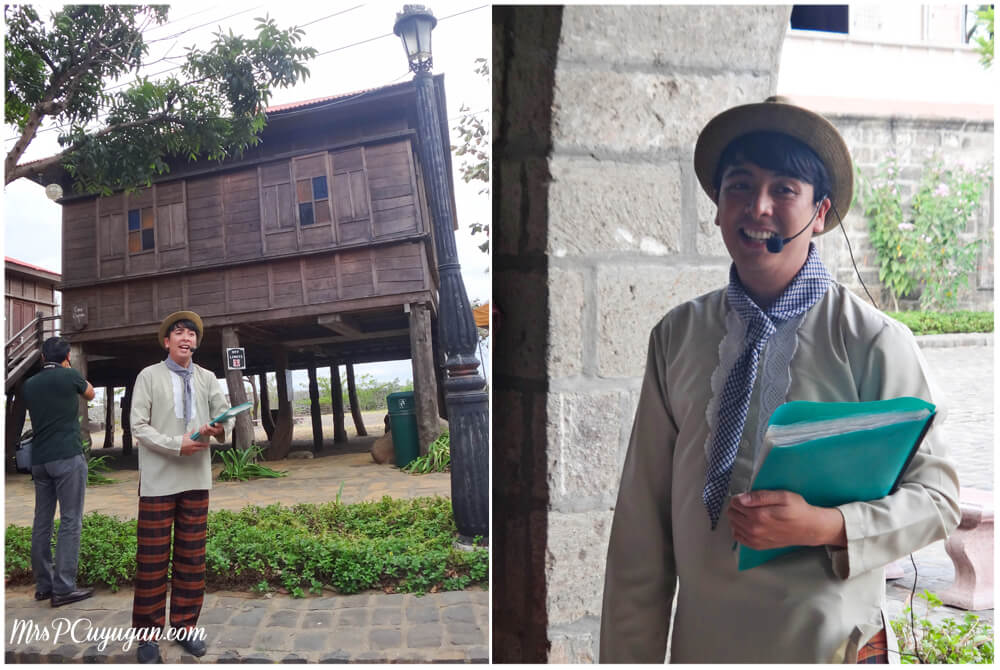 We actually had to request for him to be our guide because he wasn't scheduled for any tours that day. Thankfully, the nice people at the reception made arrangements for us. I love how the staff at Las Casas are all willing to do what they can to fulfill the requests of their guests. Special mention to Hyacinth, who took care of booking all of these fun activities for us.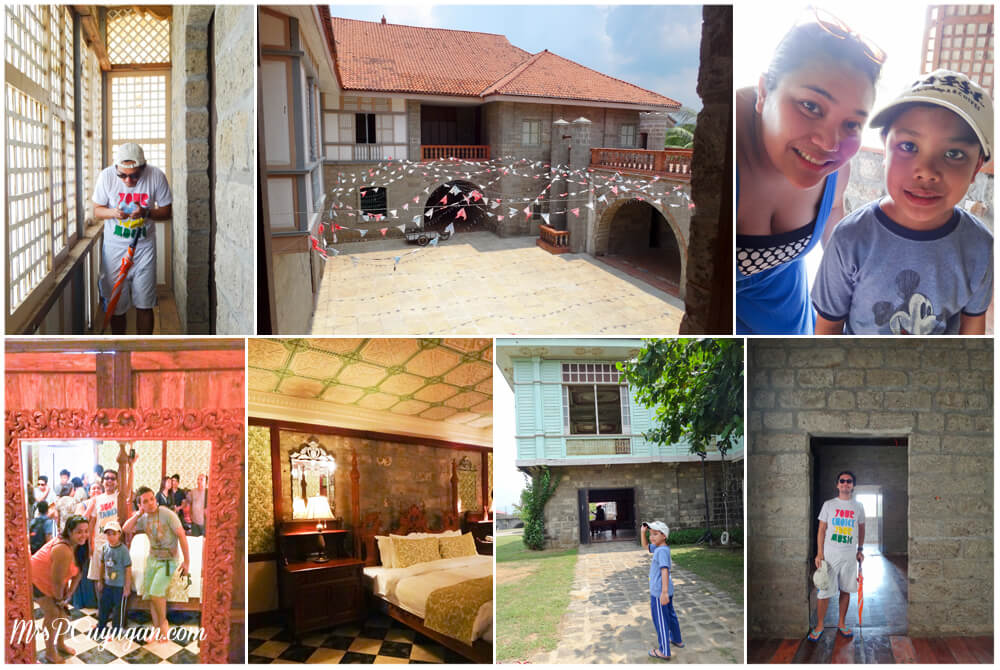 I mentioned this in my part one post, we actually discovered a link between our family and one of the heritage houses, Casa Vyzantia! It was the last stop for the afternoon, and Dexter said that the house was once a school, Instituto de Manila, which later on because University of Manila when it moved to Sampaloc, which is still it's present location.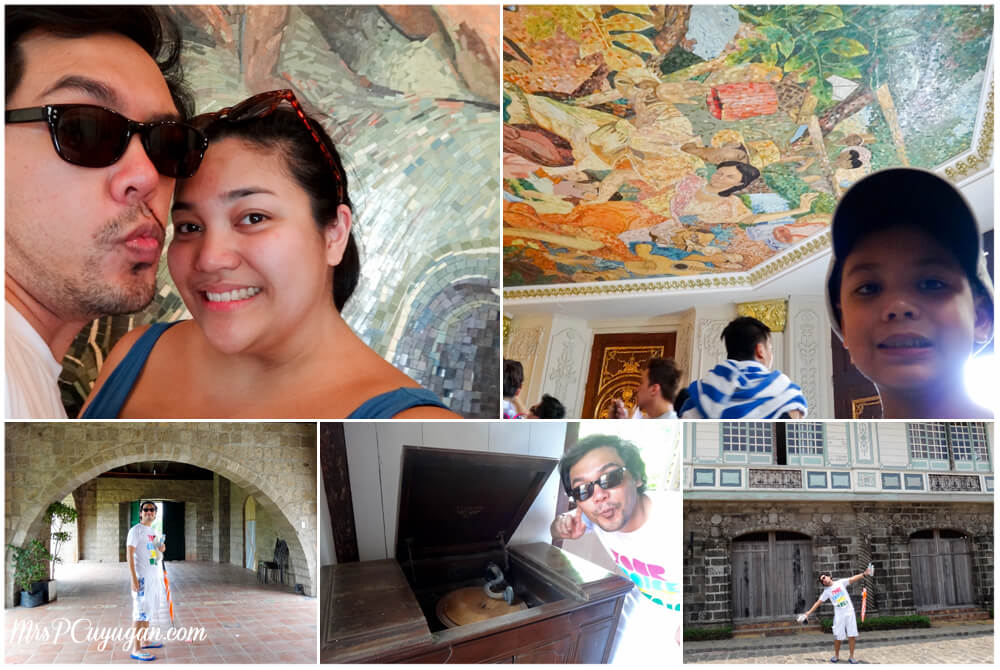 Well, guess what? The University of Manila belongs to my mom's side of the family. Her grandfather (my lolo's dad) was one of the founders, along with his siblings and a few associates. We were surprised to find out when we did further research that it was that same group who started Instituto de Manila in 1914! If not for Dexter, we probably would never have found out this little bit of fun trivia about our family. We told the story to my grandparents a couple of days ago, and they were excited to hear about it too.
In case you're interested, you can read about UM's history here.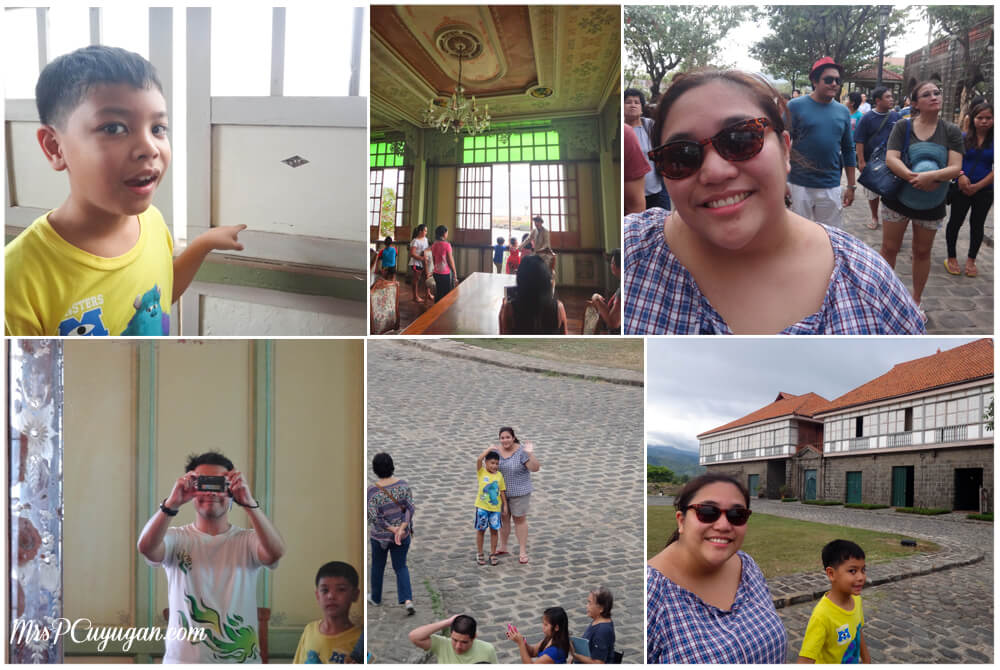 Go boating or kayaking along the river
Las Casas actually has cute little bancas, but they were damaged in one of the recent storms. Because my family really wanted to ride along the river, we settled for kayaks instead. Rental is Php350/hour per kayak.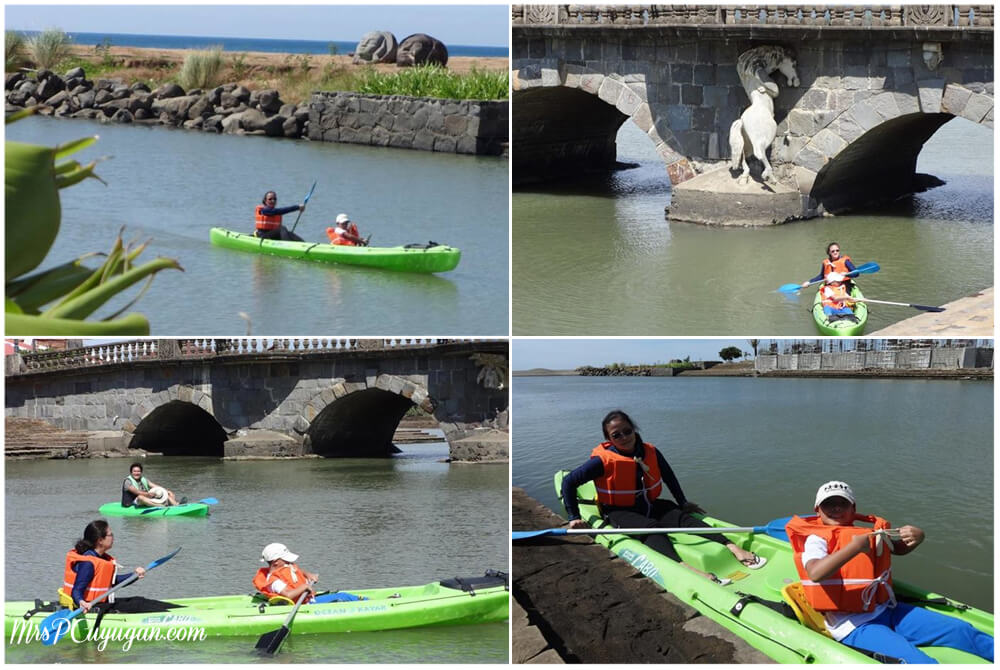 Check out the game room at Casa Lubao
When was the last time you played piko? My mom and I tried to play a little during our stay, but we were so full from breakfast that it was hard bending over to pick up the pato! They also have billiard tables, a pingpong table, darts, trumpo, and an assortment of other Filipino games. You can also play sungka there, or borrow the board and bring it to your room during your stay.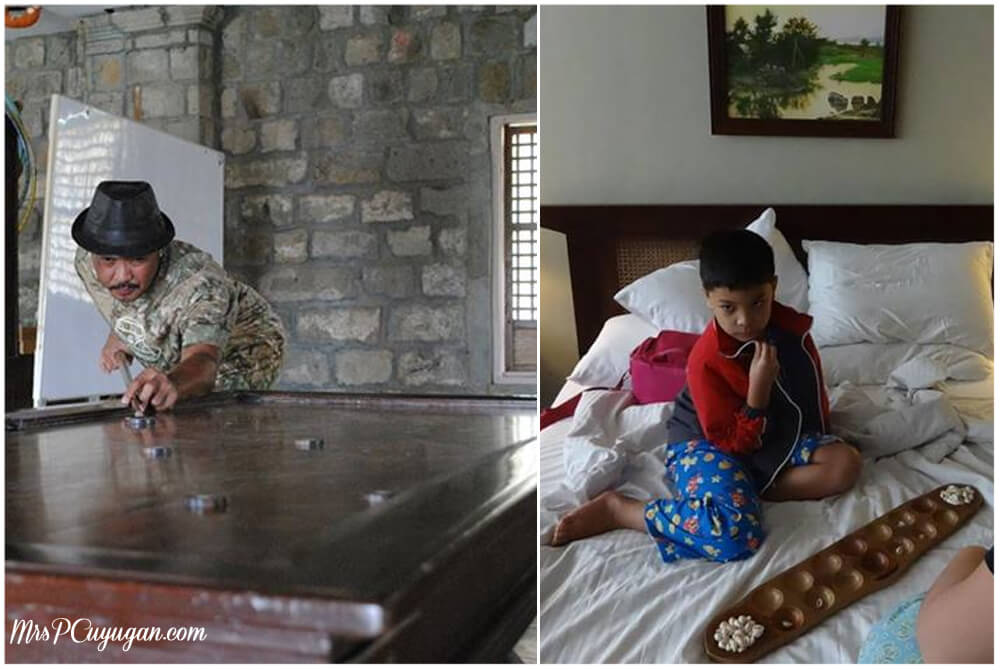 Shop for souvenirs
One of the doors at Paseo de Escolta is a gift shop where you can buy little things from hats and post cards to soap dispensers, salt and pepper shakers, serving dishes and utensils similar to what they use at the resort. There are lots of nice pasalubong items there. Mom got a hat. I got a postcard haha. Spell kuirpot?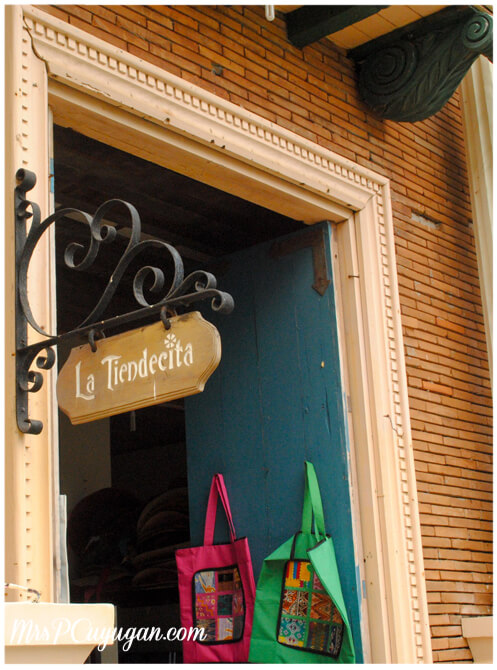 Picture, picture to your heart's content
And finally, Las Casas is one amazing venue for a photo op. Whether you're the photographer or the model, there for fun or for a scheduled shoot, it's tough not to end up with great images, given the gorgeous backdrop that this place provides. If you wanna take it one step further, visit the Fotografia Escolta and have your photo professionally taken, complete with costume!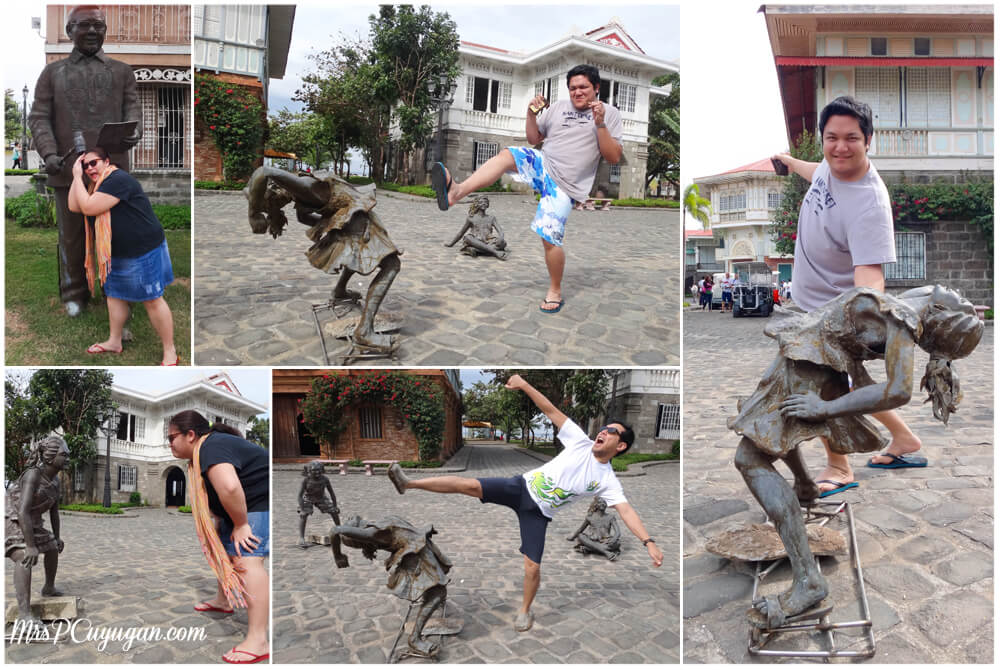 So yes, we had a great time at Las Casas, and there were absolutely no boring moments. I'd definitely recommend this resort to anyone who's planning a family vacation to this part of the Philippines, and wants to book a place that's within driving distance from Metro Manila.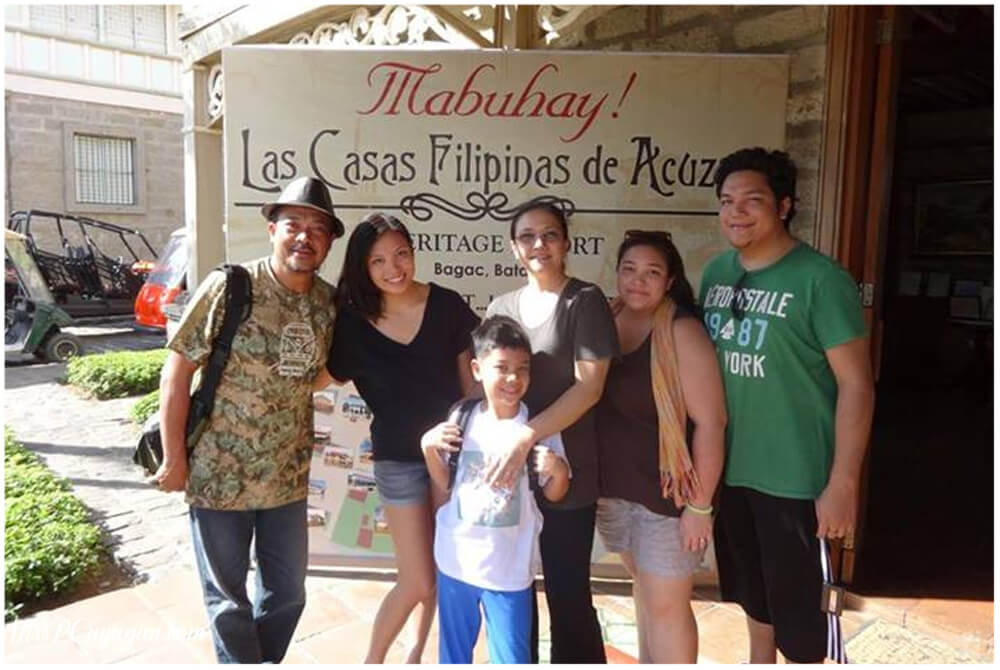 LAS CASAS FILIPINAS DE ACUZAR
Bagac, Bataan
Manila Sales Office
Mezzanine Floor, Victoria Towers
Timog Avenue, Quezon City
Tel. 332-5338 / 355-3032 / 3325286
E-mail: reserve@lascasasfilipinas.com
Website: www.lascasasfilipinas.com
Resort Tel. 546-9123