If there's one thing I am certain about myself it's that I can live in a messy place, but not in a stinky one. Because of this, I actually end up spending a lot on commercial room scents and deodorizers. The ones I choose are quite pricey too, because I find that the cheaper ones smell like buses and bathrooms, and I don't like them much.
So, a few days ago as I was blog hopping, I found this great tutorial for homemade air fresheners by Sharon on the Make It Or Fix It Yourself blog. The best part about it was that you only needed two basic things – baking soda and fragrance oil or essential oil, both of which I have at home. Yay!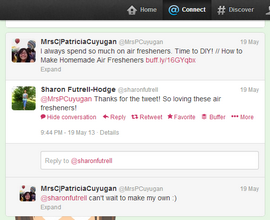 I've been itching to try making my own room scents, and I finally got to do just that today, since my afternoon was pretty relaxed. Here's what I used to make my batch of homemade air fresheners.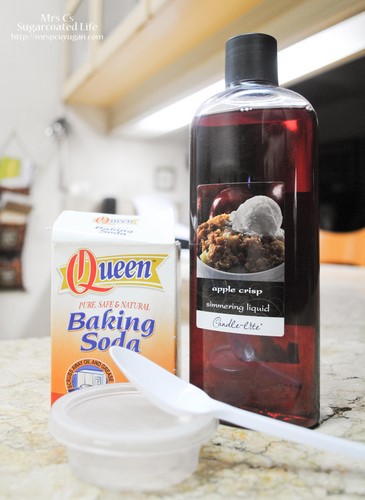 Sharon makes the brilliant addition of colored non-toxic chalk to the mix to make her bottles of air fresheners extra colorful and pretty. I don't have any colored chalk on hand at home, but if I ever choose to make my air fresheners more decorative, or give them out as gifts, I think that I'll go and get some from the store because they really end up so pretty! Go and check out Sharon's post to see her photos.
Okay, here's how it's done, step by simple step. First. put a small amount of baking soda into your container. The bigger the case, the bigger the coverage. I'd say that a container this size is good for a small closet or a drawer.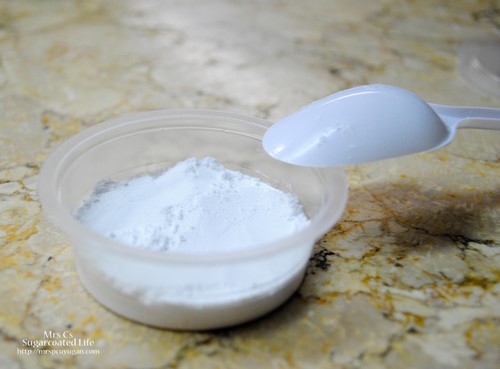 Next, put in just a few drops of scented oil. You just need to adjust the amount  of oil you put in depending on how strong you want the smell to be. I didn't have a dropper so I used the plastic spoon. I put less than a fourth of a spoon into my container.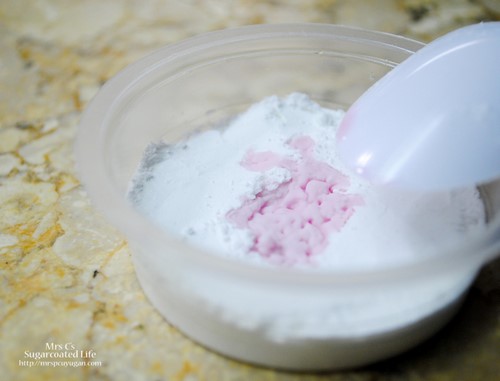 Naturally, the baking soda gets wet. All you have to do is mix, mix, mix to get the big clumps out. You should end up with a coarse powder after all the mixing.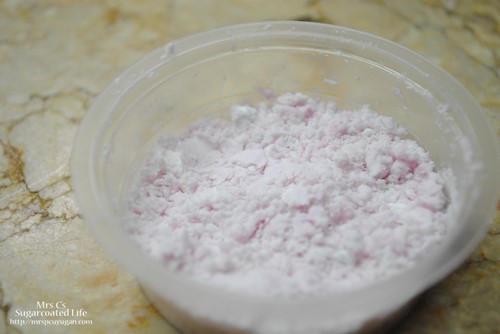 Now here's a tip. If you can find a container that already has holes on top, like an old spice bottle or a cheese shaker, use that. I washed a few spice bottles out to hold my air fresheners, but they were still drying out when I made the first batch and impatience got the better of me. So I ended up punching holes onto the cover of this sauce cup, and it wasn't all that pretty.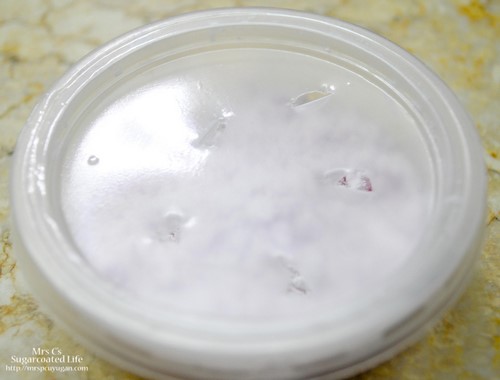 I made two more batches and put them in old McCormick spice bottles. These are now in my room and bathroom. I'd say that this initial experiment was a success.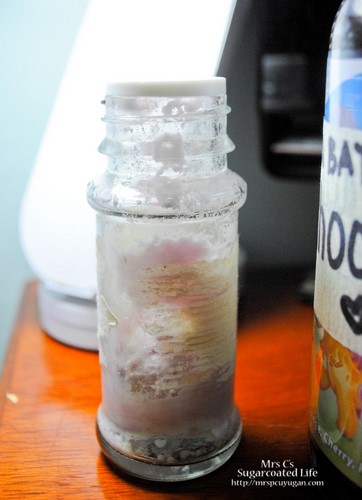 Next time though, I think I will buy essential oils, which have a more potent scent than the simmering liquid I used. Plus a few boxes of colored chalk.
Let me know if you guys try this at home. I'd love to hear how your DIY air fresheners turn out!