Both of our Boracay mornings started off with breakfast at Sur Beach Resort, which came with the room we had booked. Since we chose to sleep early instead of party all night while we were there, we woke up early on both days and were one of the first at the restaurant for breakfast. They served the usual Pinoy breakfast on both days, plus there was toast, hotcakes and waffles, a salad station, and an omelette station.
The food was just average, as I'd expected based on our dinner experience on our first night there. One thing I didn't like though was that on the first morning, the food was cold. And I mean cold. The fried rice was oily, cold and soggy, and I was pretty unhappy about it. Also, there was no bacon on both mornings, which isn't really an issue for me, but I know a lot of people who believe that no breakfast buffet is complete without bacon, so there. Oh well, breakfast was free, so who am I to complain, right?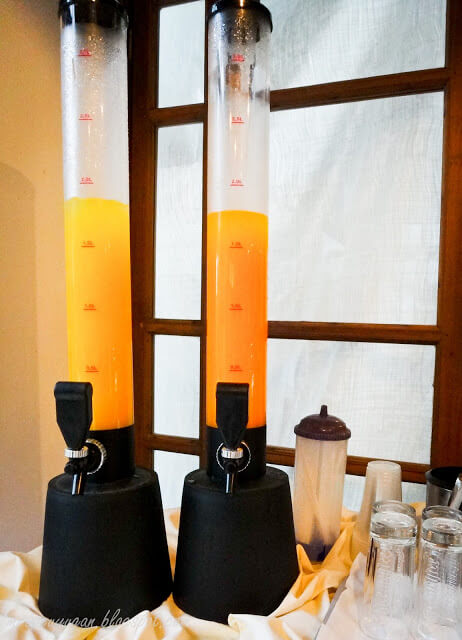 Mango Juice and Orange Juice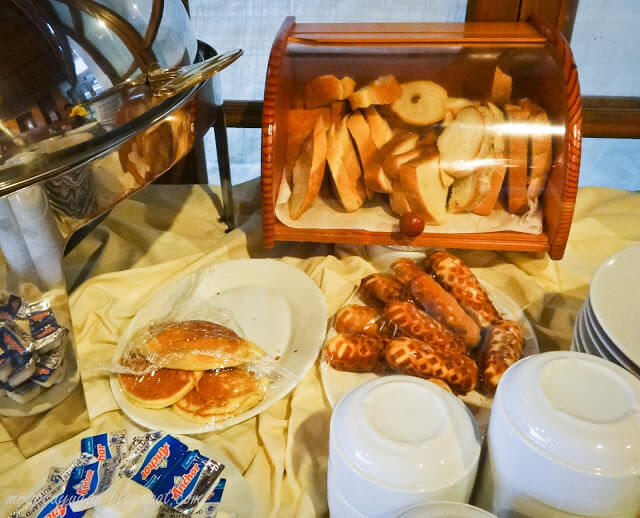 Bread, Hotcakes and Waffles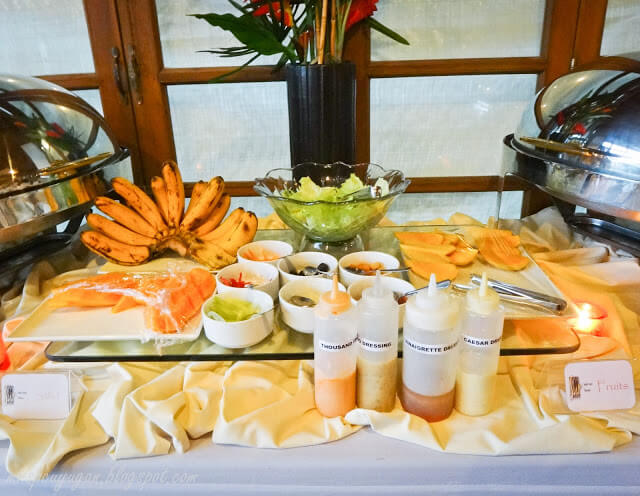 Salad and Fruit Station. I don't know anyone who eats salad for breakfast.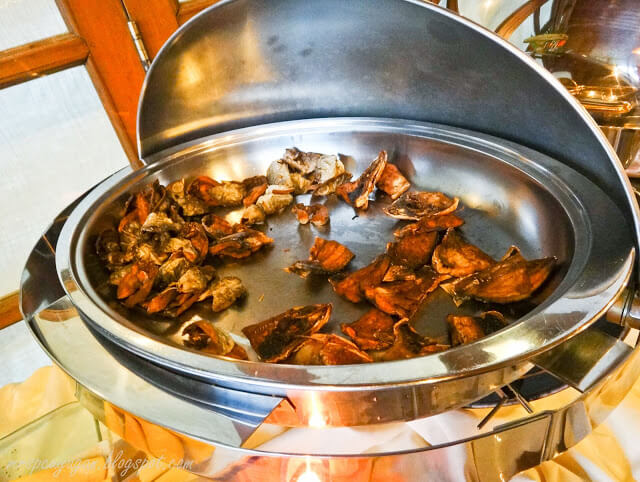 Day 1 Danggit
On the first day, I had fried rice, danggit, chicken tocino, sausage and an omelette with everything. Like I said, everything was cold except for the omelette, which they cook onsite, and the coffee.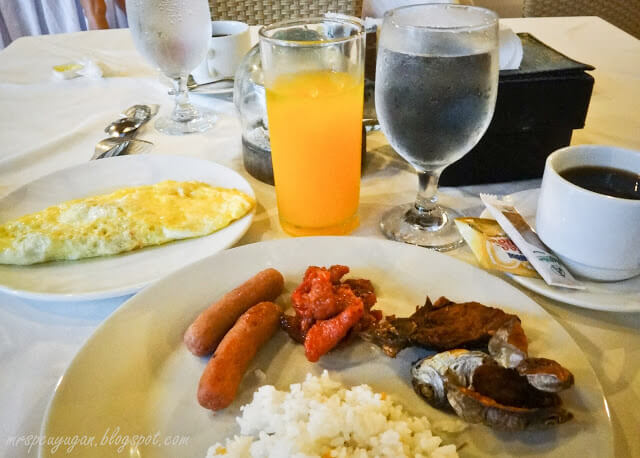 My breakfast on day two was much better than the first morning, particularly because the food was actually hot this time. Thank goodness. This time I had longganisa, corned beef, cream dory with cheese sauce, fried rice, assorted sushi, seafood chowder and a ham and cheese omelette.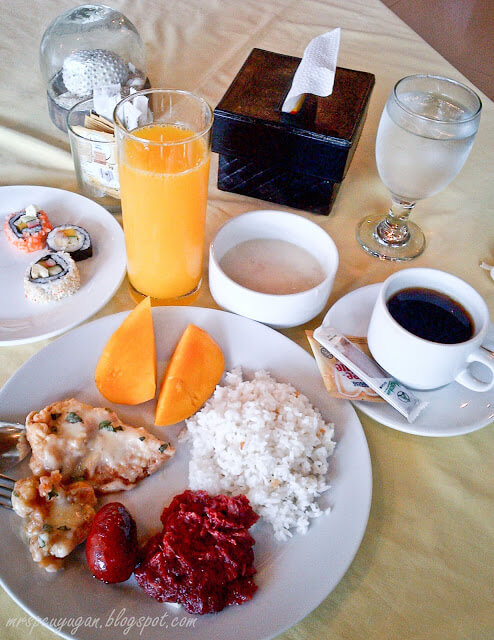 I would definitely book a stay at Sur again, but I don't think I'm going to be eating there anymore unless I absolutely have no choice. Our first morning in Boracay was rainy, and so we ended up waiting for the sun to come out while reading and doing the daily crossword at our veranda. I am super glad we chose to pay extra for a beachfront room with a view.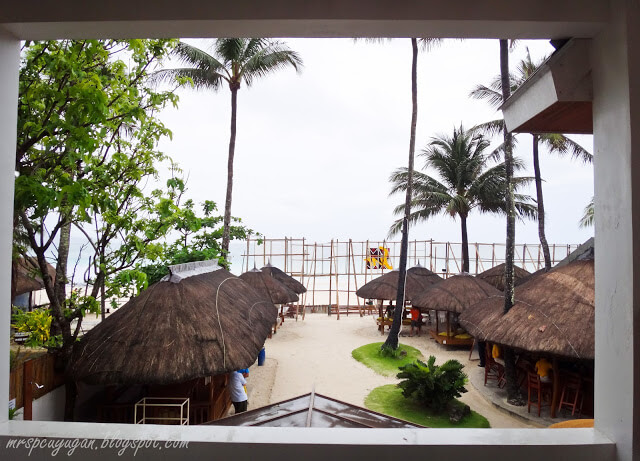 Gloomy morning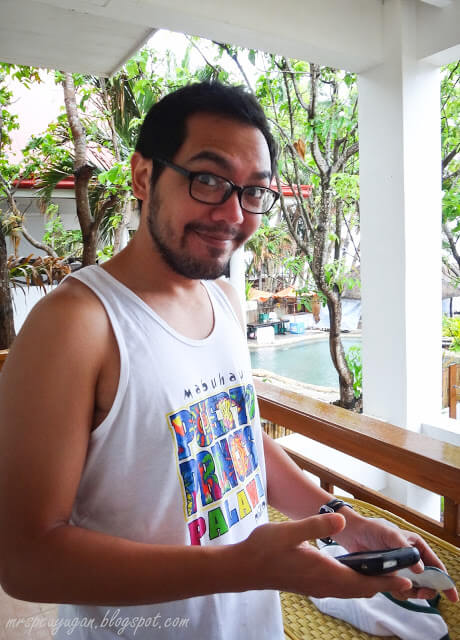 There's Mr C!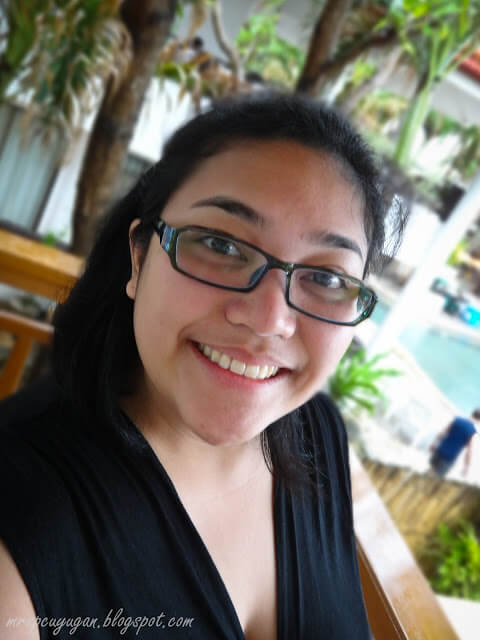 And here I am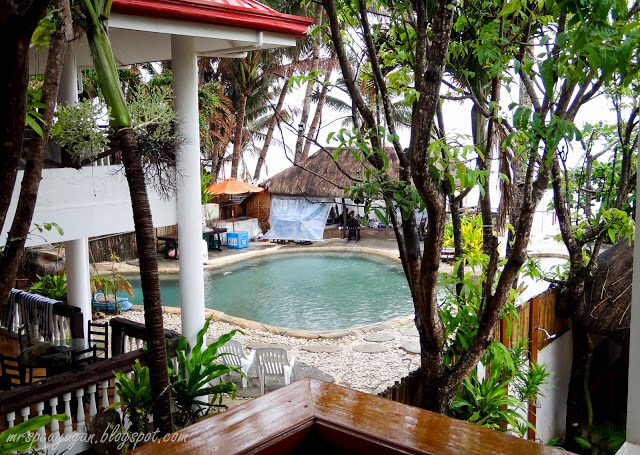 Free view of the pool at the White House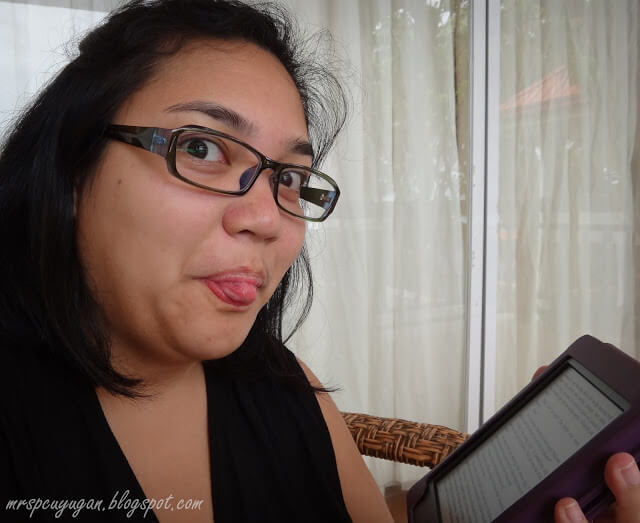 Glad I decided to bring my Kindle along for the trip
Thankfully, the skies cleared up after a few hours and we got to head out for a long walk on the beach. Our second morning was also wet and gloomy, but the rain eased up early enough to allow us to catch the Sunday mass at the Holy Rosary Parish. We were in for a surprise – the mass was celebrated in Bisaya!
I love mornings in Boracay because they are usually quiet and serene. So forgive me for being a grandma, but I'd choose to sleep early rather than party all night when I'm there. Thank goodness I married someone who feels the exact same way. 🙂
Station 1, Boracay Island
Phone: +63 36 288 6844
Fax: +63 36 288 6843
Mobile: +63 928 781 1233
Email: surboracay@gmail.com
http://www.surboracay.com
Much love and happiness,