I'm already excited for my birthday, and it's not til February! I think it's because I'll be celebrating my 30th, which for me is a milestone year. In the middle of trying to decide how and where to celebrate next year, I realized I hadn't completed my series of birthday blog posts for 2012! I actually have a whole list of pending posts that I fully intend to finish before the year ends. I'm happy that today I will finally get to cross this post off my list!
I celebrated my my last birthday as a 20-something doing two of my favorite things – eating and staying at a hotel. This staycation was booked through Deal Grocer, which is quickly becoming one of my favorite discount deal sites. I had been dreaming of a Discovery Country Suites escape for a long time, and when I saw this one I knew it was finally time for me to get my wish. And all in perfect timing too!
This boutique hotel is located along the Tagaytay-Calamba road, and is very easy to find. There are a lot of parking spaces available right in front so you don't need to worry about where you will leave your car for the night. When we arrived, we were greeted by a very cheerful security guard. I love it when a hotel's staff is all smiles. I think it is very important that they are pleasant and cheerful, after all they work in the hospitality industry!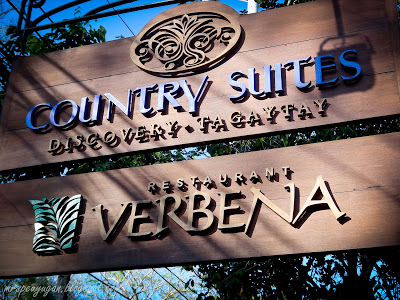 You'll know you're there when you see this sign.
Discovery also unknowingly gave me a fabulous birthday gift in the form of a free room upgrade. The Deal Grocer voucher was valid for either the Ceylon, Andalucia or St Tropez Suite. I booked the Andalucia Suite via email, and apparently someone else booked the room at the same time through their website. The reservations person didn't see the website reservation, which was confirmed first, until after he had sent my email booking confirmation. And so I had to be assigned a different room. Since Ceylon and St Tropez were both already booked, I got my free upgrade to the Nara Premier Suite. Happy birthday to me!
I loved the Japanese-themed room, with the tatami mat flooring and pebbled bathroom.  The room is on the garden level, so we had direct access to the Jacuzzi and the pretty garden, plus our own patio area.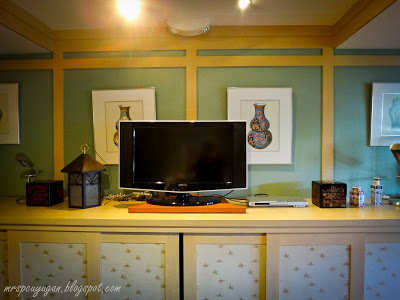 Lovely Japanese accents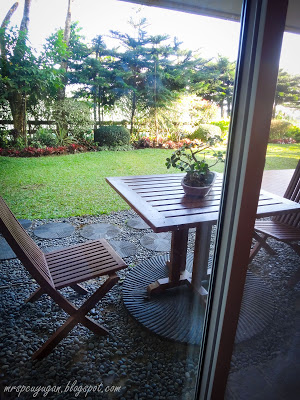 A room with a view

Mr C's signature panoramic photo
After my shopping spree at Ilog Maria, I really enjoyed hanging out with the boys on the patio. The cool Tagaytay afternoon air plus the refreshing welcome drinks we were served was a winning combination. What a way to relax!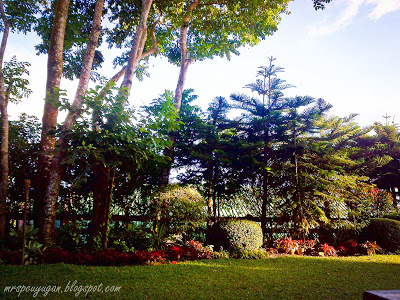 Our garden for the day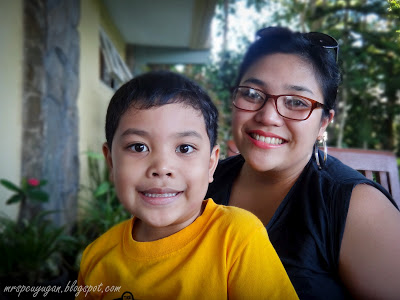 TLC and Me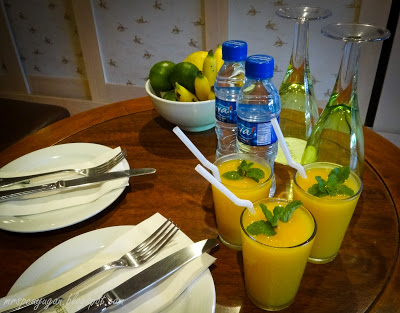 Welcome drinks: Mango shake with mint. Yum!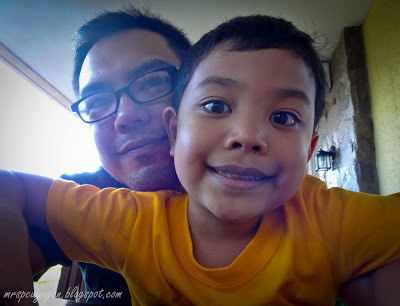 Mr C and his Mini Me
We spent the rest of the afternoon being lazy in the room. Mr C and TLC checked out the available TV channels while I took photos of the bathroom. Yes, the pictures are dark and grainy, thanks to my unreliable BlackBerry camera. The camera is one of the few things I dislike about my phone.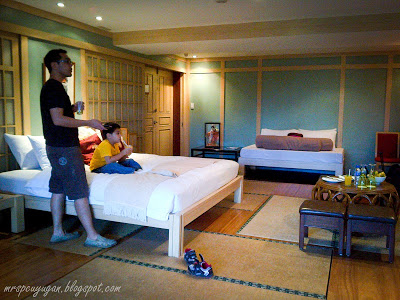 Surfing through the channels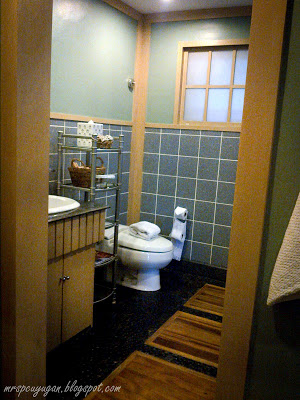 Off to the bathroom I go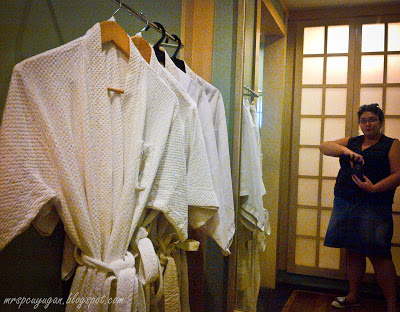 Bathrobes! And behind me is the closet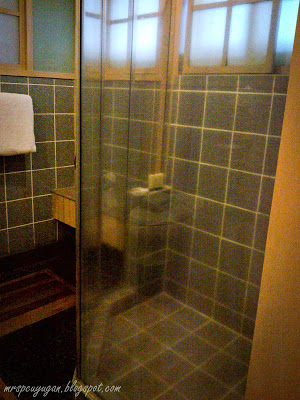 The shower area reminds me of the sauna/baths you see in Japanese movies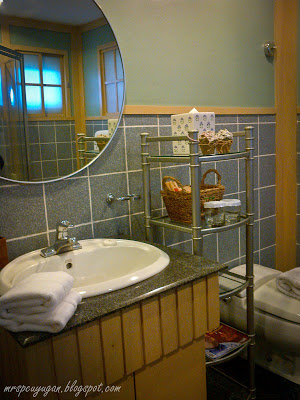 The usual amenities and some magazines on the shelf
What I was really looking forward to was the wine and cheese buffet. Mr C was in a hibernating mood and decided to just stay in the room the whole afternoon, so I went to Restaurant Veberna with just the little guy. He and I both enjoyed what he calls The Wine And Cheese Party.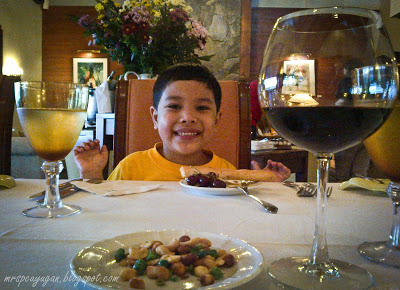 My date 🙂
We borrowed some magazines from the hotel's library, and just relaxed in the room before dinner. I was a bit buzzed from the wine so I just stayed in bed and watched TV til we got hungry.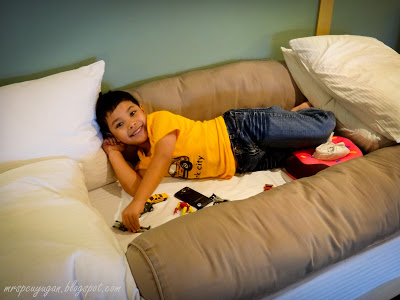 Relaxing on his bed, inside his pillow fort
We had dinner at Restaurant Verbena that night. I wasn't about to let our stay pass without sampling the food that so many people have been raving about. We had so much to eat over my birthday weekend that I was surprised we still had space to eat a lot in Tagaytay. I'll post about our yummy dinner, and our yummy breakfast too real soon! In the meantime, check out what we had for lunch the next day at Buon Giorno.
DISCOVERY COUNTRY SUITES
300 Calamba Road,
San Jose, Tagaytay City
4120 Philippines
+(63 46) 413.4567 (Tagaytay)
+(63 2) 529.8172 (Manila)
+(63 927)523.2139
dcsrsvn@discovery.com.ph
www.discoverycountrysuites.com
#/DiscoveryCountrySuites
Much love and happiness,