You know that you are starting to get older when your tummy begins to feel funny after a night of pizza and beer. Or burgers, fries and milkshakes. Or greasy Chinese food. What I'm saying is that, yes, I feel my body getting older, and that it's my tummy that's telling me so.
Now is as good a time as any to start making better food choices. But you see, I do love to eat. Asking me to cut certain things out of my diet, or having me abstain from eating particular types of food would result in a very sad, very cranky MrsC. That's why I choose to go for calorie counting. It allows me to have a little bit of everything that I like, but within proper proportion, or less, if only to satisfy my cravings without wiping out my caloric allowance for the day.
The thing with calorie counting is that it can really be tedious. I know this because I had to monitor my serving size and log them while I was pregnant with Little MrC. My blood sugar started to spike halfway through my pregnancy, and controlling my food intake was the only way for me to manage my gestational diabetes. The nutritionist monitoring me was pretty strict, so I was lucky that we actually had a book of meal exchanges at home.
Fast forward to today. When I discovered that there are groups who offer meal plans that can be customized according to your calorie requirements, I got super excited. Oh, if only guys like The Good Box existed years and years ago when I was preggers!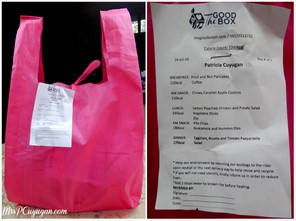 This amazing opportunity to try The Good Box was specially arranged for members of Mommy Bloggers Philippines. We were to be given a full day's worth of meals, and that included breakfast, lunch, dinner, and AM and PM snacks. Our total calorie count for the day was 1200 calories, which is super manageable for me. I know that others might find this to be too little, especially those who are heavy rice eaters. The first thing I noticed when it was delivered was that the meal was packed in wither reusable or biodegradable containers. Plus points agad!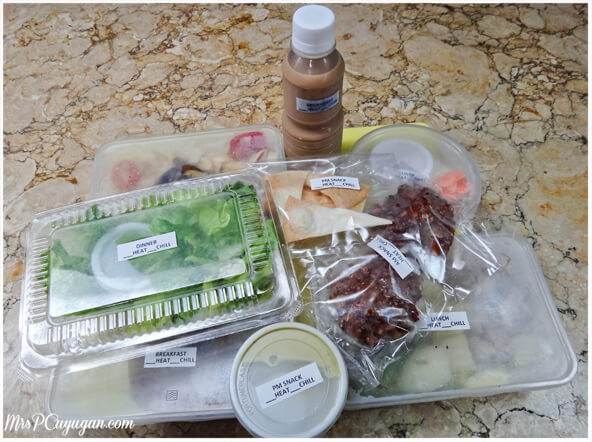 With The Good Box, you can choose from several meal programs, starting from 1200 calories to 2700 calories. There are also special programs available – South Beach Diet, Diabetic Diet, Hypertensive Diet and Pregnant-Diabetic Diet Programs. They take food allergies into considerations, too, which I feel is really important. Oh, and the price will vary depending on the weekly meal program that you choose.
Here's what I had during my one day trial: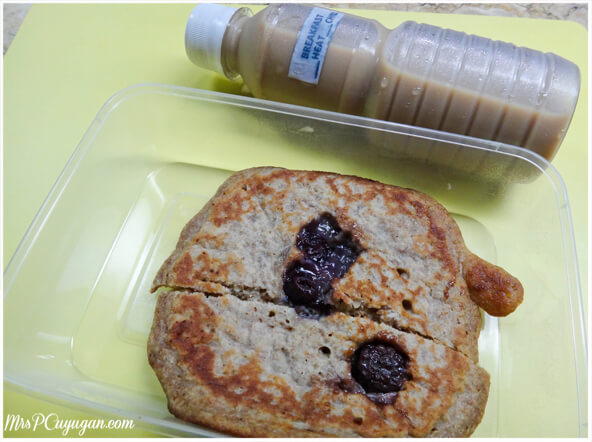 Breakfast was a fruit and nut pancake and coffee. I love that they thought to include coffee with my meal. I saw that the other moms had juice with theirs. You know how I need my caffeine fix in the morning, and I like that this one was nice and creamy without being overly sweet. I wish that I could order bottles and bottles of this and store them in my fridge. The pancake was good, and the fruits in it made it sweet enough to not need any syrup, but I kind of had a hard time with the nuts. I'm used to eating smooth, fluffy pancakes kasi. The chunkiness is something that I could eventually get used to, though.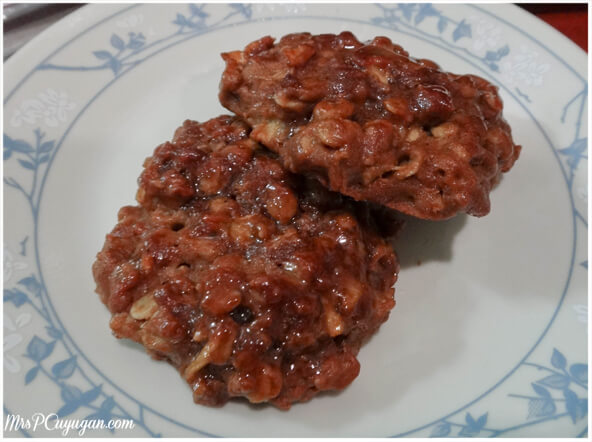 For my AM snack, I was given two chewy caramel apple cookies. Like I shared on Instagram, I left the house for a bit for a meeting after breakfast, and I came home at a little past 11AM already. I though I'd be dying of hunger by then, but I wasn't! I excitedly tore off the wrapper of my cookies though, simply because I was so excited to be eating cookies. These were good. As in really good. They were soft and chewy, and not too sweet. And they were pretty big, too. These did not feel like diet food at all. I ate them cold, straight out of the refrigerator, and I think this is the best way to eat these cookies.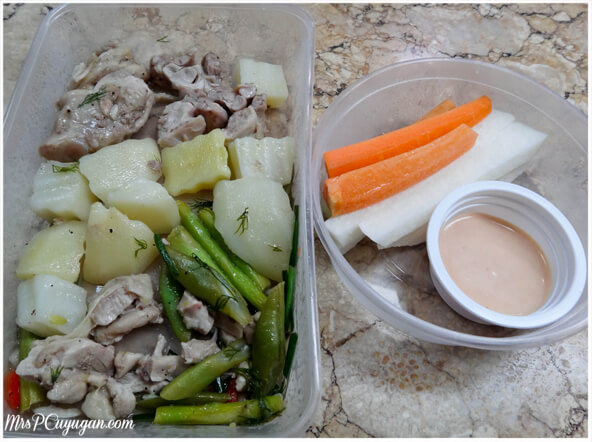 I did a bit of work in between my snack and lunch. By the time I started to feel hungry, I was happy to have a ready meal that I could just pop into the oven. Since the boys are out during the day, I usually have lunch with my mom or alone. This makes my solo meal a no-brainer, and I like having that sort of convenience in the middle of a busy day. Lunch was a lemon poached chicken and potato salad, and come vegetable sticks with thousand island dip. This was my favorite meal of the day, and I am already planning to make my own version of the chicken at home. So, so, so, good, and the serving was just right to carry me through until snack time. Yes, even without rice. The potatoes did the trick.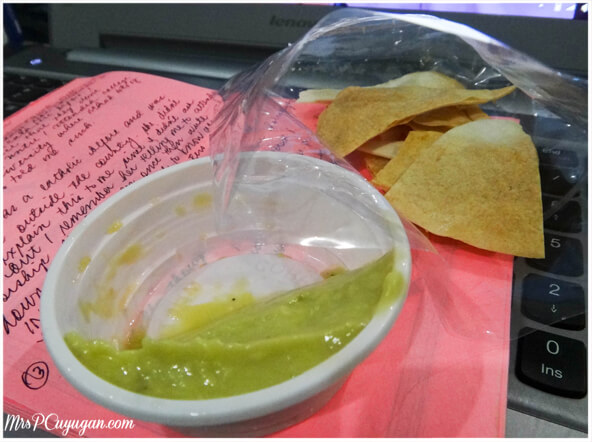 Like I usually do, I had my PM snack at my computer (attempting to squeeze in a little bit more work for the day) while my son had his after school snack across the table from me. The pita chips and tiny tub of guacamole and hummus dip looked really small for a snack, but I was fine with it. I couldn't figure out though if the dip was actually hummus, guacamole, or a combination of both.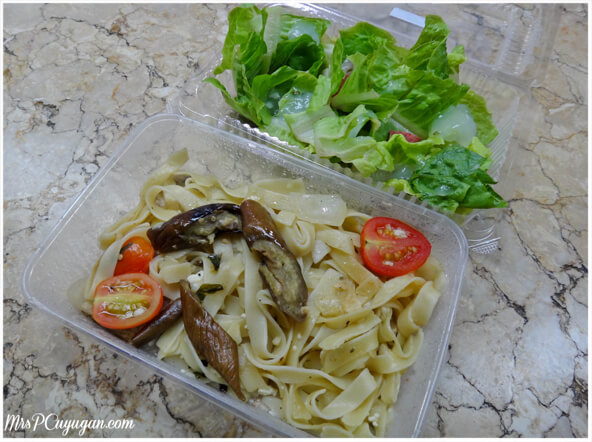 When dinner time rolled around, I was actually pretty hungry. It's a good thing that we have dinner early at home, otherwise I might not have made it, given the small afternoon snack. I was excited that I had both a salad and pasta, two of my favorite things to eat. The salad came with a vinegar-based dressing and a few salami slices. The pasta dish was an eggplant, ricotta and tomato pappardelle. I really liked the pasta, which was light and fresh-tasting. This I can also make myself at home.
I went to bed completely satisfied with my food for the day. I enjoyed my experience with The Good Box so much that I'm actually thinking about ordering from them for at least a month. This whole experience jump-started my #MrsCsWellnessProject, and I've been monitoring what I've been eating since that trial day.
My Good Box day was on a Thursday and the next Friday I prepared a 1200-calorie meal plan for myself at home. Over the weekend, I didn't count calories, but I tried not to eat too much. I've been doing the same thing also so far this week. Honestly, I've had fewer hyperacidity and hypoglycemic episodes since I started. Guess it really was time to make a change.
If you feel that calorie counting would work for you as a weightloss or a wellness program, I recommend that you try The Good Box.
THE GOOD BOX
105 Hawaii St., Pasig Greenpark, Pasig City
Mobile: 0917-7111732
Email: thegoodboxph@gmail.com
Website: http://thegoodboxph.com/
Facebook: The Goodbox PH
Twitter: @thegoodboxph
Instagram: @thegoodboxph