(11/10/15) UPDATE! KaiPlus has really nice plus size swimsuits! I bought one, and it was perfect! Happy shopping! 🙂
Why is it so hard to find plus size swimwear in Manila? Whyyyyy??? Or am I the only one having trouble finding cute bathing suits? I'm asking because I am headed for the beach this weekend with my cousins. That is if my little boy is already well by the weekend. We are currently battling what seems to be a stomach flu.
Anyway, back to bathing suits. Seriously, if there are any pretty plus-size ladies out there who are reading this, where do you shop for swimwear? I have gotten lucky a few times with a surplus shop in Alabang Town Center called Big Deals, which recently closed, much to my dismay. There's also the ever-reliable Speedo, but only a few of their styles are flattering on full figured girls. Other than that, I don't know where to go! I hear the Plump Pinay has some nice suits, but I don't actually know where to find them.
On the upside, packing for the beach is quick and easy because I don't have that many choices to begin with. Then again, I have a lot of summer dresses and cover-ups, and that's basically what fills up my bag on beach trips.
This swimsuit is my current favorite, and it's what I'm wearing at the beach this weekend. That's my skinny sister next to me in the photo, and Mr C in a straw hat at the back. I love the polka dot print of this strapless swimsuit and the cutesy skirt that comes with it. I got this from Big Deals last summer. I'm really so sad that they closed.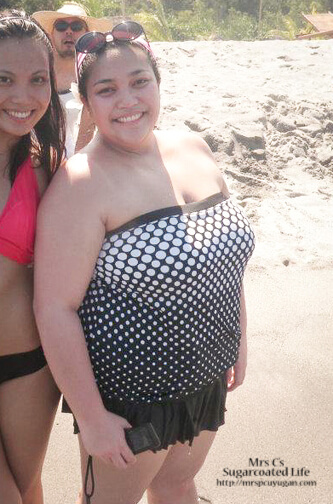 I suppose it will be easier to go swimsuit shopping if I lose weight (groan!) And I am suddenly reminded of a post I wrote in 2011 about shrinking down to a much smaller size. Obviously, it hasn't happened, but I'm not stressing over it because I love myself just the way I am. I've also chosen to celebrate my birthday on a mountain instead of a beach. Yes, things change over time. Lol.
That being the case, I'm calling out to all the plus size ladies out there. Where do you shop for swimsuits? Let me know so I can start preparing for summer!
Much love and happiness,