Okay, technically I didn't find Bend Accessories at a bazaar. The owner's sister is a work at home mom and they sent me a couple of bracelets and a nice personalized keychain a few weeks ago. But I did finally meet Francine, the owner and creator of these wonderful accessories at the Cuenca Bazaar (sorry, don't ask me which one it was, they are all just "Cuenca Bazaars" to me) one Sunday.
I was walking around, waiting for the little boy's soccer game to end. I remember I was alone because that was the day after MrC's out of town bachelor party extravaganza, and so we left him at home to catch some extra Z's. I saw the familiar Multifunctional Accessory Kit on display, and of course I just had to introduce myself to the unsuspecting Francine.
She and I talked for a pretty long time. I was excited to find out that she's from Muntinlupa, and she makes everything herself by hand. I've already promised my sisters-in-law that I will get them Multifunctional Accessory Kits also, and I want to get more colors for myself. I swear, they are so nice and colorful, and easy to wear and versatile. Super perfect for someone like me who rarely accessorizes! Promise, look at my photos and you'll see that I hardly have any bling on. These, I really like, though. They are so nice that I got a lot of compliments on my arm candy when I (finally) wore it last week at The Urban Food Collective!
Everything that Francine sells is super inexpensive, too. The Multifunctional Kit is PHP300. Keychains go for PHP50 – PHP100 depending on the design or engraving. She can also add charms for an additional PHP20 each. The Stretch Bracelets are only PHP130 – PHP180 each. All so affordable, and perfect to give out as Christmas gifts. Comes in a nice box with ribbon, too. See?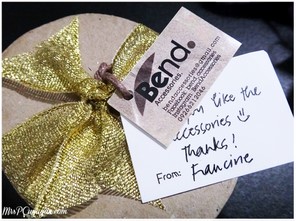 THANK YOU, Francine and Faith for sending me these kikay goodies. I super appreciate it, and I really, really love them! Will be sending you my orders soon! 🙂
If you want to order, you can contact Francine of Bend Accessories at 0926-6212046, or email bendaccessories@gmail.com. Like BendAccessories on Facebook, and follow them on Instagram @bend_accessories to see what's new.