I hate getting my period. I do. I highly doubt that there's any girl in the world who looks forward to that horrible once a month week of pain and discomfort.
Back when I was a student, and even when I worked at an office, period week almost always meant that I'd be absent for a few days. Now that I have errands to complete, a household to run, and hungry boys to feed, I no longer have the luxury of shutting down when my annoying monthly visitor arrives.
And so I cope in whatever way I can. I won't get into any details, because that would be over sharing (lol as if this isn't all too much info already,) but one thing that has helped was my choice to shift to tampons.
When I was younger, I thought that tampons were the strangest things, ever. When I finally tried them, though, I realized how much better they were than pads. Minimal leaks and no rashes – Y un palang winner na.
I recently had the chance to attend an event about tampons, hosted by Playtex, my brand of choice. There, I was surprised to know that not a lot of women know how tampons work, and fewer, still, have ever tried using them.
So, I thought it would be a good idea to share a few tampon facts that were discussed during the event. Some of the information was new to me, and some I already learned through research and experience. Everything is super useful, and good for a girl to know.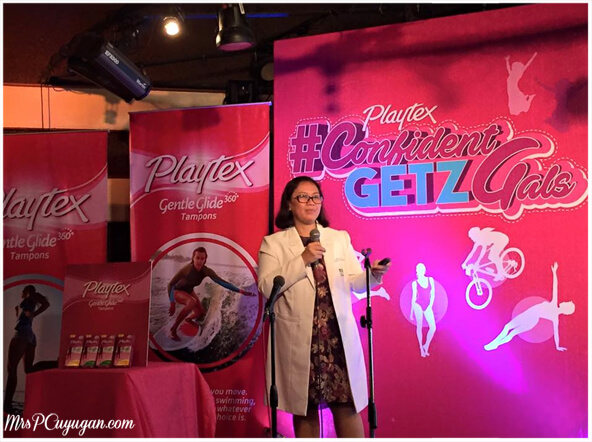 Fact #1 – Tampons allow you to be active despite being on your period.
Yes, friends, you can swim with a tampon on. It won't fall out and start floating around the pool. It won't absorb pool water and make you sick either. Since it's worn inside the body, you don't have to worry about it shifting to an awkward position when you run or bike. It also can't be seen through thin, tight sportswear unlike a pad.
Fact #2 – Tampons can't get lost inside your body.
Your cervix is too small for a tampon to pass through, so there's no chance of it being pushed so far in that you won't be able to retrieve it anymore. Your vaginal wall will also hold it in place (provided that you've inserted the tampon properly) so it should stay put until you take it out.
Word of warning: The string could break, though, and that will make it super hard to remove. But still, it won't get lost in there.
Fact #3 – You can wear a tampon while you sleep
I personally do not do this. For some reason, I feel more secure sleeping with a pad on. But you can totally use a tampon overnight. Just make sure to change it after a maximum of eight hours to reduce your risk of getting Toxic Shock Syndrome.
Fact #4 – Tampons are not uncomfortable to wear
Truth is, when inserted properly, they fit snugly and comfortably down there. You shouldn't feel any pain or discomfort.
Fact #5 – Tampons won't devirginize you
I was already a mom when I started wearing tampons, so I can't vouch for this fact myself. Lol. This was told to us by an OB-GYN at the event though, and I'm pretty sure that we can take her word for it.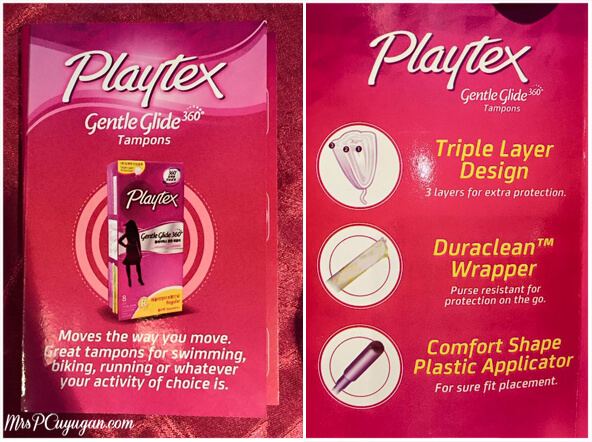 So why do I prefer tampons over pads? Well, my sensitive skin disagrees with pads. The constant contact makes for very itchy rashes especially on warm days, and when I use tampons I don't have to worry about this. It also feels cleaner, and I no longer need to worry about leaks and stains, which was something that I would constantly deal with before.
Playtex was the first tampon brand that I tried, then it disappeared locally for a while. I'm glad it's back now because I really wasn't happy with the other brands I've been able to buy from S&R. I even asked my in-laws to get me other brands from the States, but those weren't so nice either.
I like Playtex because the size is just right – Not too overwhelmingly big, but big enough to feel secure. It's super absorbent, too. The string is long, and just thick enough that it's easy to find. And that's enough sharing for one day. Lol.
If you want to know more about Playtex Tampons, check them out on Facebook.