I know, my post title is really baduy. Indulge me. This is the first time in 7 days that I've actually found the time to blog. That's the excitement talking.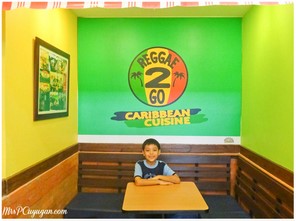 Anyway, in search of suits to wear to an upcoming wedding, the boys and I decided to check out Market Market. I'm not sure what we thought we were gonna find there, but I did know that we were gonna drop by Royal Caribbean Jamaican Patties to grab a bite. I'd had an outstanding invitation from them for months to come over, and we finally got to do it. Yay!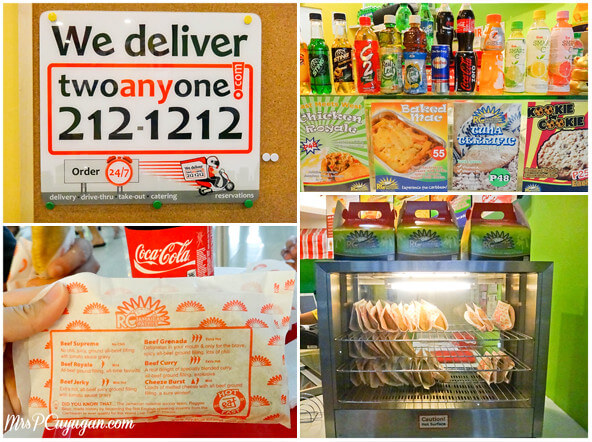 We normally visit that other Jamaican place just because they have branches in all of our favorite hangouts. I was looking forward to trying the different flavors of Royal Caribbean for a change. It's too bad that my stomach was iffy because we'd been eating nonstop that weekend, otherwise I would have tasted more than one pattie. And yes, there were a lot of options to choose from.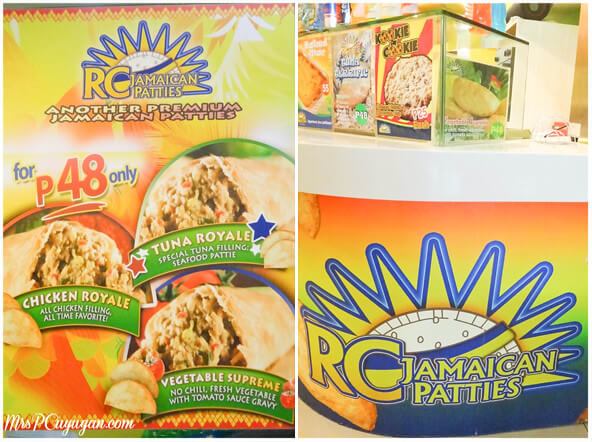 I was surprised to see baked macaroni and cookies on the menu. We thought about ordering these, but changed our minds at the last minute. We ended choosing patties with our favorite fillings, plus drinks. Part of me feels that I should have tried something new, but I just don't see how you can not eat Jamaican patties at a Jamaican pattie store. Makes sense?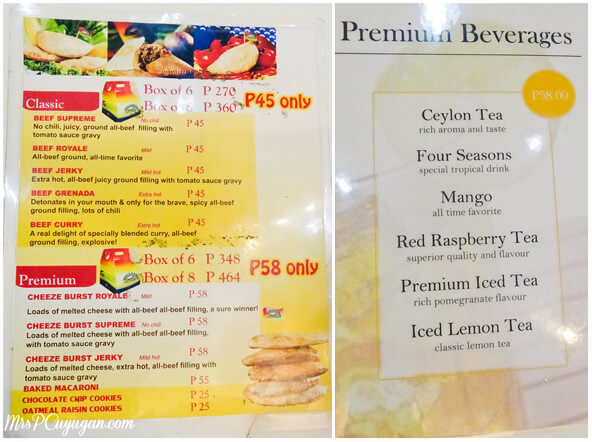 MrC always chooses something spicy, while the little boy picks something with cheese. The husbandry had a Beef Jerky Pattie (PHP45) for his first round (yes, he had more than one), plus a Coke. The kiddo ordered the Cheeze Burst Supreme (PHP58) and a Mango Shake (PHP58). They both wanted more after they gobbled down their patties, but we managed to convince the kiddo to order dessert instead. MrC, on the other hand, went for round two with a Cheese Burst Royale (PHP58).
Of course I took a bite out of everyone's orders. The Beef Jerky was nice and spicy, and I honestly don't know how MrC could keep adding hot sauce with every bite. Between the two Cheese Burst flavors, I prefer the Supreme because I like my patties with tomato sauce in them.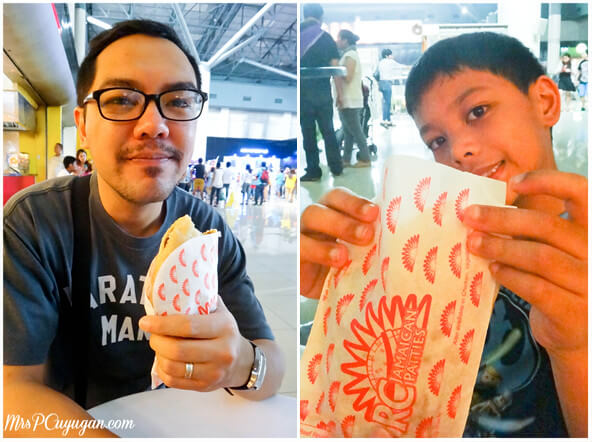 I ordered the Beef Supreme (PHP45), which had tomato sauce and wasn't spicy. This, in my opinion, needed hot sauce to make each bite more exciting. It's a good thing Royal Caribbean gave us a nice big squeeze bottle full of their tangy, spicy sauce. So yummy, and it all went very well with my Ceylon Tea Slushie (PHP58), which actually helped calm my turbulent tummy.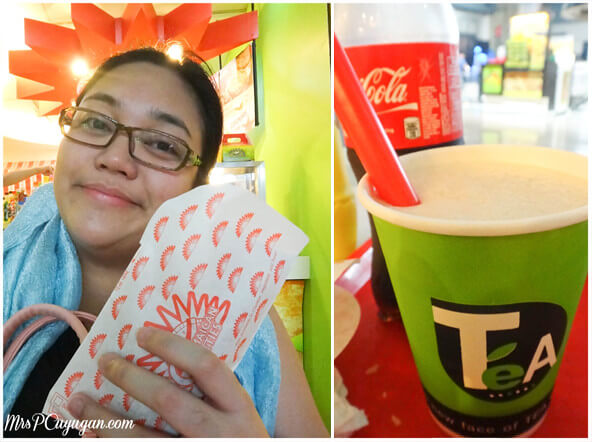 Since the kiddo really wanted to eat some more, he and MrC crossed the hallway to buy some mini donuts. I love the smell of these little fried treats. They remind me so much of recess time at Zobel! I found these ones too sweet though, but I think it might just be the flavor that the boys chose. I still prefer my mini donuts simply dusted with sugar.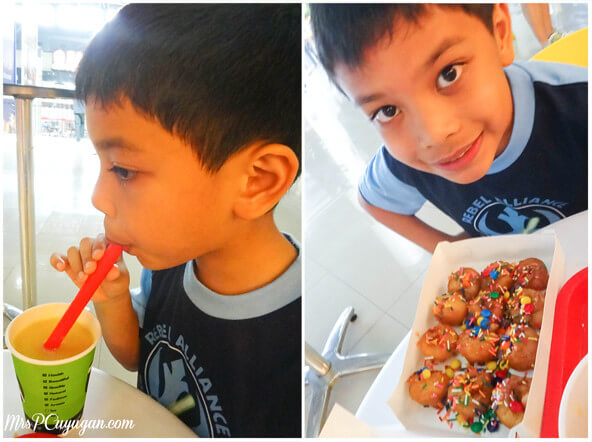 RC Jamaican Patties would make great movie snacks, and I can't believe I never thought to buy some to bring into the theater before. The shop is conveniently located right where the cinemas are at Market Market, so go and grab some for your next movie date. And don't forget the Ceylon Tea, coz that's really good, too.
THANK YOU Royal Caribbean for the treat! The boys and I really enjoyed ourselves!
Royal Caribbean Jamaican Patties
Fifth Floor, Market! Market!
Bonifacio Global City, Taguig City
+63943 709 0406
http://www.royalcaribbean.com.ph/