When you work in events management, weekends are usually nonexistent. I think this is a happy problem, because too much work is better than no work in this industry. It all boils down to how you can make your schedule work for you, and how you manage to de-stress. After all, there's nothing worse than seeing a stressed out, overworked, tired, cranky person standing in the middle of a supposedly fun activity. Now that I'm working in a mall we actually only get one day off in a week, but we're lucky that our rest day falls on a Sunday. Thing is, most of the time we have activities on Sundays so my weekends, or rather, my rest days have become fewer and further between.
I've been doing events for about 7 years now and have tried everything from corporate events, social functions, concerts, seminars, awards ceremonies, weddings, birthdays, name it. I've been through many levels of sleeplessness, and at one point, I actually had to work 21 days straight. Things are getting even busier now as the holidays are fast approaching. The funny thing is I really love the job and everything that comes with it, including the stress and the erratic schedule.
Since I don't want to burn out too quickly like I did in my previous job, I decided last night to follow one very basic rule – I MUST HAVE MY SATURDAY NIGHT. Meaning, whether or not I have work on Sunday, I should make sure that I spend my Saturday night doing something I like. There will be Saturdays when I'll need to stay late at the office or at an event, and owning my Saturday could mean having anything I want for dinner, or treating myself to a good cup of coffee or a nice drink after work.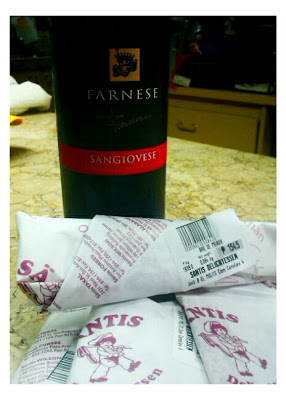 I unknowingly started this Saturday night thing last weekend, when my boys and I had dinner at Mona Lisa. Had a glass of wine with dinner, which is not something I usually do when we go out with Tristan. But that one glass of wine really helped me relax, and I actually slept like a baby that night. I enjoyed it so much that I decided to stop by Santi's before heading home after work yesterday to get a bottle of wine and some cheese and cold cuts. Like I said before, I'm lucky to have a husband who gives in to my snooty food preferences.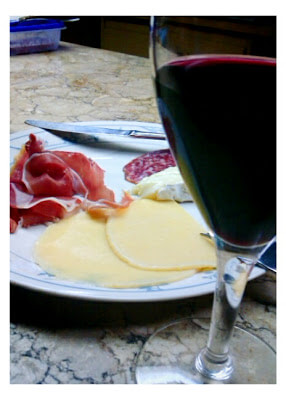 I ended up taking home a bottle of Sangiovese, some Brie and Dutch Edam, Salami Milano and Parma Ham. Yum! When I arrived home, mom had a pot of awesome Oso Buco on the stove, so I had my DIY deli platter and a glass of wine as a happy appetizer. Then I treated myself to some coffee crumble ice cream for dessert, to cap off my high fat, high calorie weekend treat. And yes, I slept like a baby again last night.
Even if I had to work today, I still feel like I got my weekend's worth of R&R. And I am so looking forward to next Saturday.
What do you guys do to unwind on weekends?