A few weeks ago, during a conversation with a random friend, I said that most of my days are now quiet and uneventful. For some reason, said friend thought of this as something negative. I, on the other hand, find that quiet and uneventful is a good thing.
Sure, I sometimes feel like I have nothing to write about because my life could be perceived as boring, but that's just the way it is for me.
I love those days when I can just stay at home, run my errands, watch my TV shows, and not have a lot of things to do or places to go to. I've always been a homebody, and now that I actually have a home to hang out in, there's really no place else that I would rather be.
Anyway…
Today is one of those "at home days" because classes were called off. It's been generally uneventful, thankfully. Told you, I like uneventful. I welcome rest, especially on days like today. We're coming out of a weekend that was pretty full by my standards, you see. We had a dinner party on Saturday, then Lunch in Tagaytay on Sunday followed by some family time before heading home. Yes, full weekend na yan for me.
Today started with French toast for breakfast, and yes, they were gluten free. Then the kid and I have been studying for his exams, which start tomorrow. We ordered fried chicken and fries for lunch because nothing makes study day better quite like junk food can. Right now, we're taking a break, and I thought it would be a good time to plan our household's meals for the week.
Truth: I seem to be in a meal planning funk where nothing seems exciting or appealing. I asked the boys last night to let me know what they'd like to eat, and of course their suggestions were all old favorites. Comfort food. So that's what this week's menu will be centered on.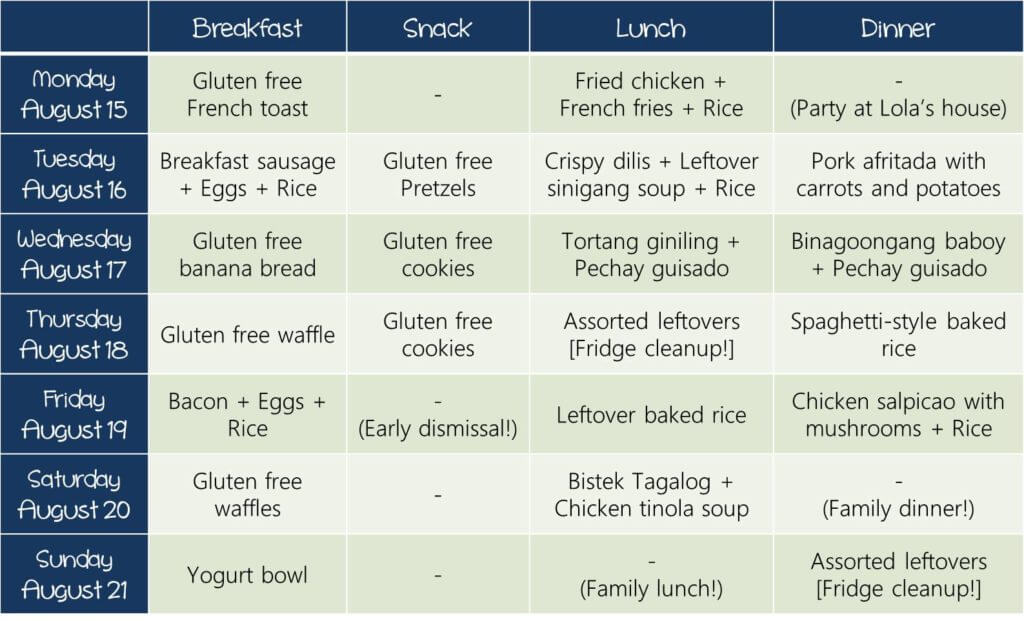 I have yet to post any gluten free recipes because I'm still not super duper, 100% happy with my experiments. Hopefully I'll be able to soon, though. Also, about the spaghetti-style baked rice, it's this amazing dish I stumbled upon online where you use rice instead of noodles in what would ordinarily be a pasta bake. Hope it turns out good, the way my Mexican rice from a few weeks back did.
Well that's all for today, folks! What's cooking in your kitchen this week?