I haven't been bazaar-hopping much over the past couple of months because the traffic and parking situation just drives me crazy. I miss the days when the bazaars here in the village were more of a neighborhood thing, but then there really was no stopping the whole Alabang bazaar season from growing into the huge annual event that it is now.
So anyway, let's rewind back to the day when I saw Bend Accessories at Cuenca. Francine was sharing her stall with another crafty mommy from the south, Sheryl Fernandez. I ended up spending a few minutes on Sheryl's side of the booth because I was so interested in her Tanzan atbp display.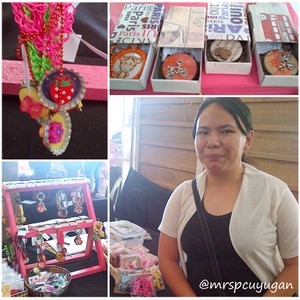 Sheryl makes accessories like key chains, bookmarks and magnets out of bottle caps. I love that she makes each and every one by hand, and that you can request for the designs to be personalized to your liking. So Pinteresting!
She made me one, and it's been hanging on my purse ever since I got it. I don't know if it's the 90's kid in me, but I like hanging key chains on my bag zippers. Lol. Do you guys do that, too?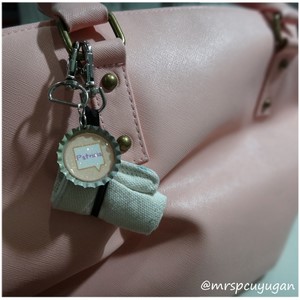 Cute, right? These make really nice personalized Christmas gifts. They are affordable, too, at PHP80 to PHP200 per item.
As if the Tanzan accessories aren't cute enough, Sheryl packages them in matchboxes covered in decorative paper. So all you need to to is add a ribbon and a gift tag, and you're all set for Christmas. Scroll back up to the first photo, and you can see the boxes in the upper right.
Thank you, Sheryl, for my bag bling! I really love it!
For orders and inquiries, you can contact Sheryl Fernandez of Tanzan atbp at 0977-1445573 or tanzanatbp@gmail.com. You can also find Tanzan atbp on Facebook and Instagram.