I actually attended a blogger event a couple of weeks ago. You know I'm really picky with the events that I attend because I don't like disrupting my weekday driver duties schedule. But, when my friend Ginger sent me an invite to the Lotte Xylitol What Makes A Healthy Smile Blogger Meet Up, I knew right away that I wanted to be there. I'm glad I came because I really learned a lot. I think the most shocking thing I discovered that day was this.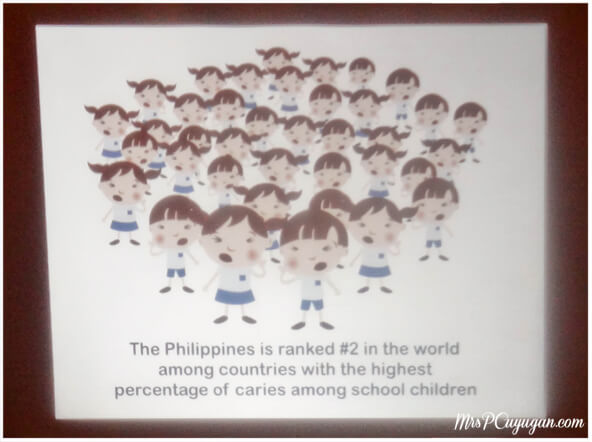 I come from a family where health and dental care are taken seriously, so I really am quite naive to the fact that many people are not the same way. Actually, both Big and Little MrC have gotten annoyed with me at some point because of my incessant nagging about brushing their teeth. I mean, seriously, how can you not see that this is important? Well, sadly many people do take dental health for granted, and so I'm glad that I now have the opportunity to share a little bit of info about kids and tooth decay. This isn't something that should be taken lightly, parents!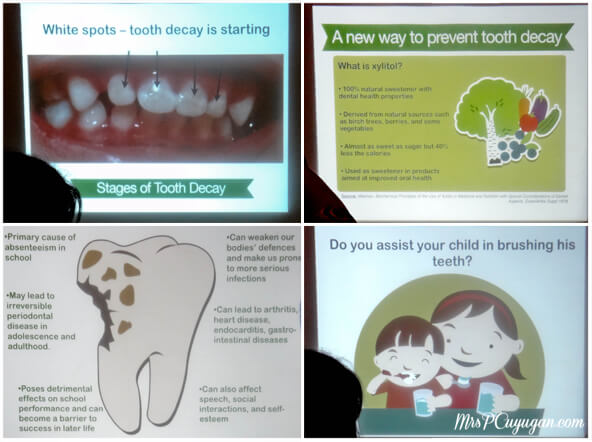 Dra. Fina Lopez, a pediatric dentist here in the Philippines, was the resource speaker for the afternoon. She shared a lot of tips on how to detect tooth decay, how it spreads and how to stop it once it's there. She said that tooth decay can really have a negative effect on a child. Imagine, if the kid has a tooth ache, chances are he or she will be irritable. The kid won't want to eat and will have trouble sleeping. In the long run, school may be affected, also interaction with others. And once the effects of tooth decay become visible, this may lead to insecurities, too.Yikes.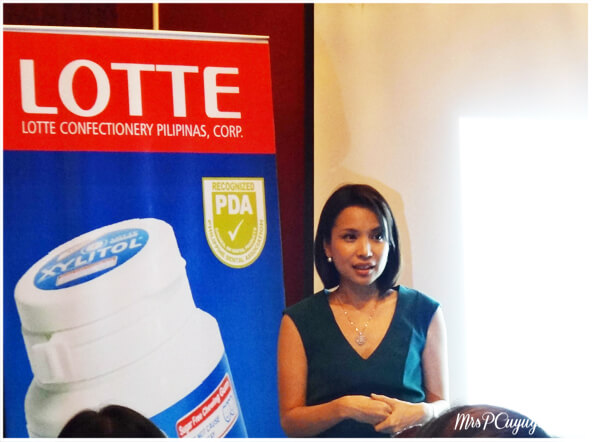 Here are a few interesting (and somewhat alarming) facts about tooth decay.
9 out of 10 children in the Philippines suffer from tooth decay.
Tooth decay is caused by infectious Streptococcus mutans bacteria that can be transmitted to others.
Tooth decay-causing bacteria is first transmitted from mother to child from 9 to 13 months of age.
I honestly had no idea that tooth decay was contagious. So that means that if you have it, sharing a spoon with your kid, or even just blowing on their food to cool it down might cause you to transfer the bacteria to them. When I heard this, I suddenly thought of all of the times I shared utensils, cups, water bottles, even lollipops (I know, I was really into sharing) with friends growing up. I'm just so lucky that I never contracted tooth decay in spite of all this.
Now I wonder if my son does the same thing in school? Double yikes.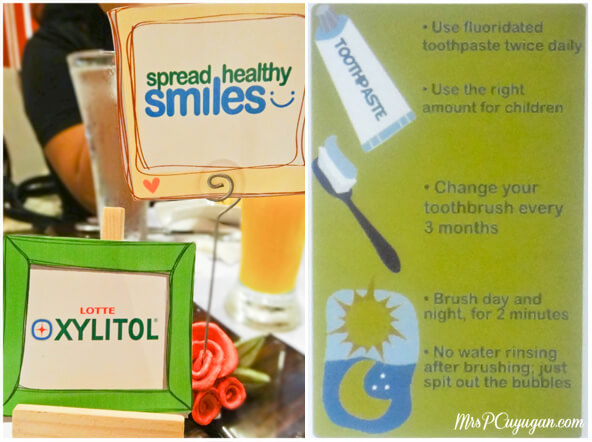 The thing with tooth decay is that prevention is really a better approach for it than treatment. In order to prevent it, we should really develop good oral hygiene and habits. Obviously, the same goes for our kids, and as parents it is our job to make sure that this happens. And believe it or not, we need to start the moment our kids' baby teeth start to emerge. That's because cavities and tooth decay on their milk teeth can cause infections in their permanent teeth.
So, here's what you and your kids should do to prevent tooth decay.
Eat a well-balanced diet
Brush at least twice a day using a fluoride toothpaste
Floss
Schedule regular visits to the dentist
Chew on Lotte Xylitol Health Gum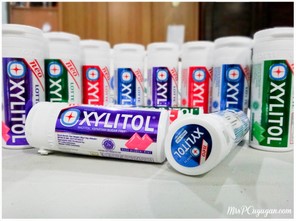 Yep, Lotte Xylitol Health Gum can help prevent tooth decay. Chewing on 2 pellets 4 to 5 times daily does the trick. The best part about it is that this is something that even kids can do while at school. All you need to do is pack some Xylitol gum for them to chew on after recess and lunch. In case you were wondering, Xylitol is a natural sweetener that comes from birch trees. While it tastes like sugar, it is unlike sucrose or glucose in that it actually reduces the growth of cavity-causing bacteria. This is why Xylitol is often used to sweeten dental health products like candy and gum.
Lotte Xylitol is the only dental health gum recognized by the Philippine Dental Association. It's sugarfree, helps fight cavity-causing bacteria, and promotes saliva flow, which helps to maintain healthy pH levels in the mouth. Chewing on gum also helps dislodge food particles that may have gotten stuck in between teeth, removes tartar from teeth surfaces and promotes remineralization, or the rebuilding of teeth enamel through its calcium phosphates component together with saliva production. It's not hard to see how beneficial Lotte Xylitol gum can actually be, and so ever since the event I've started keeping a tube of it in my bag at all times. It comes in four yummy flavors – Blueberry Mint, Fresh Mint, Lime Mint and Strawberry.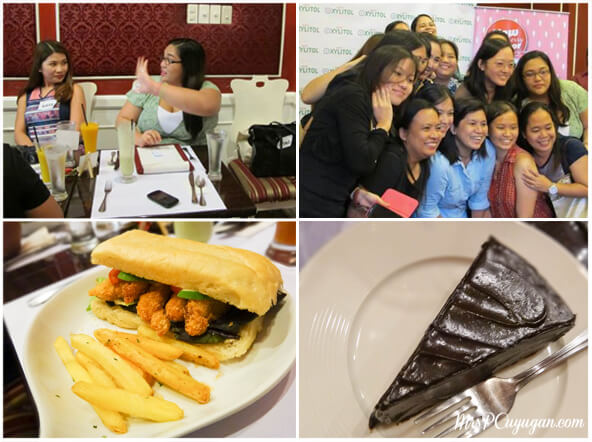 I know I make it sound like the event was so serious, but actually it was super light and fun. The afternoon was filled with great food and great company. I always enjoy myself when I'm with my mommy blogger friends. I love that this serious topic was discussed with us in such a light and easy to understand manner. I especially love how the bloggers were encouraged to talk as well, and it wasn't just to ask questions, though there were a lot of those, too. I actually arrived late, and got there just in time to listen to a few of the moms introduce themselves and answer a random question, and then it became my turn to speak.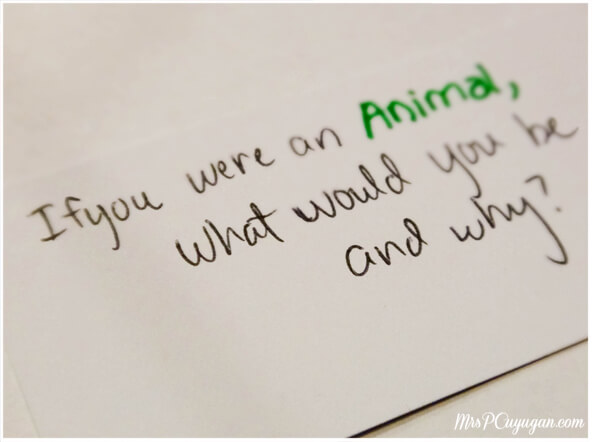 So guys, now that we know all this, let's do what we can to spread healthy smiles. We can start by joining the Lotte Xylitol Gum Smile Champions promo, which runs until August 28th. The contest is open to all parents with children aged 5-12 years old at the time of promo registration who reside within Metro Manila. Winners will have their own shining moment when they are featured in the Lotte Xylitol Facebook fan page, and will also receive PHP10,000 in cash and Lotte Xylitol Gum gift pack worth 1,000.
You still have over a week to join, so go and snap that perfect smile with your kiddo already! To see the full promo mechanics, and for more information, you may visit the Lotte Xylitol Gum Facebook Page here.