Yep, quiet time is exactly what I need right now. Last week was intensely busy. We started off with two days of pampering and R&R with a few bloggers from the south at Fringe Salon. Then I spent Wednesday at home so that I could write, but I also made sure to sneak in my last batch of school errands. On Thursday, I had the ever-so-enriching opportunity to sit down with a WAHM friend and start-up blogger for a quick chat. I love that I am now able to give advice and help people who want to start their own blogs or begin a work at home career.I fell that these little meetings allow me to give back for all the help that I received three years ago when I was the newbie.
Friday was the most relaxing day of last week, with only a few grocery errands and some writing on my list. I actually got to grab a yummy lunch at S&R with my mom. Saturday started mighty early with day one of the June-July Futbol Funatics camp at Cuenca. Then I went straight to Fringe afterwards for our last blogger event day. Sunday was an early football day as well, and then afterwards, the boys and I spent time with our relatives on the Cuyugan side. It was certainly a long, but super rewarding week.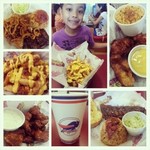 Today was mostly spent at home. I decided I would take it easy because I feel a cold coming on. True enough, I fell asleep on my mom's couch, my favorite spot in her room. Guess my body really was asking me to slow down. Taking even one day to slow down for some quiet time can really make a huge difference in the ever so eventful life of a mom or dad. Do you guys agree? Now that I've taken my day off, I know that I'm ready to face the week. Of course, there's gonna be writing involved. Lots of it, if I hope to really make a dent in my crazy backlog. Here's what you can look forward to reading about on the blog in the next few days.
The amazing sweet treats of Pink Wasabi
My extremely overdue #BetterMe post. For real this time.
What do you guys do to get even a few minutes of quiet time in the middle of a busy day, week or month?