Wait, oh my gosh I should have posted this a week ago. Haynako, momnesia strikes again. Anyway…
Gourdo's is inviting everyone to come and shop at their Scrapbooking Yard Sale, which actually started last May 1, and will go on until May 18. This is happening at the Gourdo's Fort Bonifacio store. They're offering a lot of great scrapbooking items at 50% off. Crafty friends, I think that you guys would totally go nuts here.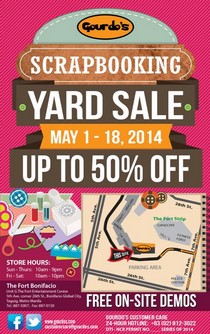 Apart from great deals, there are also exciting activities lined up on the weekends. Bonus: There are gonna be lots of freebies, too! On Mother's Day weekend, May 10-11, they will be having the I Love Mom Because… A Mother's Day Craft Weekend. This is perfect for you guys who have no plans yet for mom's day.
There's going to be a mom and kid crafting activity, the Make n' Take Activity by Mom and Me. The mom and me pair gets a free photo from Fuji Instax, which they can use to create a card or a scrapbook layout when they purchase a Make n' Take kit.
If you do visit, don't forget to check out the free demos from 1-5pm on May 10-11. There's Calligraphy by Imma Frias, Punchers and Stamps by Ime Oranga, and other demos on Paper Flowers, Project Life and Smash Books.
Sounds like a lot of crafty fun!
For more details, visit the Gourdo's website or Facebook Page.