I think it might be because I hit 30 this year, but I've been really excited lately about trying out new things. So far though, most of what I've ventured into are all related to my hobbies and interests. I've yet to go for more adventurous stuff. Maybe that will come in my 40's haha.
One nice thing I discovered recently that I think I will enjoy doing over and over again is this thing called a blog book tour. It's basically a virtual book tour, blog carnival style, where authors get additional exposure through bloggers. I chanced upon one that was featuring local writers, and of course I had to join. It was absolutely the perfect opportunity for me to get started on this new thing which allows me to make the most out of my love for reading. So here I am now doing my first ever review for my first ever blog tour. Yay!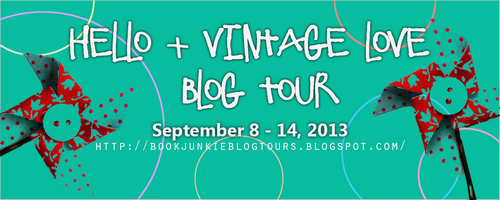 Okay, enough about me. Let me get on with Hello by Addie Lynn C. Co's "stop" on my blog, brought to you by Book Junkie Blog Tours !
TITLE : Hello
AUTHOR : Addie Lynn C. Co
BOOK LINKS : Facebook | Smashwords | Amazon | Paperback Order | Barnes & Noble | Kobo
ABOUT THE BOOK :
What if The One actually walks up to you and even says hello, would you greet back or turn your back unknowingly that you have actually met? Would you know when you've actually met?
Serendipity is a funny thing that brings a tinge of bittersweet bliss to anyone who is fortunate to experience it. Hello is a trilogy that explores how serendipitous life can sometimes be.
Definitely, Maybe is a story of how fate plays with two people as they meet each decade hoping that maybe this time around, they can finally be together.
Almost Mismatch tells how two people so right for each other be so wrong and no matter how much they try to suppress their feelings, true love will not stop at anything. What is meant to be will be.
Finally, Dinner Date portrays how two people's search for love could take them to different places and people only to lead them back to where they started.
The world is just like a huge maze that no matter what direction one walks to, there will always be one final destination. There seems to be an invisible string that is handcuffed to two people on each end and unsuspectingly pulls these two people destined for each other back together no matter how long it takes.
If, like me, you grew up reading Sweet Dreams and the Love Stories Series, I guarantee that you will enjoy reading Hello. I am a girl and forever a hopeless romantic, so there was absolutely no stopping me from falling in love with this book. All three stories featured central characters who were very easy to relate to, and I found myself really hoping that things would turn out for the best for each of them as I progressed in my reading. Every mini-tale had a homey feel, filled with family, with comfortable scenarios, with friendships and love. This book is perfect for young adult readers who are only beginning to find love themselves, and those who still believe in the magic that love can bring into a person's life. This would also be a good read for those who have grown jaded, sort of as a quick escape to a place where romantic possibilities are endless, and a reminder that love can prevail. Yes, I know that sounds cheesy for a 30-year old, but hey, I proudly still believe in the miracle of love.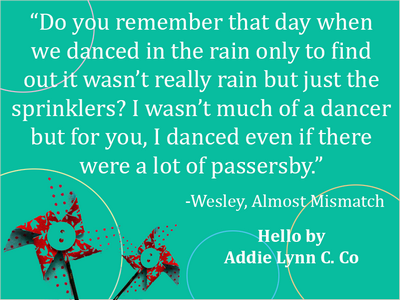 I only wish that there was more time to really get to know each character and experience more with them. This one was a really quick read (then again, I really am a pretty fast reader). Given that there were three books in one, I understand why there wasn't enough time to really build on the people and events in Hello. But that's alright, that's just me and my wishful thinking, wanting to connect more with the book characters. There were also some writing errors that may have been overlooked, but these are minor. In the end, it still was an easy read.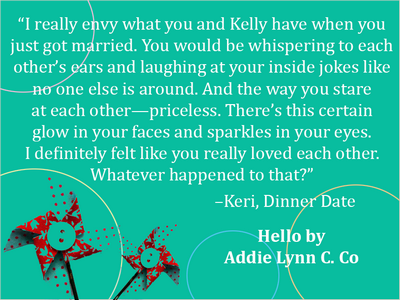 I would recommend this book to anyone who wants to get away from the serious grown-up stuff and escape to some good-old romantic cheesiness for a while. I'm really glad I got the chance to read it. Kudos to you, Addie Lynn Co!
*****
ABOUT THE AUTHOR :
Addie grew up reading Sweet Valley High books and Nancy Drew mystery books. She finished a degree in Communication Arts and really wanted to pursue a career in filmmaking but due to high production costs of a film, she opted to tell her stories through her novels. Being the hopeless romantic that she was, she will stop at nothing to share her passion with everyone and hopes that she could infect others with it. She's a daydreamer by day and an author by night.
AUTHOR LINKS : WATTPAD | FACEBOOK | EMAIL | BLOG