Or in my case, makeup yesterday, rashes today. Ah, the joys of having sensitive skin. Thankfully the rashes are at a minimum this time.
Yesterday was one of those rare occasions where I had to get my hair and face done for work. The American CEO of one of the companies that I work with is in town this week, along with his wife and his team. While here, they are attending and speaking in conventions and events, and also conducting interviews, which is basically the part that I'm involved in. Apart from my job as writer, I am also a standby translator. Very Ms Universe! I've yet to actually translate anything though, since the interviewees speak English pretty well. Yay for them! Today is our last shooting day. Yay for us! 🙂
So anyway, since getting dolled up is not usual for me, being a behind the scenes person and all, I thought I'd share the pretty face I had on yesterday courtesy of the go-to makeup artist of agency that I work with, Mama Rudy. And of course, no selfie is complete without a photobombing husband, so there's mine! If the photo is askew, that's coz I posted this via Blackberry, and I won't get fix it on the computer til I get back this afternoon.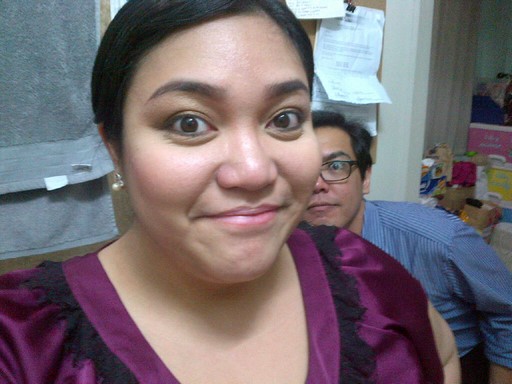 It's been a really busy work week for me so I also need to apologize about my baon plan for the week being delayed! That's coming tomorrow, I promise.
Have a great day, loves. What's in store for you this happy Thursday?
xo Patricia C. via WordPress for Blackberry