My little guy is a baby no more. Little MrC celebrated his 7th birthday the other week week, and we put together a Tron-themed lazer tag party for his special day.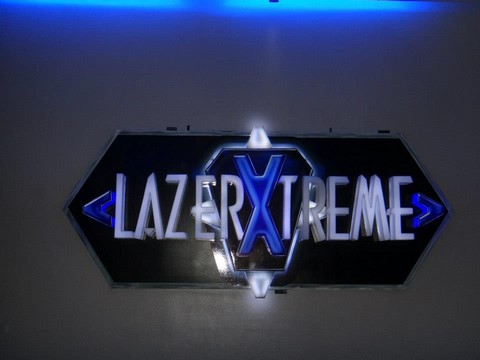 We chose LazerXtreme in Alabang Town Center as our venue, and in case you guys are planning to have a party there, ask for Princess to handle your inquiry. She is really nice, organized and hands-on. She even gave us a great discount, plus vouchers for free play as a token. You get to use their function room for 2.5 hours if you avail of the party package for at least 10 persons. They have one big room that can accommodate a maximum of 80 persons. This can be divided into two small rooms that comfortably fit 30 and 40 persons, respectively.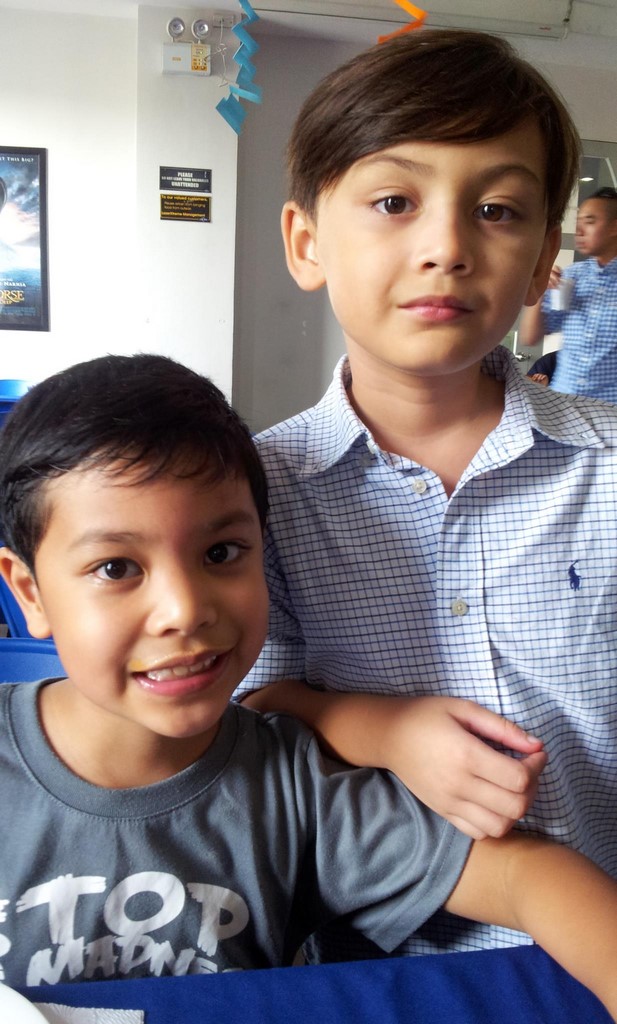 We invited close friends and family to the party, plus a few of his close friends from class. There were quite a lot of people on our guest list, and so we booked the big room for the party. I was a bit worried since his birthday happens to be in the summer and we sent out invitations to his classmates a month in advance. But we had a great turnout on the day of the celebration. His best friend from class was there, and that made little MrC really happy. Most of my cousins' kids, and our friends' kids too, are around the same age as my little one, so there really was no shortage of kids. The noise level in the party room was a sure indication of that.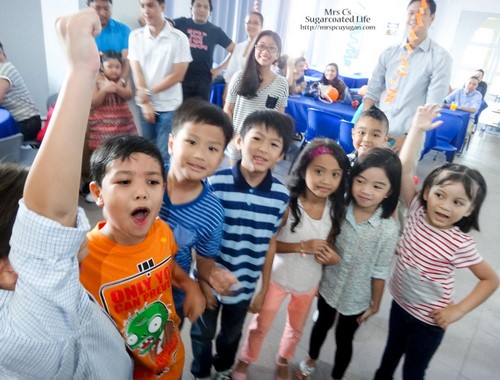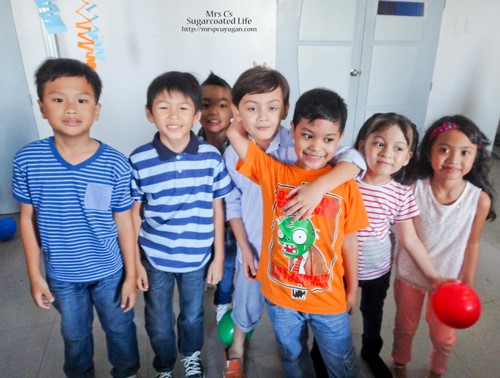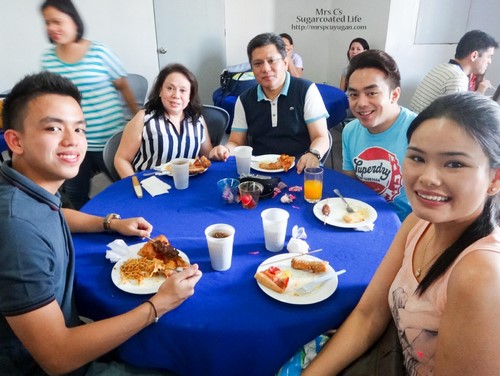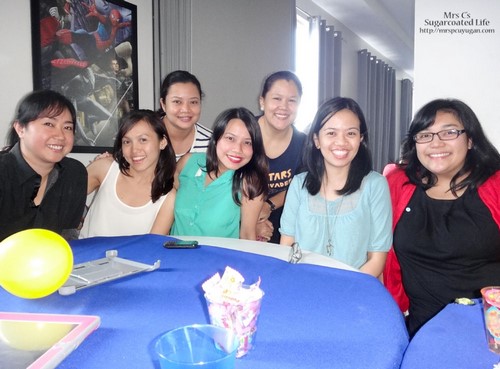 I asked MrC to help out in panning the party since he and the little guy attended Yco's 7th at the very same venue a couple of years ago. They also like to go there every once in a while just to play Lazer Tag. I, on the other hand, had never been inside the place prior to the day we went there to make reservations. Lucky for me, I have a pretty hands-on husbandry. I also helped that he liked the theme of the party.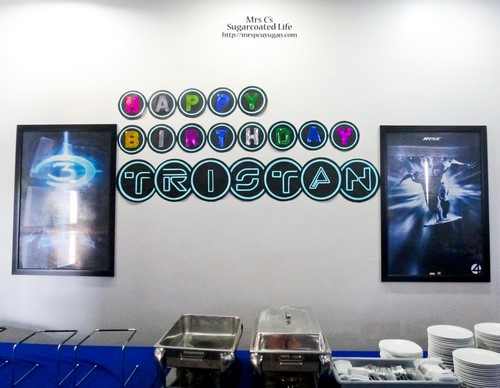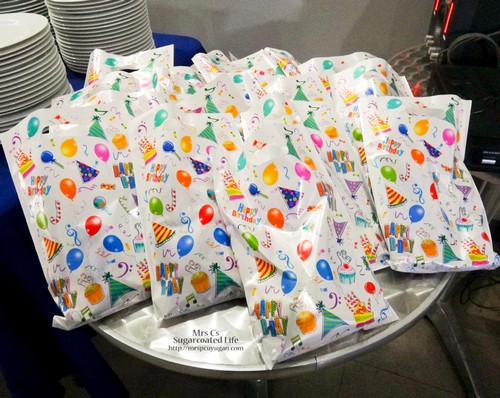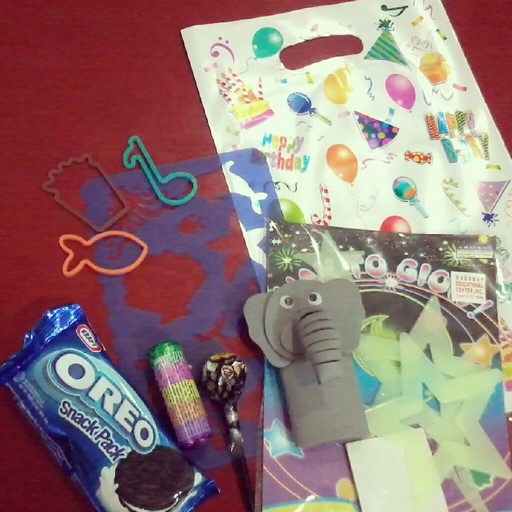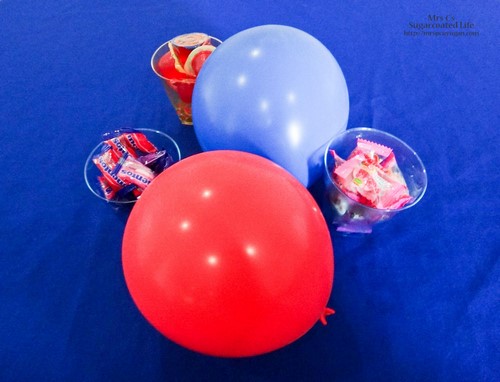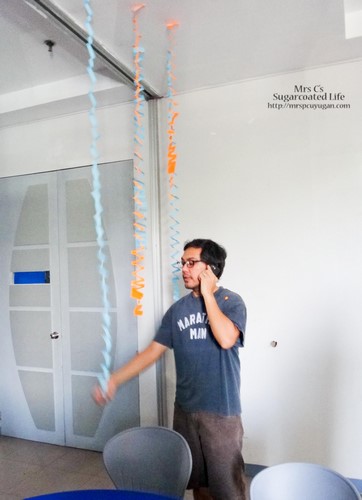 The nice part about having a party here is you don't need to worry about having a program or additional entertainment. In our case, guests started to arrive at 3PM, and ate candy and mingled while the kids played with the balloons. The first round of Lazer Tag was at 3:40PM and lasted for 20 minutes. When the players came back, the food was served. We sang happy birthday, then at 5PM they were off for another round of Lazer Tag, followed by a round in the Lazer Maze. Then by 5:30, we were done.
We chose to get the cheapest package, which included only pizza, spaghetti and drinks. We were allowed to bring in two more platters of finger food free of corkage, for as long as these items were not included in their menu. We added pork barbecue and turon (banana rolls). I of course found it really funny that we served turon at a Tron party, but really, I'm just corny that way.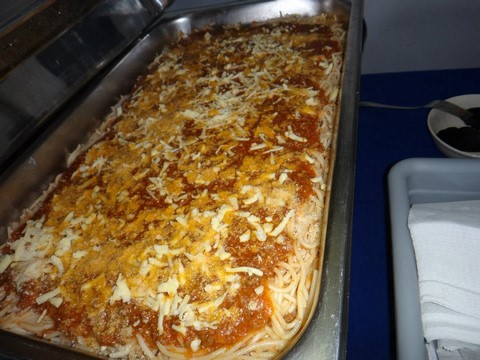 Everyone had a nice time, and I think that the big kids may have had more fun playing Lazer Tag than the little kids did. Let me share with you some of my sister-in-law's photos to prove my point.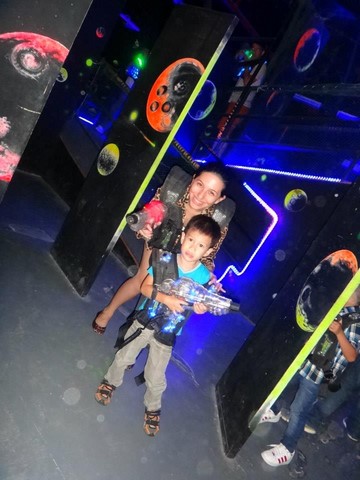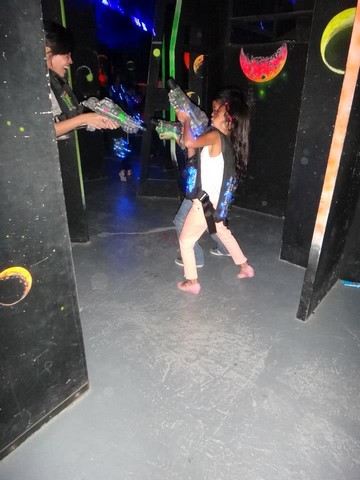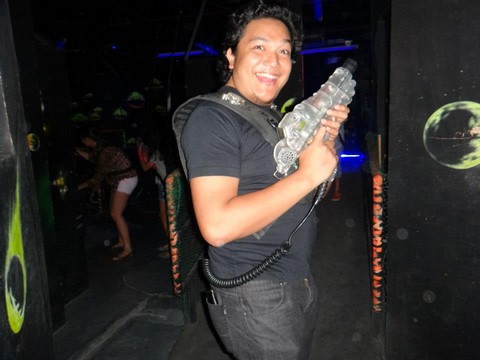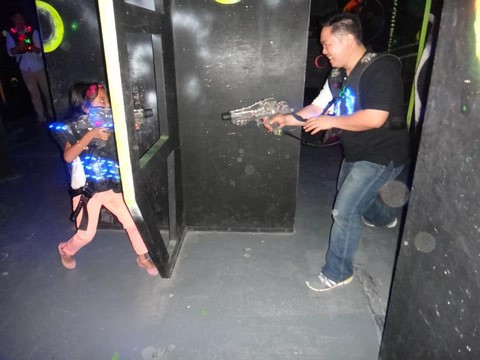 So there you go, the pictures will tell you that a LazerXtreme party means fun for both little kids and big kids. Now on to the centerpiece of the party, the Tron-est part of the entire Tron themed afternoon, the fabulous cake and cupcakes prepared for us by The Regali Kitchen. We had a dozen red velvet cupcakes with cream cheese frosting topped with edible identity discs, a dozen banana cupcakes with peanut butter frosting topped with edible light cycles, and a small square dark chocolate cake with light caramel frosting, which was the grid, with running lights and more edible toppers.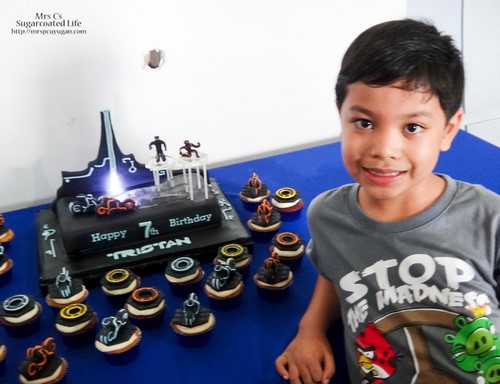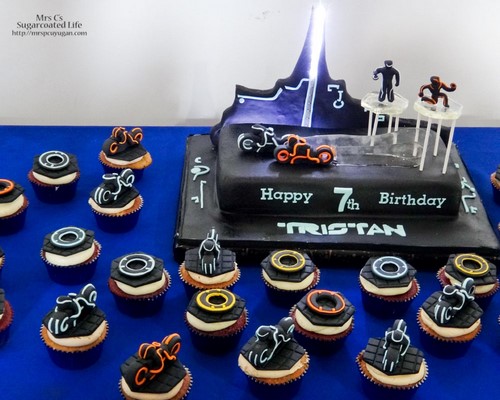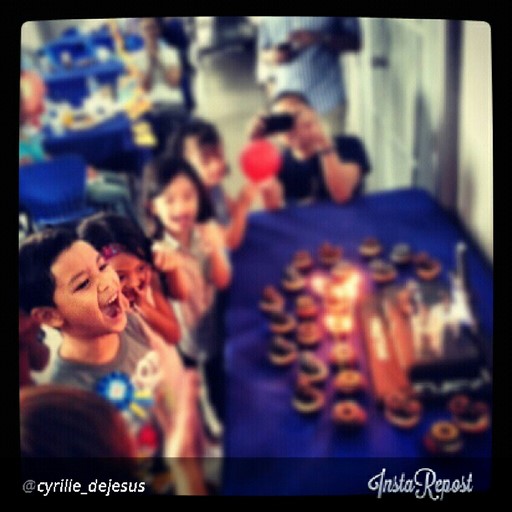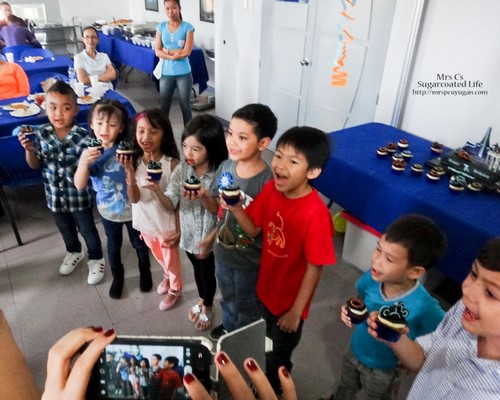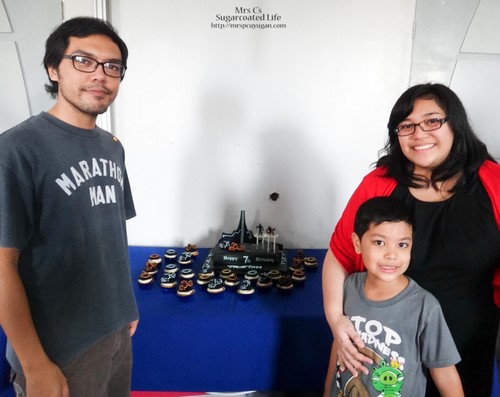 To Little MrC, happy birthday to you, my one and only baby boy. You may be a big boy now, but you will be mommy's baby forever. I'm so happy we got to give you the party that you wanted. Mommy and daddy love you more than anything else in this world.