If not for my friends Ditas, Janice and Tina, I might not have been able to attend the Blog Inspired workshop last Saturday. The four of us were talking over Twitter last week, and I think it was Ditas who asked if we were all going to be at the session. Tina was about to give birth at that time, and said she had to give up her slot. Janice was going for sure. I, on the other hand, found out about the free workshop late, and so I wasn't able to secure a slot for myself. The three ladies convinced me to put my name on the wait list, just in case there are last minute slots that open up. So that night, I think it was a Thursday, I went ahead and signed up, without any expectations.
I got an email on Friday from my friend Martine of daintymom.com, one of the co-hosts of the workshop, saying that I was given a slot, and that I should be at Fully Booked in BGC the following day before 10:30am. It was so serendipitous because just a few minutes before I got the email, I wrote and submitted my entry to her blogaversary contest, a post about why I am inspired to blog. So yes, I believe that it was truly meant to be that I got that slot! And I mean to make the most out of it too.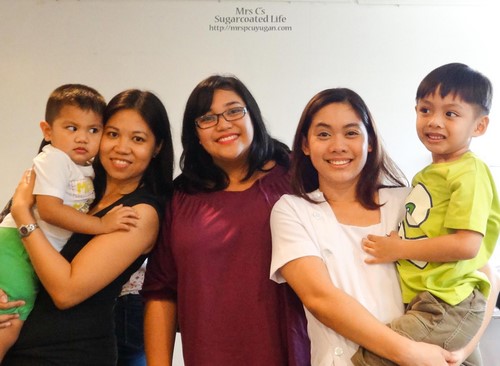 I dragged my boys to BGC bright and early last Saturday. Armed with my coffee, my notebook and my favorite pen, wearing my favorite pink platform wedges, I braved the super fast escalators of Fully Booked to get to the Forum on the fourth floor. In case you didn't know, I am quite clumsy, and I can't go up or down an escalator or a flight of stairs without holding on real tight to the banister. Add to that, I count 1-2-3 before stepping onto an escalator. True story. Even little MrC is better than me at getting on and off the escalator. Anyway, going back to Blog Inspired.
There were four very inspiring speakers that day. Martine was one of them, along with another of my Twitter buds, Jayme of optimommy.com, the super pretty Toni of wifelysteps.com, and the very engaging Michelle of beyondsilverandgold.com.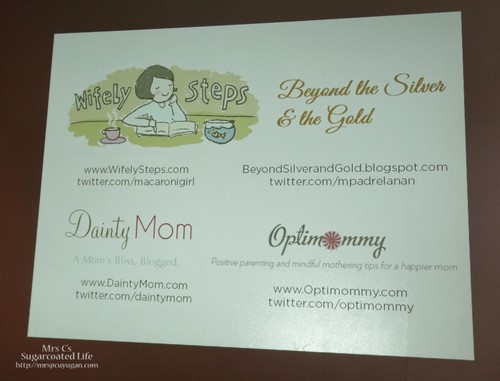 What did I learn from Blog Inspired? A whole lot, to tell you the truth. Lessons about life, about being a woman and a mother, about belonging to a sisterhood, about blogging and about being inspired. I think that I can basically sum it up into five major points.
Jayme was the first speaker that morning. She started her session with a couple of fun games. We learned from her how important it is to build a strong foundation, both in life and in blogging. That foundation is your life purpose. More often than not, your blog's purpose will take after your life purpose.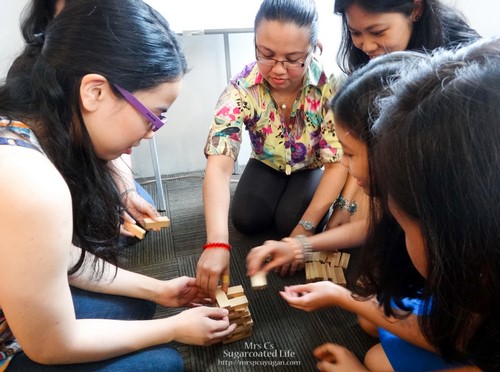 So, the first lesson is that you must first find your life's purpose. When you live purposefully, without going through life as if you are blindfolded, aka merely going through the motions like a robot, then everything has meaning and you develop a clear vision of where you want your life to go. The same goes for your blog. If you have a sense of purpose in what you write, then you can steer the stories on your blog towards that direction. Your posts will have more meaning, a better flow so to speak. And through that, your blog will become a true representation of you and your life's vision and mission.
Finding your life purpose entails knowing your unique qualities, how you use those qualities when interacting with others, and what you would like to achieve, or your idea of a perfect world. The life purpose exercise is something that I had never done before the workshop. The funny thing is, when I looked back on what I wrote that day, it didn't seem to really hit the spot. So, I decided to give it a little more time and further reflection(that is why this post is delayed!), and today, I finally found my purpose.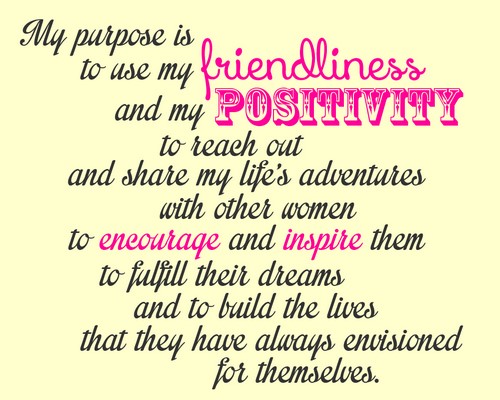 Jayme ended with a fabulous quote, one that she says is a favorite of hers. In essence, it tells you to go ahead and have the courage to shine because you deserve it!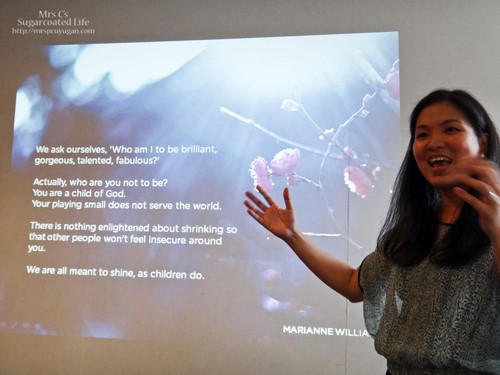 The second lesson I learned from Blog Inspired is that you need to find your unique voice. Know what you want to write about. You can do this by understanding where you are now in life, and finding that special aspect of yourself and your story. Your purpose and your perspective come together to form your voice. It is your unique perspective that will help take you where you want to go in this blogging journey, and through your blog, your purpose can come to life.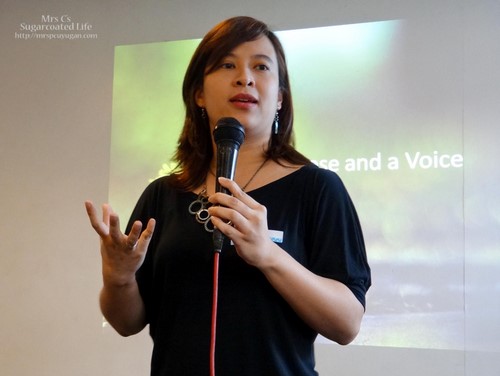 The third lesson is so simple,and yet it is not something that holds true to all bloggers. When you blog, don't prioritize earning. Instead, prioritize inspiration. Write because you love to write. Write about something you love. Do things with passion. Be sincere. Focus on your purpose. That's what Michelle taught us when she shared her story about finding her blogging niche, which is home schooling, and how that has worked out for her.
She also gave a very practical tip, and that is to do your due diligence. Promote your posts on social media, share them with friends, basically do what you need to do to grow your readership. That includes writing consistently. Write about topics that have meaning to you, and not just posts with sponsored content.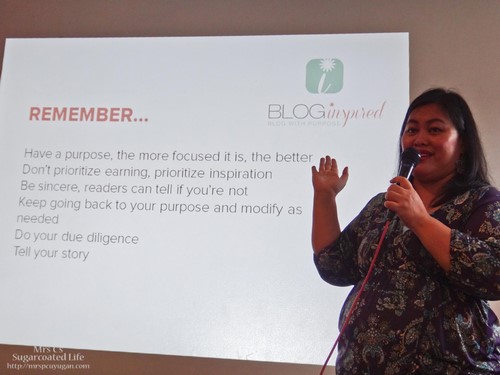 Martine was our final speaker during the workshop. Now, I have listened to her speak before and she really is quite amazing. I love her blog. I know I've said this before but I'll say it again, she is one of the reasons why I decided to pursue a work at home career, and also why I decided to take blogging more seriously. I continue to learn new things from her as I get to know her better. This time, my takeaway is that when you write, you should be inspired by your "now" moments. Whatever touches your heart will touch your readers' hearts as well. I just love this, because it is something that I personally believe too.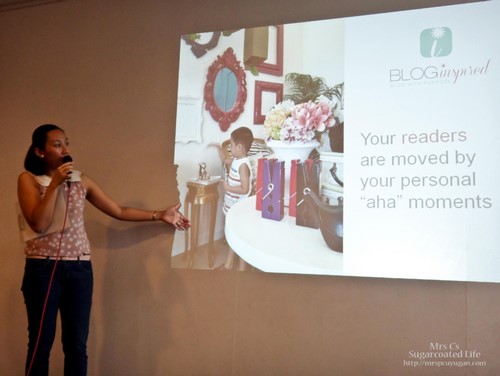 A bonus lesson from Marts is something that I know I should have started doing a long time ago. She says write down ideas all the time. God knows how many great ideas I've lost simply by not writing them down. When I was younger, it was easier to rely on my memory for these things. Now that I'm older, a mix of age and the sheer number of things I need to think about everyday are working against me on this. So since Saturday, I've been walking around with a pen and a pretty pink notebook in my bag, just in case. And I must say that it really works! Writing down little notes over the week is what helped me define my purpose.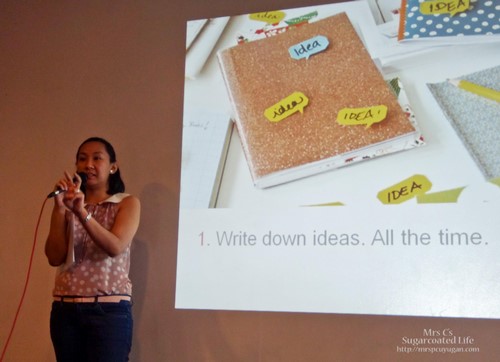 The fifth point is really more of a realization than a lesson. I realized something about myself that morning, and that is that I love blogging. I do. Many people don't understand why I love to share tidbits of my life online with anyone who wants to read them. Sometimes I try to make them understand. Often, I don't even bother to explain anymore. But that fine Saturday morning, being part of that lovely group where everyone understands what it means to blog inspired helped me embrace that part of myself – the mom blogger part. I love it, and I'm not ashamed to say that.
So from here on out, expect to see positive change on this blog. I've already started tweaking the design to make it more "me." I am also mapping out my content and planning out my post calendar into something more sensible and more meaningful. Slowly but surely, I hope to be able to say that I am learning to inspire and be inspired through blogging.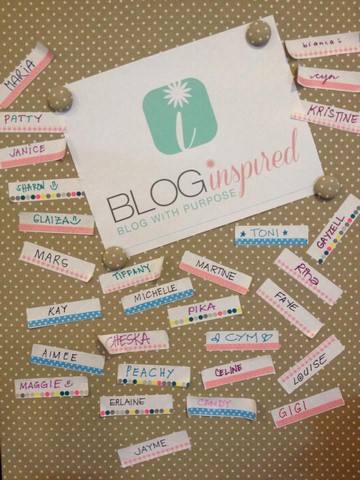 What inspirational life (or blogging) lessons have you learned recently? I would love to hear your thoughts!