The first time I saw the Maggi Magic Meals Bicol Express TVC, my curiosity was instantly sparked. Meal preparation would be such an easy process if all you had to do was dump all the ingredients for your main dish into a cooking bag, plop it on top of rice and water, then cook everything together in the rice cooker. If someone had told me that this was possible before I learned how to cook, my family would most likely be eating meals out of polyester bags almost every day. Note that these cooking bags are made of US/Europe FDA-approved food-safe PVC and not plastic. This method of cooking is actually called sous vide. A friend of mine pointed that out to me in a comment on one of my Instagram photos.
Since I've developed some skills in the kitchen, I couldn't help but think that these Magic Meals were too good to be true. So of course, I just had to try them out for myself. I discovered in the grocery store that they have four different flavors – Chicken Afritada, Lechon Paksiw, Chicken Pastel and Bicol Expressssss! And yes, I bought them all. One lazy day, I decided to try one out for lunch. We didn't have any pork in the freezer, so I decided to make the Chicken Afritada.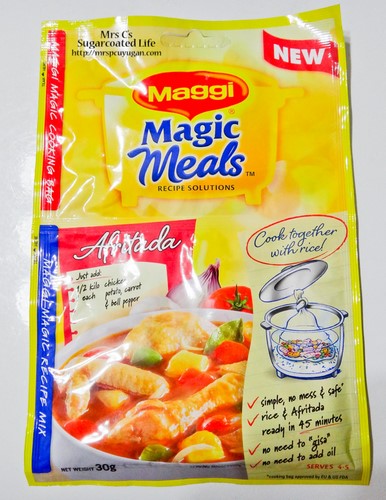 One pack of seasoning is enough for 1/2 kilo of chicken. I used chicken breast with the skin on. Since you're making afritada, you also need to add potatoes, carrots and bell peppers into the bad. There are more detailed instructions written at the back of the sachet. One of the important steps is to cut slits into the meat so that it cooks faster. I did that to most of my chicken pieces, but decided to leave some whole for comparison. My mom said that the ones that were whole were just slightly undercooked but the ones with slits and the smaller pieces were cooked through.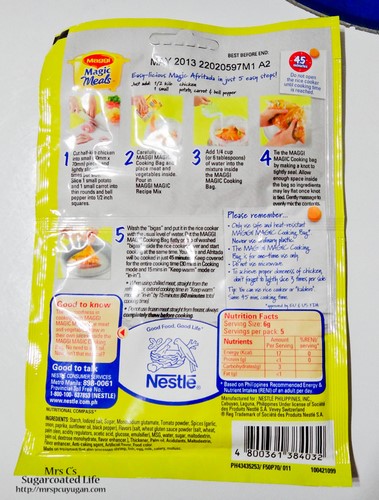 So into the bag goes the chicken, potatoes, carrots, bell peppers, powdered seasoning and 1/4 cup of water. Massage everything lightly then tie the bag, leaving enough room for all of the ingredients to lie flat once the bag is placed inside the rice cooker.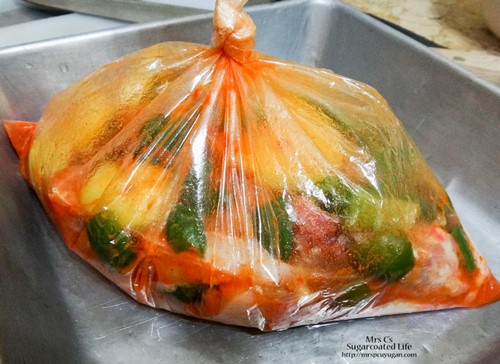 After that, you wash the rice, put the appropriate amount of water, plop the cooking bag on top and then cook in the rice cooker. The instructions say that you can also do this over the stove in a traditional rice pot. I think I will try that option out next time. Another thing, it says that you are supposed to cook this for 45 minutes, no less. So in case your rice is already done cooking, you should leave your rice cooker on in "warm" mode until you complete the 45 minutes.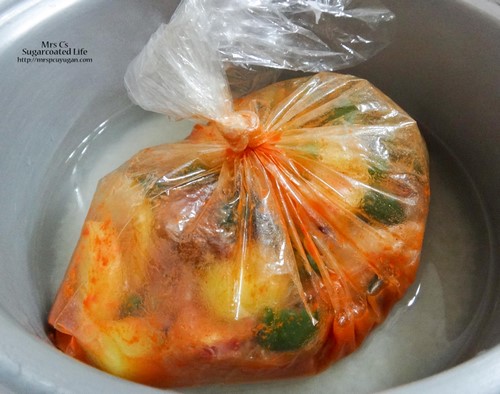 In our family, dry rice is a huge no-no, so I added 1/4 cup of water maybe three times after the rice cooker switched from cook to warm. If I remember correctly, the rice was done in about 20 minutes, and I had to add an extra 25 minutes to the cooking time. While the rest of the rice turned out ok, the portion under the bag ended up flat and stuck to the bottom of the pot with a little bit of tutong. That's probably due to the extended time left on warm. Or maybe our rice cooker is just old and faulty already.
So here's the finished product: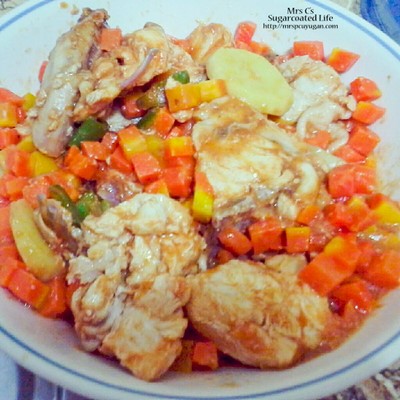 Here's what I observed:
The potatoes were still a little too crunchy for my taste, even after 45 minutes of cooking. I prefer them to be on the softer side.
One thing that I didn't like was the soggy chicken skin. I usually only eat chicken skin if it's crispy, and that could have been somewhat achieved if the pieces were sauteed in a pan before the sauce was added.
Speaking of sauteed, the toasty taste of garlic and the sweetness of sauteed onions were definitely missing from this dish.
It tasted like the sort of chicken afritada you would eat at a canteen/carinderia/jolly jeep, which isn't necessarily a bad thing. Just a matter of taste.
So, would I buy this again? Probably not. I've never made afritada from scratch but I'm pretty sure I can make a better batch than this. I'm still curious to try the other three viands though, particularly the Bicol expressssss. Yup, that was one effective TV commercial!
Mommies and daddies, what's your go-to instant food for lazy days? Please don't tell me I'm the only one who does this! 🙂