If you will notice, my hyperlinks are not working and my blog is not functioning 100%. That's because I'm choosing to be stubborn about accomplishing my migration from Blogger to WordPress all on my own. Well, not entirely on my own since I keep asking for help from my techie mom friends. I have to make special mention of The Techie Mom who has been really helpful in answering all my questions day and night. Like I said on my very first post here, please bear with me if things look out of place and if there are some stuff that aren't working right. I'm fixing things, slowly but surely! One thing though, I'm glad I chose to do this now. My blog is only a year old and not really established yet. I can afford to have bugs and lose traffic for a few days. I made P63.00 on Blogger over a year. LOL. Yes, it's small. But I really wasn't in it to make money, and I'm still not, actually. I blog because I want to blog, I write because I want to write, and I share my stories because I want to share. If I make new friends in the process, then great. If I make money in the process, even better. I do hope I start earning money though, even just a little. Haha. I don't think I can survive the life of a struggling writer. That's basically why I decided to move from Blogger to WordPress.
So, here I am at day 3 and my hyperlinks are not working.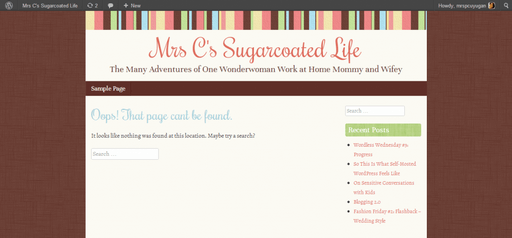 I got all my links working for about an hour yesterday using Justinsonmnia's WP Maintain Blogger Permalinks plugin. Then all of a sudden it stopped working. Jennyfer (Techie Mom) thinks it might be because of incompatibility issues with WordPress 3.5. Argh. I'm still trying to find a solution, but honetsly I'm THISCLOSE to manually replacing the links, at least for my 25 most recent posts. Again, this is why I'm glad I did this whole Blogger to WordPress migration now while my traffic is still relatively low.
If you're looking to make the switch from Blogger to WordPress but are scared about what you might lose in the process, take it from me, hire someone to do it! Blogelina's Blogger-to-Wordpress Transfer Package seems reasonable enough to me. In fact, if I find I can't make it on my own after all, I just might turn to her for help. But mark my word, hiring someone to finish the job will be my last resort. I really want to accomplish this on my own. I can just imagine how rewarding it will feel afterwards. Yes, I do like to think of myself as a trying-hard techie. This will sort of up my techie ratings.
Oh, and I thought I'd share some of the online tutorials I used as reference when I migrated. First is Techie Mom Jennyfer's recommendation, RT Camp's Migrate from Blogger To WordPress – Best DIY Tutorial. This second one I found through my friend Google, Nanny Goats In Panties' Blogger to WordPress: How To Make the Switch. I have a few more links bookmarked and ready to read. I've just been trying to manage my online time well, as this whole blog setup thing can be a real time eater!
I'd like to know, how many of you out there have made the switch from Blogger to WordPress? Did you hire someone to do it, or did you manage on your own? I'd love it if you could share your stories with me, as well as some helpful links to help me on my migration journey!
UPDATE! As of 4:18pm Manila time, my hyperlink problem has been solved! It was this plugin that did the trick, plus adding .html to my custom permalink structure. Oh, I feel like a dorky rock star right now! *Happy dance*
Much love and happiness,