I'm participating in the Spend-Less Holidays: Saving While Savoring the Season Blog Carnival, hosted by
The Frugal Fil-Am
and
Dainty Mom
. We'll be sharing our tips on how to spend less this holiday season, so that we can have a more meaningful Christmas. Please scroll down to the end of the post to see the list of carnival entries.
———-
You'll know that the holidays are fast approaching when notice your schedule getting filled up with parties. One annual holiday reunion that I look forward to is a pre-Christmas dinner with my high school friends. We started this tradition in college, so that we were sure to spend at least one day out of the year together to catch up on each others' lives. We made it a point to really free up our schedules  over the years for this one important evening, and so we've managed to keep it going for the last 12 years.
With all the other parties, entertaining in our own homes, plus the gifts and giveaways we spend for each Christmas, my girlfriends and I decided we should make our celebrations as budget-friendly as we possibly could. We've just started planning this year's get-together, and it's going to be another pocket-friendly holiday potluck. Here are some budget saving party tips and tricks we've learned over the years that we're definitely doing again this year.
Organize a dinner at someone's home and make it a potluck!
Choosing to have a potluck party in someone's house is definitely cheaper than dining out, specially for groups of families. In our case, a bunch of us are already married with children, which means we would have to pay for three heads instead of one at a buffet, or choose to order three dishes if we go ala carte. On the other hand, having a potluck lunch or dinner means you only need to prepare a dish or two. At the same time, it doesn't put too much stress on the host of the affair, since everyone pitches in for food.  You can have a lot of fun with your food this way because you can choose to theme your entrees, like maybe having a Mexican or Italian feast, or traditional holiday fare.
Plus, potlucks are always fun because they give you a chance to share your showstopping recipes with others. It's also an opportunity to try your friends' specialties, and maybe pick up a recipe or two while you're at it. This year, I will be bringing chicken ala king, a dish that my father-in-law taught me to prepare. The nice thing about this is you can just serve everything in a nice dish, or you can choose to go a little more fancy by getting pastry shells for everyone. I usually get pastry shells from French Baker. They're the best!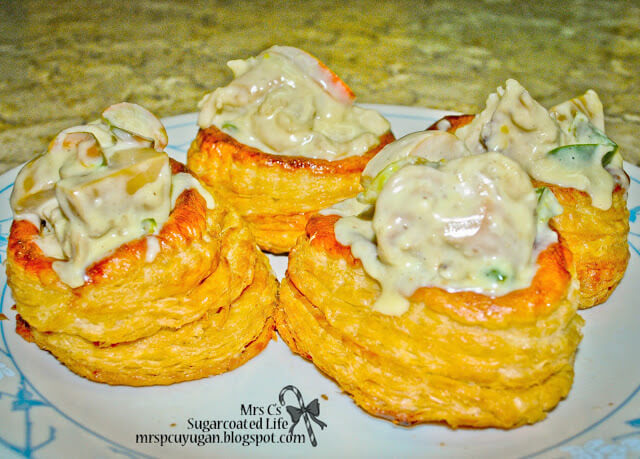 Making this for our potluck in December
If your group of friends aren't really fond of cooking, opt to have food delivered, or find an inexpensive catering service. Many restaurants offer group meals these days. We actually opted to do this on one year that we were lazy to cook. We ordered a huge family-style Chinese feast and just split the bill.
Kris Kringle and Secret Santa
No holiday get-together is complete without presents. One way to spend less on presents is to set up a Kris Kringle activity for your event. You can now do this online through websites like Secret Santa, so your exchange gift is more personalized, and you don't need to worry about getting together beforehand to draw names. It also adds a fun highlight to your celebration when everyone starts opening the presents they receive.
Also, if you are hosting the dinner and want to give individual presents, why not make them "hardworking?" Use your gifts as place markers for your guests. Or you can also arrange the gifts into a nice centerpiece to create a nice accent on the dinner table. At a recent event, I saw small, colorful food keepers used as vases for floral arrangements, and then after the party, guests could take home the flowers as well as the nice food keepers. Great idea, right?
There are so many ways to save money while entertaining over the holidays. At the end of the day, the most important thing is that you have fun and that you get to reunite with friends and family. Spending less while spending quality time with those you love, that's a winning combination for the holiday season!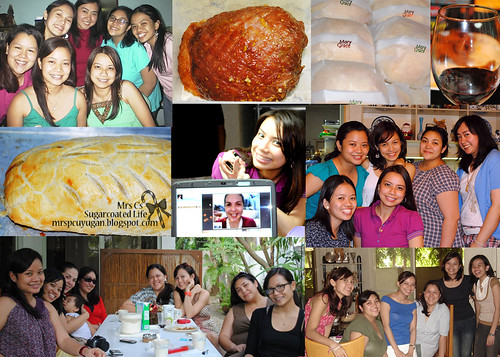 Annual potluck with the girls through the years. One of the highlights of my holidays for over a decade.
What are your money saving holiday party tips? I'd love to hear from you!
Discover more ways you can save during the holidays by checking out the other Spend-Less Christmas Carnival participants!
Roller Coaster Ride
Mrs C's Sugarcoated Life – that's me!
Much love and happiness,