I usually end my days by 9:00 when my little boy goes off to sleep. Around that time, I turn out the lights and immerse myself in my online universe. After a couple of hours on the net, I get tired and cross-eyed, and I promptly drift off to lala land. Of course, my body clock didn't always function that way. When I was younger and before I became a parent, at 9:00 the fun was just about to start. My friends and I would be up until the wee hours, and bedtime was only a few minutes shy of sunrise. I think it's safe to say that I have mellowed over time, and motherhood played a big role in my lifestyle switch. Of course, since I work in events, late nights can't be completely avoided, but more often than not they happen for business, rather than for pleasure. Nights out with friends and even date nights with the hubs are now rare occurrences.
Tonight was one of those rare occasions where I found myself ironing my hair at 8 in the evening, preparing to leave the house. I had gotten special invites to an evening event in Makati, and I decided to attend and drag Mr C along with me. A friend of mine had organized a special preview of Tango Fire for bloggers and VIP's at Nuvo in Greenbelt 2. I'll get into the full event details in another post, but for now I just have to say that everything about Tango Fire is just sizzling hot!
After the event, Mr C and I took a short walk around Greenbelt's gardens, and we eventually decided to try the Drive Thru Starbucks at the Fort before heading home. I got a glimpse of the Christmas light along Ayala Avenue, something I looked forward to while I was still working in Makati. We also drove by the Ayala Triangle Gardens and saw the lively lights hanging from the trees. I hope to be able to take a walk there one evening before the holiday season is over.
The Starbucks Drive Thru at the Fort was something I'd been wanting to try for a while now. We actually attempted to go there a few months ago, but it was late and we had Tristan with us, and we couldn't find the right street to turn into! So tonight I was excited to finally see the place, which turned out to be really cute. I hope they open a drive thru branch in the south too.
While Mr C ordered his usual Cafe Americano, I decided to sample the new Christmas drink, the Cranberry White Chocolate Mocha. A friend of mine said that it was extremely sweet, and she didn't enjoy it much. I ordered mine iced, and I think that was an excellent idea, because when the ice melted, the drink wasn't so overwhelmingly sweet anymore. Of course, I also got a piece of my favorite Starbucks holiday treat, a nice big peppermint brownie.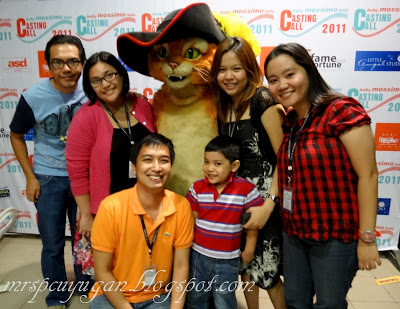 Peppermint Brownie!
Looks a little messy coz some of the chocolate frosting stuck to the wax paper.
I'm just so giddy about being able to attend an event as a guest for a change, and actually just being able to go out in general, even if it was just for a few hours. I really should be getting some sleep soon, tomorrow is sure to be another long day at the office. Glad I got to escape my routine tonight, and on a work night no less! Seems rather risque in a grandmotherly sort of way.