Breakfast is my favorite meal of the day. Oh yest it is. So when Jane invited our ABC group to have brunch with her at Tus' Clay Pots and Skillets in Westgate, I said YES in the most enthusiastic way. I love that Tus' is open for breakfast from 7AM to 10:30AM. See, MrC and I are always looking for places to eat early in the day. We love going out for breakfast or brunch, and this place is now officially part of our morning restaurant list.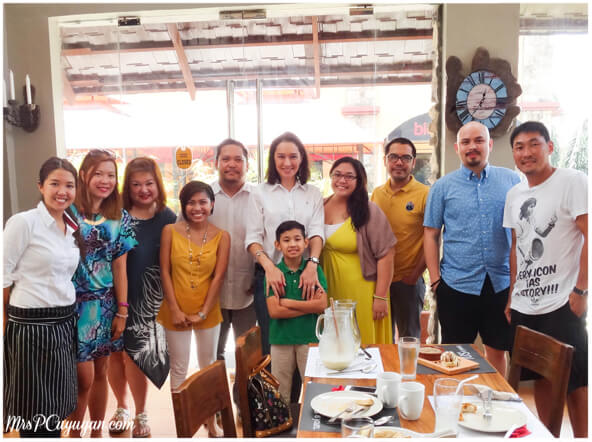 The restaurant is owned by Chef Krsna Algenio (who happens to be the sister of my sister's friend) and Maricar Sason. Both pretty ladies are also from Alabang, and event went to the same high school that MrC and I went to. TUS has a special meaning there. Joei and Timmy know this coz they're also from La Salle. We actually asked if they chose this name because of that. The answer is no. The word tus simply means yours in Spanish.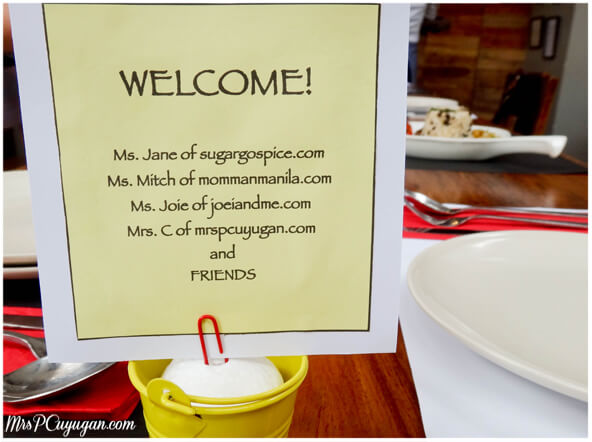 So, when you go to Tus' for breakfast (yes, I said WHEN and not IF), here are seven dishes that you absolutely positively have to order. As in. It doesn't have to be all at once, but make sure you come back to try the ones you missed. Ready?
1. Pulled Pork with Coleslaw Breakfast Skillet (PHP 350.00)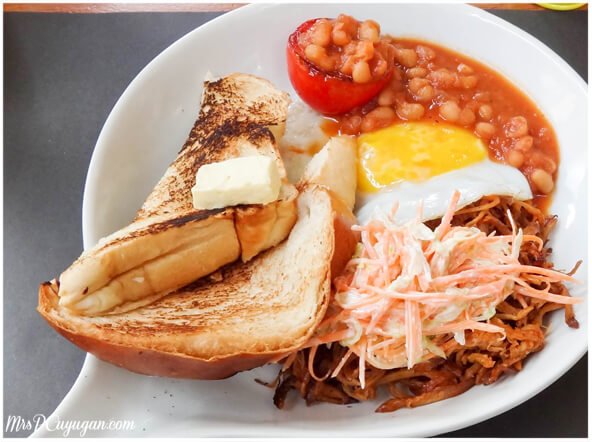 I cannot get over this dish! The pulled pork was perfectly seasoned. It was nice and toasty, like it had been cooked so long that the sauce dried up. The coleslaw was a perfect complement to the meat. If I had this plate to myself, I would have sopped up the egg yolk and baked beans together using the yummy slice of bread. I would go back just for this.
2. Egg Salad and Asparagus Sandwich with Pan Seared Tomatoes (PHP 245.00)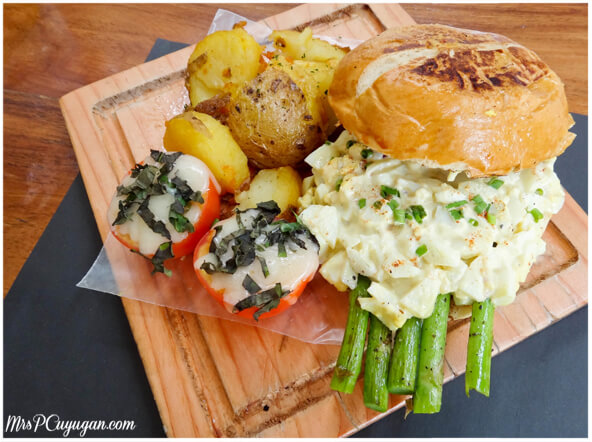 My lola's go-to dish at our favorite pancake place was their chicken asparagus sandwich. If she were still with us, I'd totally take her to Tus' to try this egg salad and asparagus sandwich. I'm pretty sure she would love it. I ate a lot of this. It was really good. I loved the potatoes that came with the sandwich, too.
3. Spicy Beef Gozleme (PHP 290.00)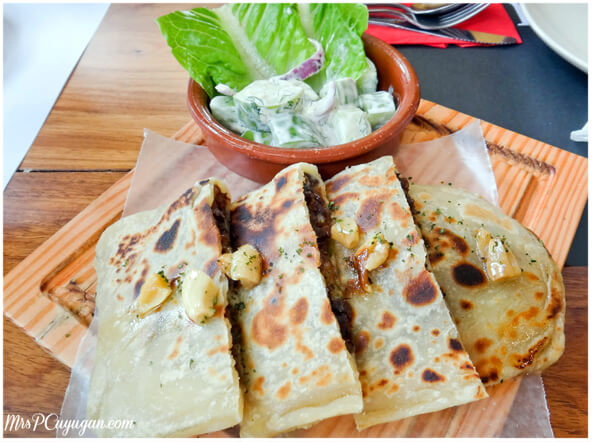 A gozleme is a traditional Turkish dish, made by filling a hand-rolled dough with various savory ingredients. The dough pocket is then sealed and cooked. I love exotic flavors, so this really worked for me. The cucumber salad has a very clean taste with a hint of dill. It worked well as a palate cleanser after a bite of the bold-flavored gozleme.
4. Bacon and Eggs Breakfast Skillet (PHP 350.00)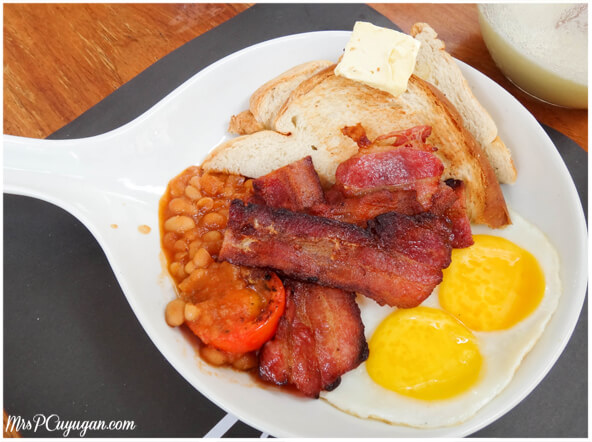 It's bacon and eggs. Need I say more? Though I have to admit, I enjoy bacon more with rice. The good news is you can choose to have your breakfast skillet with either toast with butter, plain rice, or steak fat fried rice.
5. Breakfast Sausage Skillet (PHP 350.00)
THAT is the steak fat fried rice??? I didn't get to try it, but I've already promised myself that I will soon. The homemade breakfast sausage is juicy and flavorful. It goes so well with the potatoes. This, for me, is the perfect big breakfast.
6. Margherita Pot Pie (PHP 380.00)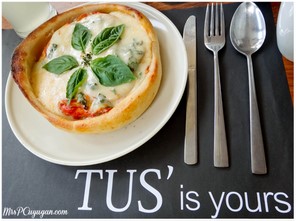 Pizza for breakfast? Yes please! This is like a mini deep-dish pizza, and it is so good. Little MrC would super enjoy this. I have to take him to Tus' to try this. Maybe when I go back for the fried rice.
7. Half-baked Cookie with Vanilla Ice Cream (PHP 160.00)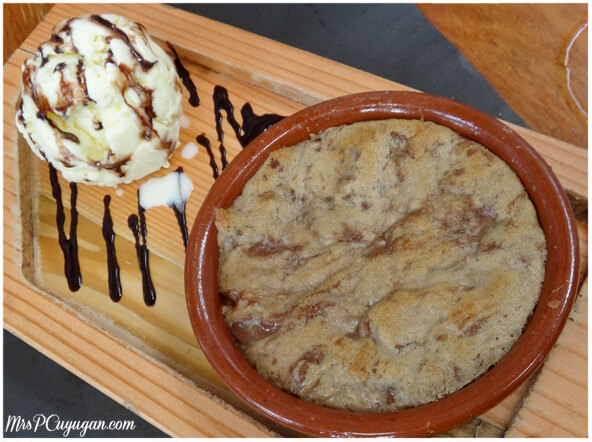 There is always room for dessert, even after breakfast. My sister couldn't stop talking about it for days after she first tried it. To be honest, I'm not a fan of raw cookie dough, but this one was good. I happily ate all the edges with ice cream. It's a good thing my companions really enjoyed having the gooey center hehe.
These seven are my faves, but there are a few more things that you should also try at Tus'.
Fritatas (PHP 180.00)
There are three kinds – the two pictured below plus a Garden one with tomatoes, basil, asparagus and onions. These are served with toast and butter.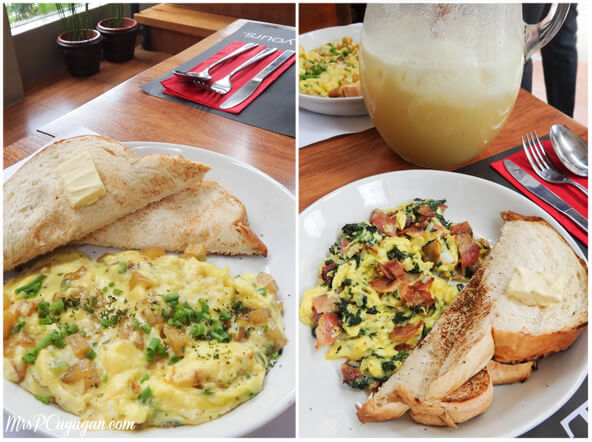 Chicken Ranch Pot Pie (PHP 360.00)
For when you don't feel like having the Margherita hehe.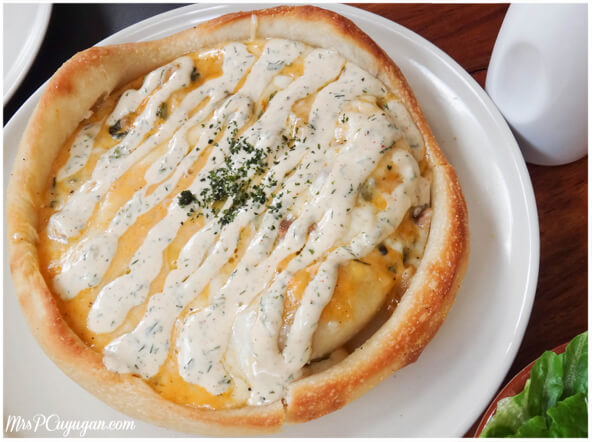 Hot Chicken Sandwich with Jalapenos (PHP 290.00)
For those who like spicy food. MrC loved this!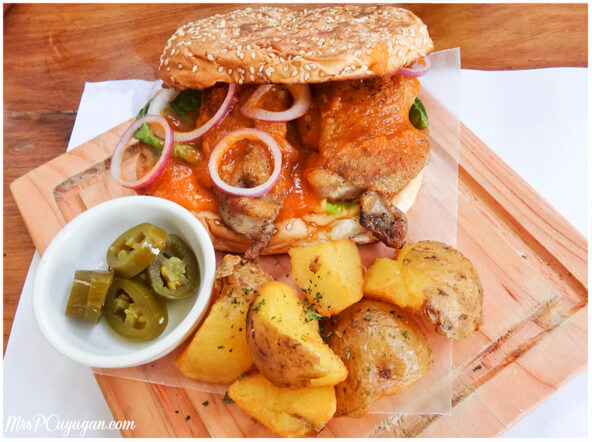 Pineapple Float (PHP 390.00 for a pitcher)
I don't drink pineapple juice, so I didn't try this. Between the adults and kids who were there though, the pitcher ended up empty. So I say go, go, go and try it!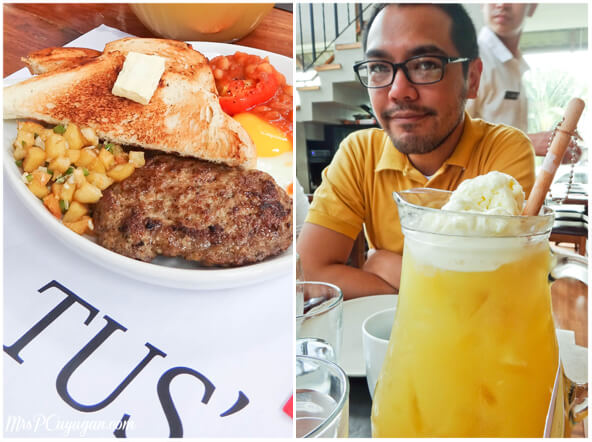 BIG THANKS to Chef Krsna and Kai for feeding us and making us super duper happy. I cannot wait to go back there with my kiddo. I already know that he's gonna love your food! Thank you also to Jane for organizing this yummy brunch. Promise I will not be late next time!
So, are you guys convinced? See you at Tus'?
Tus' Clay Pots and Skillets
D1 Westgate Center,
Filinvest Alabang, Muntinlupa City
Phone: +632 8283178
www.tusrestaurant.com
#/tusrestaurant
Serves Breakfast 7AM – 10:30AM, Lunch 10:30AM – 2PM, and Dinner 5PM – 10PM