Let me just clarify that by "Surviving the Summer," I don't exactly mean the summer heat or sunburn. I actually mean summer boredom, which apparently a lot of kids go through. It was something I don't really remember experiencing when I was a kid, but then again I had two siblings to waste time with. My little boy, on the other hand, being an only child, is often bursting with unused energy and unsure exactly what to do with it. This is my first summer at home as a WAHM, so I am relatively new to the idea of keeping the kid entertained sans his regular school schedule, homework and outdoor play with classmates.
It's been about three weeks since the end of the school year. So far, we've had quite a number of activities, with the holy week and Easter holidays, our short and unexpected visit to the hospital, visits to Fishville, etc, etc, etc. But to be honest, I've pretty much run out of ideas for the coming weeks, and we still have about two months of vacation left! I was planning on enrolling Little MrC in soccer camp, but since he is still recovering from his infection, and on home treatment, he won't make it to the start of the classes. I figure I'll just enroll him in soccer next summer, and have him take swim classes this year. But that's not happening until mid-May. So there, I still have about a month's worth of kid-friendly fun to plan.
Oh dear.
Luckily, I've been spending my work-breaks wisely, browsing through mommy blogs and Facebook pages for ideas. Here are some of the brilliant ones I've seen so far.
1. Kiddo Checklist
One of the things that really tests my patience is this line that my son loves to use, "What can I do mom, I'm bored?" Grrr, right??? I can think of a million and one answers to that question, sarcastic and otherwise, and while for the most part, I give him straightforward answers, on stressful days I've been known to answer with "Nothing" or "Breathe." Bad mommy, I know.
So yesterday on Twitter, I came across this photo posted by a fabulous crafty mom-blogger from Cebu, Marryl.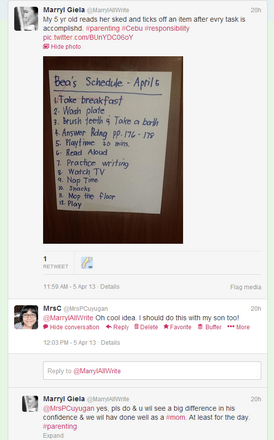 What an amazing, simple solution this is to that problem of kids nagging all the time about what to do next, right? Plus you get to make sure that the kids spend an equal amount of time learning and playing. I totally need this because admittedly, there have been times where my son played video games for hours on end while I worked. And that's three to four hours straight. Bad mommy, I know. Lol.
2. Kiddo Wishlist Jar
You know how sometimes kids get so excited and want to do everything all at the same time? My son is like this all the time. Sometimes it frustrates him when he has to choose just one activity among the long list of things he wants to play, watch, see and do in a day. Well, this bright idea I found on the Anmum Mommy Circle Facebook Page is definitely the solution to this problem.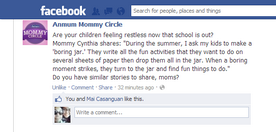 So from now on, whenever Little MrC gets ten million ideas all at the same time, I'll have him write them down and put them in a jar. It becomes a fun game for all of us, and spares me from having to think of a fun activity to do on the fly. It also will get him t o practice writing, and use up some of his "bored time" at the same time. Amazeballs.
3. Activities, Activities, Activities
And of course, I want us to make the most out of the available activities for kids during the summer, especially the free ones held in the malls! Plus, all those "Kids Eat For Free" days will come in handy when we get bored of the food at home, or on days when I am too lazy to prepare. The possibilities are endless – from summer classes to playdates to afternoons at a nearby swimming pool or park.
This weekend, we were supposed to go to Expo Mom at the Rockwell Tent, but since the kiddo isn't done with his home treatment yet, we've had to forego our plans for a restful weekend at home. But in case you guys don't have any plans yet, you should totally go. There are a lot of things to see and do there. Here's the program schedule for today:
If any of you are going to Mommy Mundo, keep an eye out for Paper Chic Studio, Dainty Ashley and Bambino Baby Shop. 🙂
Mommies, what else can I do at home and around our community to keep my little boy entertained this summer? Please share your ideas in the comments section. I need all the help I can get!
Time to go prepare my kid's checklist for the day.