After Ivan's McDonald's Party last Sunday, we made a quick trip home to freshen up, then went straight over to Alabang Country Club for Sophia's 7th birthday celebration. The little guy was very excited about having two parties to attend, and he was really looking forward to spending time with his classmates outside school. That's why Mr C and I really cleared our schedule last weekend to be able to accommodate both of our little boy's scheduled events. What a busy 6-year this one is!
Sophia's party was ballerina themed, and everything was pink and white and just lovely. Oh the joys of having a little girl! Every time I attend events like this one, I thank my lucky stars that my kid is a boy. Had I given birth to a girl, I can't even begin to imagine all the stuff I'd want to buy, from clothes to accessories, toys, school stuff, decor, EVERYTHING pink, purple, glittery and pretty! So yeah, thank goodness I have a little boy!
We were one of the first among the school people to arrive at the party, and Sophia and her mom greeted us right when we got there. Her mom is such a cheerful, fun person. I totally love her already! Once we were seated and some of the other kids arrived, the party host came in and started the party off with some games.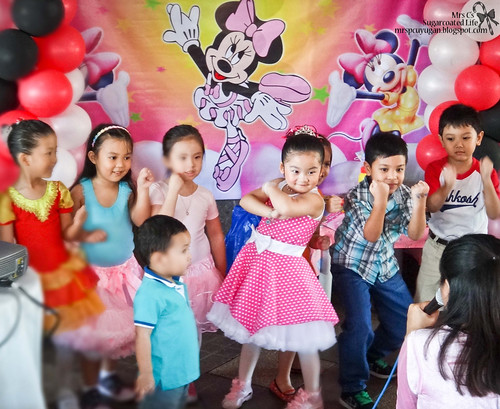 There's the birthday girl in her cute pink and white polka dotted dress.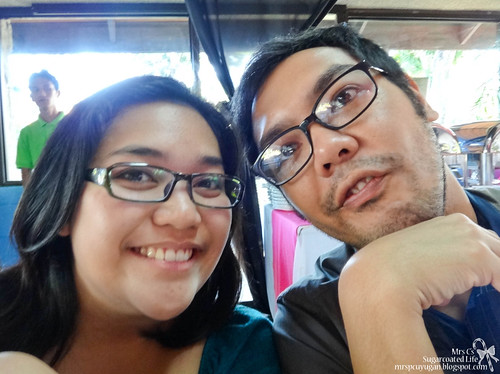 Goofing off while the kids were dancing in front.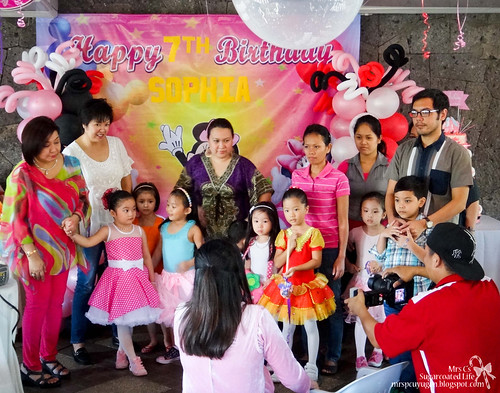 The host asked the kids to get one of their parents, and the little boy chose his daddy LOL!
It's a good thing the game was really simple. It was sort of like a treasure hunt where you were to bring everything you own that's color purple. I have so many purple things in my bag! Everything from my wallet, card holder, hairbrush, even my driver's license case is purple!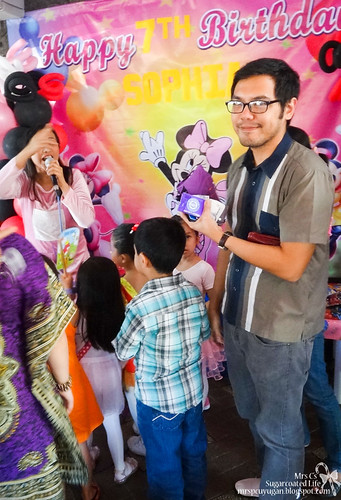 This is Mr C's "We're so gonna win this game" look.
Thought I was off the hook until the moms were called for another game. I had to dance. Twice. Haha! It was fun.
The party lasted until past sunset. Everyone was just enjoying the games, magic show and puppet show that were part of the program, and of course the yummy buffet prepared by the club. Before the party ended, there was a nice slideshow of photos of Sophia from birth growing up, and she also performed two ballet numbers. So cute! Oh, if I had a little girl…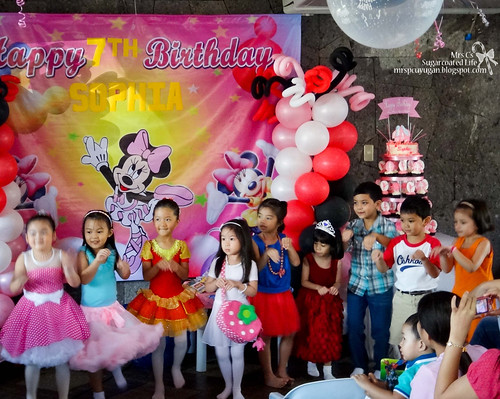 More games!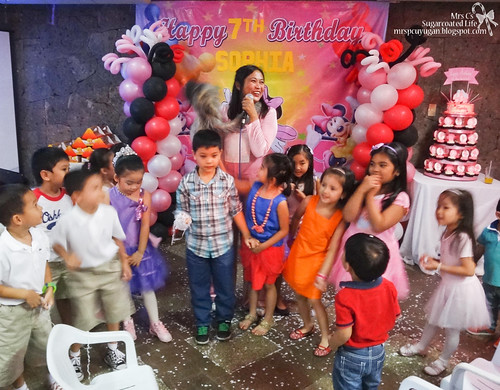 Puppet show, then pabitin!
We had a blast! Thanks to the Matsuo family for inviting us! I really hope all the kids can join us when we celebrate my little boy's 7th birthday next year.
Much love and happiness,