Our family spent the night at Discovery Country Suites Tagaytay as part of my birthday weekend celebration last February. Since we were already there, we decided to just have dinner at Restaurant Verbena instead of going out to eat. I'd heard good reviews about the place, and was really looking forward to trying the food. I was a bit unsure though of what I would feed the little guy. TLC is not a picky eater, but the food at Verbena isn't really suited for little kids.
I first asked for the Organic Mozzarella Cheese Pot as an appetizer because in our family, you can never go wrong with anything made of cheese. I was disappointed when the server told me that the dish was not available because they had run out of mozzarella cheese. That meant that the Crispy Fried Mozzarella was out too. Our meal wasn't starting out as smoothly as I had hoped it would, and it was a bit frustrating. My dinner dates were getting hungry, so I just ended up picking a few things I thought we all might like, and hoping that the little boy wouldn't fuss over our meal. It's a good thing we were served bread with assorted spreads to help keep our hunger at bay and our moods light.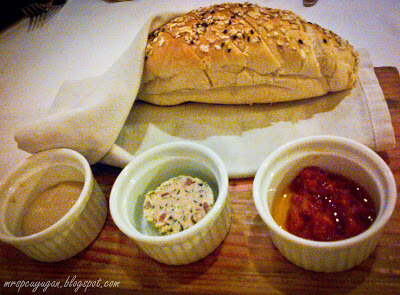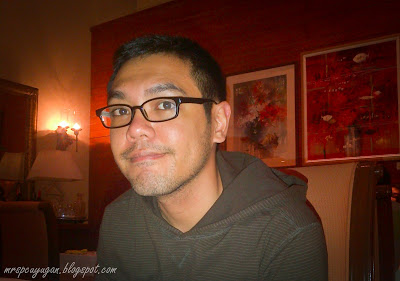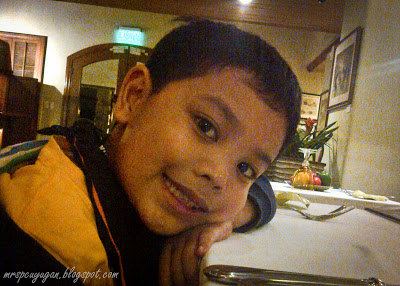 For our starter, I ordered the Croquetas de Tinapa, served on baby greens. The little guy loves fried fish, so this was a hit. We also ordered the Crispy White Fish Fillet for the little boy, and the Herb Risotto and Grilled US Pork for me and Mr C. I have to apologize for the bad photos. Our camera was charging, and as always, my BlackBerry camera failed me.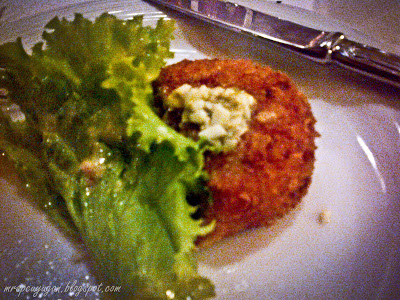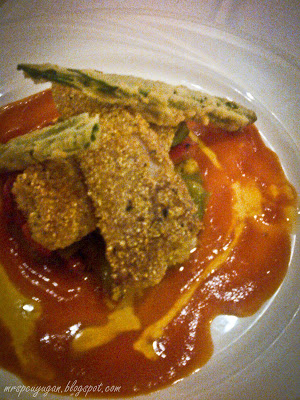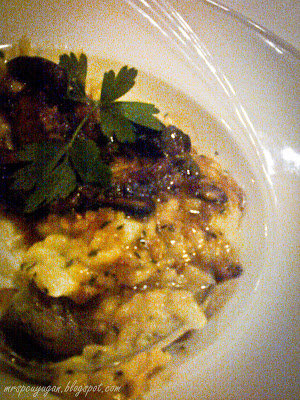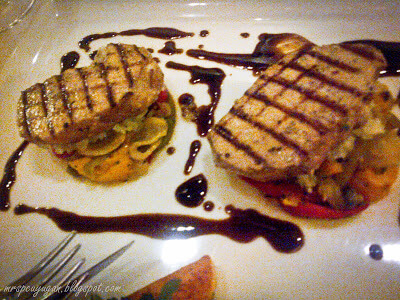 If you are looking for a romantic place for dinner and you have money to spend, the ambiance at Restaurant Verbena is worth spending a little extra for. It's one of those places where you will want to linger after your meal with a cup of coffee or a glass of wine, and just enjoy the cool night air in Tagaytay. The food at Verbena was really tasty, but as I had expected, the portions were a bit small. It is also a bit pricey, so I wouldn't recommend eating there with kids. Besides, the dishes offered are more for mature palettes.
As always, the best part of our meal was dessert. I ordered the Panna Cotta Heaven, which is a platter with three different kinds of panna cotta. My favorite was the Lemon Balm and Pistachio, followed by the Black Pepper and Raspberry. The Saffron and Caramel Orange one was just so-so for me, but maybe it's because I'm not a big fan of caramel or orange-flavored desserts.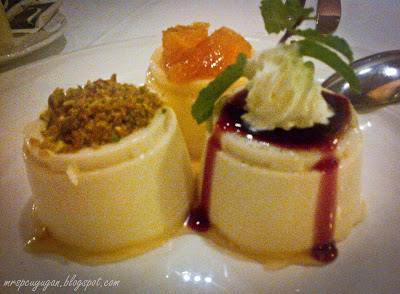 Lucky for us, we didn't need to worry about braving the SLEX traffic going home since home for the night was just downstairs at the Nara Suite. After dessert, the super fluffy pillows begged us to come to bed already, and it was hard not to oblige! So yes, the night ended early for the three of us. This turned out to be a good thing because we woke up bright and early to an amazing morning, and an amazing breakfast, which I will write about soon!
RESTAURANT VERBENA
DISCOVERY COUNTRY SUITES
300 Calamba Road,
San Jose, Tagaytay City
4120 Philippines
+(63 46) 413.4567 (Tagaytay)
+(63 2) 529.8172 (Manila)
+(63 927)523.2139
dcsrsvn@discovery.com.ph
www.discoverycountrysuites.com
#/DiscoveryCountrySuites
Much love and happiness,
P.S. I'd love it if you could visit the other posts from my Tagaytay birthday weekend!