I love Boracay. Then again, who doesn't? I've been lucky enough to be able to visit the island at least once each year since 2008. Each time though, I went for work. My only non-work trip there was during my first visit with my family back in highschool.  Mr C, on the other hand, had only been able to visit Boracay once, sometime in highschool as well, with his family. So when Mr C and I were deciding where to go for our first anniversary, Boracay became the obvious choice. We were sure to have a relaxing stay with great food, happy hour on the beach at sunset, and a lovely view throughout the day. Best of all, it was a budget-friendly option.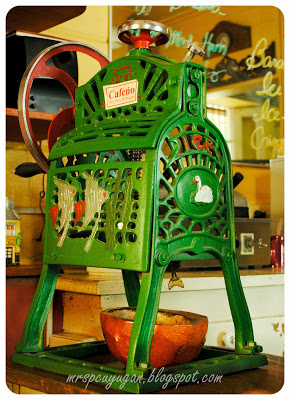 Did somebody say happy hour on the beach at sunset?
We booked an Airphil Express flight to Boracay via Kalibo. I've never gone through Kalibo before because I was told that the road trip was really unpleasant. I believe in traveling comfortably, so it was always Caticlan or nothing. But in the interest of being budget-conscious, and since I would be travelling with Mr C anyway, I decided to give Kalibo a chance. I think this was also my first time to fly Airphil Express, since I usually opt to take PAL or Cebu Pacific. It was the first time Mr C and I were flying together, and our first three day, two night getaway, just the two of us. Can you imagine that? And we've been together for thirteen years!
We didn't get the chance to travel for our honeymoon. We instead went on a perfect staycation at Sofitel Hotel, a gift from my in-laws. Honestly, this was my idea of a perfect honeymoon!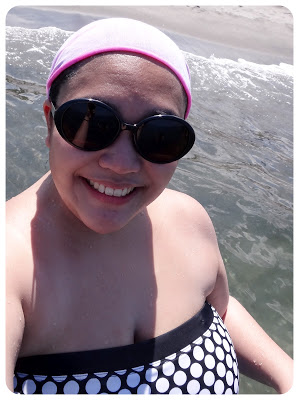 Honeymooning at Sofitel, September 2011
DAY 1
I was so excited for our trip that I woke up way before my alarm went off on the morning of our departure. We were all packed, and just had to get ourselves ready and head off to the airport. It was a blessing in disguise that we had an early start that day because the overnight parking lot at the airport was crazy full. It took some time, and a 100 Peso tip to one of the guards (was that too much?) before we were finally able to park in one of the slots that the airport taxis usually use. Thinking about it now, we might have been duped. But honestly, I don't care. Doesn't say much about the policies in NAIA though.
Speaking of NAIA policies…
We walked to the airport entrance with tickets and valid ID's in hand. We passed thru the lower entrance, near the arrival area since it was closest to where we left the car. The guards didn't ask to see out tickets or ID's though. I was under the impression that they made sure that only people with business in the airport were allowed inside, but I guess I was wrong. Or maybe it was because we were near the arrivals area? Whatever it is, airport security sure wasn't strict that morning. At least not as strict as I remember them to be, or hoped they would be. Anyway…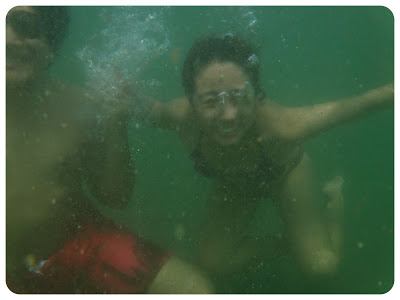 Mr and Mrs P Cuyugan at NAIA3
We checked in and got some coffee and banana bread before settling down at the pre-departure area. While waiting, Mr C started playing Triple Town on his Kindle, as expected. It's a really addicting game, so don't click on the link unless you intend to waste some time. Meanwhile, I busied myself people watching and reading. It was a bright sunny day and we were both in lovely moods. Vacation mode was activated in full force!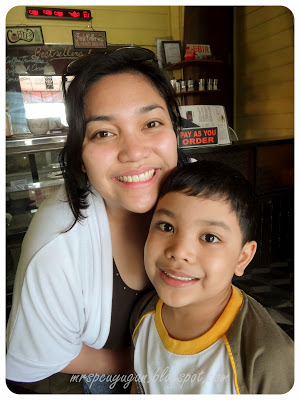 Mr C Triple Town-ing while waiting
Too bad Airphil Express had to spoil it by announcing that our flight would be delayed due to runway traffic. A friend of mine actually warned me before that Airphil is almost always delayed. Maybe I should have listened. So there we sat for an extra half hour while the Kalibo and Caticlan flights of Cebu Pacific took off. Fortunately, I was extra giddy that morning and that helped stretch my patience. But still, minus one pogi (handsome) point to you, Airphil Express!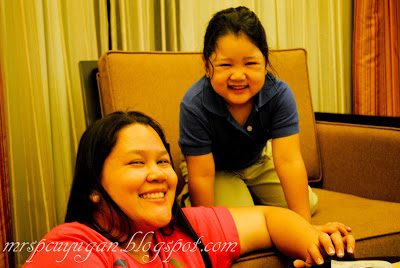 In the shuttle going to the plane
Because Mr C loves me, he let me have the window seat. Little did I know that Airphil Express had another unpleasant surprise waiting for me there. Eeew.
Can you see what's wrong with this picture?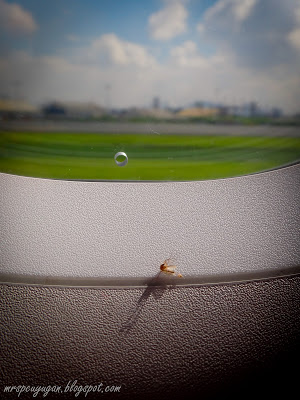 A closer look. And I thought I had the window seat…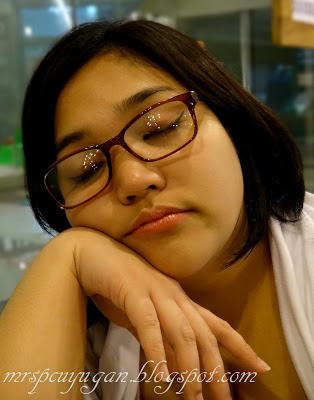 View from the top
Flight delays and dead bugs aside, we were happy to be off. It was a quick, smooth flight, and I was glad I had my Kindle with me. I actually finished A Game of Thrones over the weekend. The highlight of the flight was the captain's announcement when we said, "The weather in Boracay is, well, beach weather."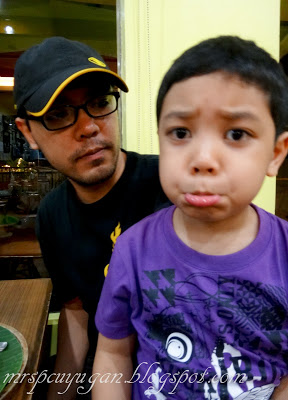 About to land!
I was surprised to learn that the airport in Kalibo is an international one. You can actually fly straight to Shanghai, Beijing, HongKong, and other Asian destinations from there.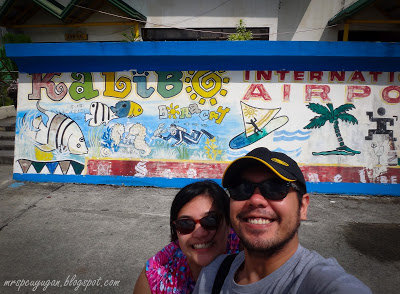 Welcome to Kalibo!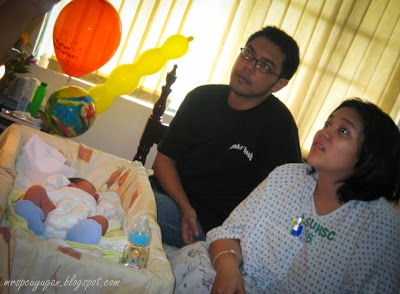 Thank you, Airphil Express for getting us there safely
While Mr C waited for our luggage, I looked for a representative from the Southwest Tours, the partner travel agency of the hotel we booked. One of the smartest decisions we made on this trip was to book all our transfers thru the hotel. If we had come via Caticlan, I wouldn't have spent the extra money on transfers. But since we were in for a 2-hour land trip, I figured we were better off with a plan.
We traveled to the Jetty Port via bus. The nice people of Southwest remind you to get water or snacks before leaving since it was going to be a long ride with only one stop over halfway 'for all your restroom needs', as the travel agency personnel said. I slept thru most of the ride, while Mr C battled with his motion sickness. I am really so lucky that I don't get carsick, airsick, or seasick!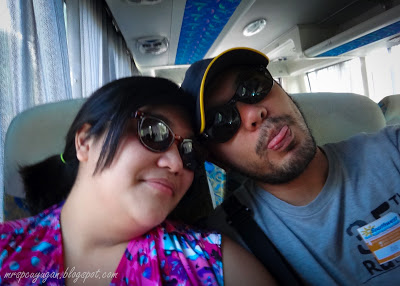 Off we go again! 
I would say that travelling to Boracay via Kalibo isn't as bad as most people say it is. I'm pretty sure that this has improved immensely from the earlier days. If you ask me, I'd still rather fly in via Caticlan and get to the beach as quickly as possible. But that's just me.
What airline/route do you guys usually take when you go to Boracay?
Much love and happiness,