Welcome to the third of my birthday weekend posts! Yes, my birthday was last February, and yes this post is long overdue. I actually am amazingly backlogged as far as my blog posts are concerned, which only means you've got a lot to look forward to from me in the coming weeks. Always look at the bright side of life, right? So my birthday celebration started with a Friday night dinner date with Mr C at Cafe d'Asie in the Bellevue Hotel. The night of my birthday was spent with friends, watching Razorback live at SanMig Alabang.
The next day, Mr C, the kiddo and I went off on a sunny Sunday Tagaytay adventure. Our first stop was the Ilog Maria Honeybee Farm for my supply of soap. I have very sensitive skin with a dash of eczema, and so commercial bath stuff don't really agree with me. I discovered Ilog Maria soaps through my former boss who swears by it, and after my first few bars, which she gave me as a present, I was hooked. Apparently my dad is familiar with their products too, and has often visited the farm on his Tagaytay motorcycle escapades. He keeps a bottle of their liniment in his bathroom.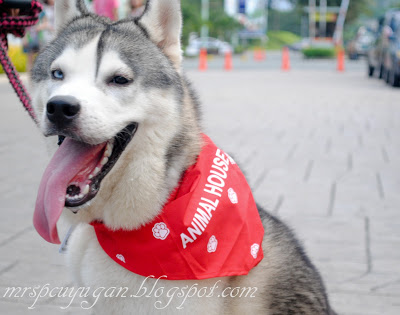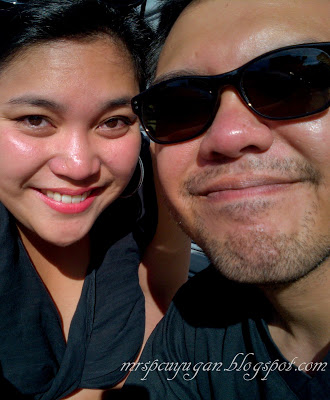 It was our first visit to the bee farm, and I'm proud to say that we didn't get lost! It's very easy to find, specially since they posted directions on their website. It was an easy drive (for Mr C, I sat in the passenger seat, tweeting while we were on the road), made even more enjoyable by the amazing Sunday playlist of Jam 88.3. I have to say as a side note that I've been really enjoying the music from this station lately. I listen everyday, on my way to and from work.
When you enter the Ilog Maria compound, you need to drive a few meters down a dirt road going towards the shop. As soon as we got out of the car, the little guy and I went straight for the store while Mr C looked for a parking space. It's a small place with just a few shelves, and I was surprised to see a lot of people there. Within minutes, Mr C joined us, and after one quick look around the small room, the boys got bored and decided to go out and explore. I, on the other hand, picked up a wooden bucket to carry my goodies in, and started going through each individual item on the shelves.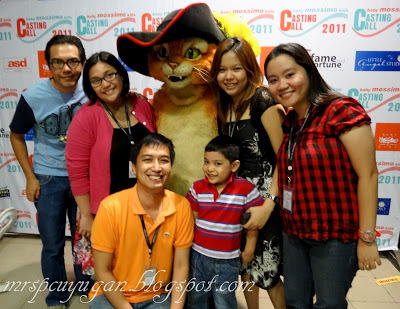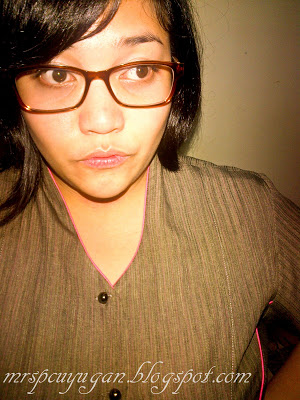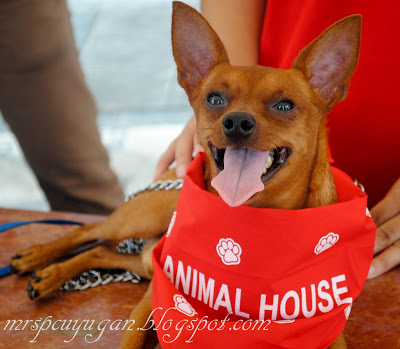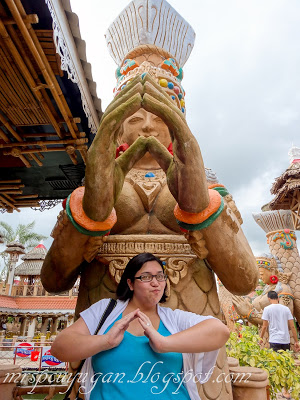 I was intrigued by the Propolis Gold which is supposed to be a powerful antioxidant, but ended up not buying any because I wasn't sure I was ready to put it into my body. It says on the Ilog Maria website that you should take 1ml of this with a glass of water everyday before breakfast. You can up the dosage to thrice a day if you are sick. I think for now, I'll just stick to green tea for added antioxidants, and paracetamol, cough syrup and a strong dose of vitamin c for cough, colds and the flu.
While I happily browsed through everything from candles to essential oils, and various hair and skincare products, my boys went off to explore the grounds. I took a few photos while trying to look for them after i was done shopping, but some of these shots were borrowed from Mr C's camera.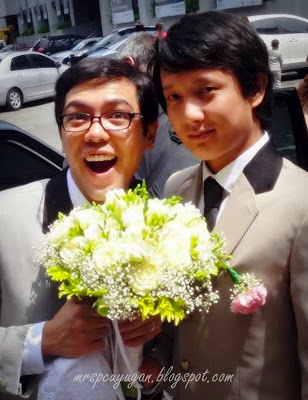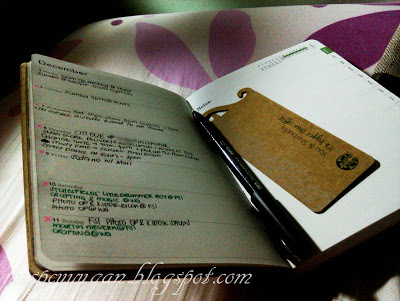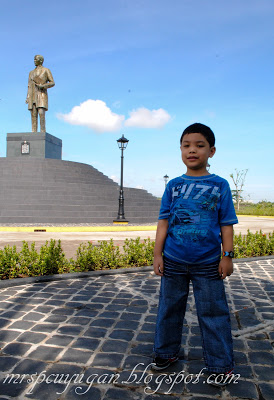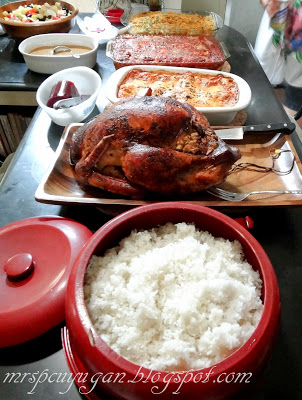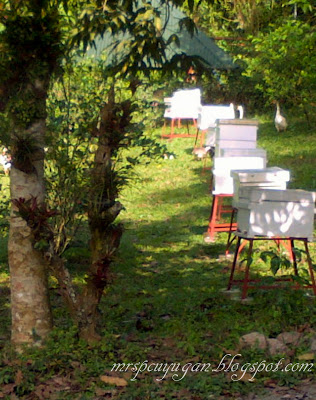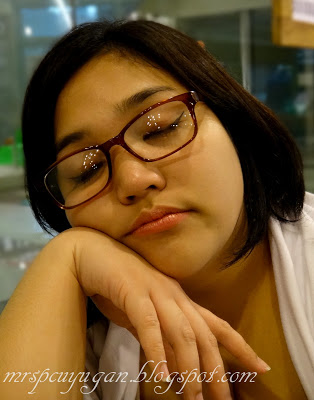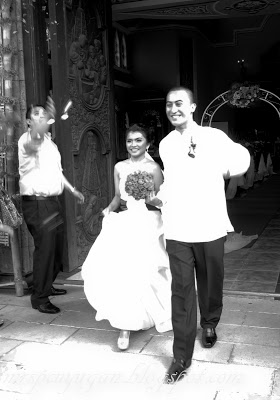 Let me end by sharing my great-smelling honeybee loot from Ilog Maria. I've already gone through most of them. Guess it's time to schedule my next visit !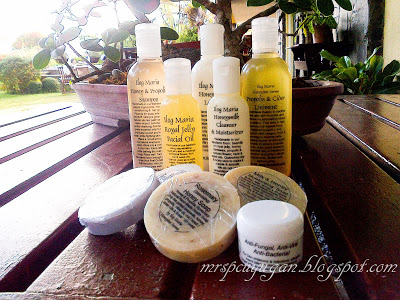 I like the shampoo because it smells so good. It works better for me now that I have short hair, and I can use it even without conditioning. When my hair was longer, I had to follow up with a commercial conditioner because my hair would get sticky and dry after rinsing. Although it does say on the bottle that you should rub calamansi juice on your hair afterwards to condition, I just never got around to trying it. Something about bringing calamansi slices to the bathroom, and rubbing them on my freshly shampooed head of hair just doesn't appeal to me.
I had high hopes with the Royal Jelly Facial Oil, but unfortunately I got really red-faced and itchy after the first use. I tried again to put some on my face a few days later, after the had irritation subsided, but my reaction was the same. I decided to give it instead as a gift to my sister in law together with the Liniment, which was our original pasalubong. Too bad. I really hoped I'd be able to use it.
Oddly enough, although I had apprehensions about using the Cleanser & Moisturizer after the rash incident with the Facial Oil, it has been serving as a good makeup remover for me. It takes a few swipes to remove my eye makeup, but the rest of the stuff on my face comes off with ease. Like the rest of the products, it smells really good. The only downside is it's a little messy to use, and, at least in my case, you end up using a lot of cotton. And then you're left with an oily film on your face after, which is something I don't like. In the end, I'd still choose my makeup remover wipes over this product.
Now, the soaps and the ointment, I totally swear by. The ointment has replaced calamine lotion as my go-to product for bug bites. I do get to use this a lot because both my son and I are prone to mosquito bites, and when we get them, they are humongous! The ointment really helps relieve the itch and redness from the bites. As for the soaps, my favorite so far has been the Lavender, followed by the Milk & Honey. I probably won't be getting the Orange Zest soap anymore next time because I find that I don't really like the scent of orange mixed with honey. I've yet to try the Rosemary. I'm saving that for last.
After Ilog Maria, we checked in at Discovery Country Suites, where we were to spend the night. I was able to score a great overnight package on Deal Grocer, plus a free room upgrade from the hotel! Happy birthday to me indeed.
Ilog Maria Honeybee Farm
Silang Cavite
info@ilogmaria.com
www.ilogmaria.com
Much love and happiness,